In Tahoe we're fortunate to have the mother of all hiking trails right in our backyard. The famed Tahoe Rim Trail is a 165-mile dirt path looping around the entire lake, following the ridges that bound the Tahoe Basin. You can backpack it in its entirety in about 14 consecutive days. But if you don't have that time commitment, check out any of the eight trailheads with trail segments that range from 12 to 33 miles in length, perfect for a weekend trip. Out and back routes are also available for day hikers.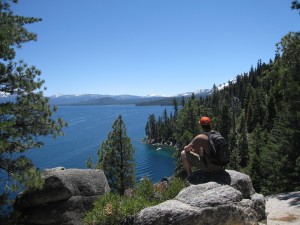 One of the top locals picks is the Mt. Rose Loop Trail off Highway 431. The 5-6 mile roundtrip hike starts at 8,900 feet and tops out at 9,420 feet. You'll get picturesque views of Lake Tahoe, the largest alpine lake in the country, and a beautiful waterfall. The Tahoe Rim Trail Association, the volunteer-based organization that built and maintains the Tahoe Rim Trail, has a calorie counter on its website if you need a little extra incentive – the Mt. Rose Loop burns approximately 1,422 calories if you take about 3 hours. That beats the treadmill any day!
Speaking of waterfalls, Shirley Canyon in Squaw Valley is one of the best, if not the best, hikes to view spectacular waterfalls. This 4-mile roundtrip trail starts at Squaw Peak Road and follows Shirley Creek up and over boulders, past waterfalls to Shirley Lake. From there, you can turn around and head back or keep hiking up to Squaw Valley USA's High Camp and take the cable car down for free (along with the family pooch).
There is nothing more rewarding than taking a dip in crystal, clear waters after a strenuous hike. Five Lakes, accessible via Alpine Meadows Road, is popular for this very reason. A 5-mile hike, on a well maintained trail, has a tough uphill that gives way to some of North Lake Tahoe's most popular swimming holes, five serene alpine lakes.
If you're traveling with eager toddlers who want out of the car now! check out the family-friendly one-mile trek down to the historic Vikingsholm Castle on the West Shore. Park at the Vikingsholm Castle parking lot on Highway 89 and then take a dirt path down to the castle, which offers daily tours in the summer. It's also a great spot for a packed picnic and offers up a sandy beach with fantastic views of Fannette Island, Lake Tahoe's only island, and scenic Emerald Bay. This path is also stroller friendly.
Get more information about hiking in North Lake Tahoe, including when and where to purchase wilderness permits.