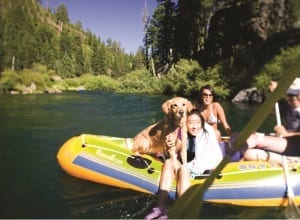 Dogs love Lake Tahoe. After all, there's plenty of hiking, swimming, beaches and other dog friendly options to enjoy. For the more adventurous canine there's even rafting and boating options as well.
Lake Tahoe loves dogs too. If you stop into the Incline Village Visitors Center or even the Tahoe City Post Office your pooch will be welcomed with a smile and a treat.
So how to go about planning a trip to Tahoe with your dog? First find some lodging that offers sleeping quarters for two- and four-legged guests. You can search GoTahoeNorth.com's accommodations listings by "Pets" to generate a list of canine-cuddly locations.
But to help you find the perfect dog friendly hotel, inn, and the like here are our top 10 dog friendly lodgings in North Lake Tahoe: