Written by Amie Engerbretson
There is something magical about North Lake Tahoe— I don't know if it's something in that azure blue water or in the mountain air, but I do know that protecting it is more important than ever. Honestly? It can be hard to figure out where to start.
North Lake Tahoe's Traveler Responsibility Pledge outlines steps you can take to preserve the natural beauty of the Sierra, providing easy ways to take action and promote sustainability on your travels.  I was lucky enough to spend a day exploring North Lake Tahoe while learning about and enacting each part of the pledge for myself. Take it for yourself here and learn about other sustainable actions you can take during your travels in NLT's sustainability blog.
Demonstrate Mindful Travel
The first stop of the day was the newly renovated Old Post Office Cafe, a local favorite that specializes in serving classic breakfast and lunch dishes on Lake Tahoe's North Shore. Complete with a lakeside view, it doesn't get much better than this.
After a delicious stack of pancakes smothered in blueberries, I sat down with Amy Berry, CEO of local non-profit the Tahoe Fund, to discuss responsible and mindful travel. With an impressive portfolio of over 50 environmental improvement projects, Amy has raised more than $10 million dollars from private funders and used it to make Lake Tahoe a better and more sustainable place.
So how do we follow Amy's lead and travel mindfully? The first step is to be aware of your surroundings— treat every location you visit with respect, whether you're browsing in a local shop or splashing around in the crystal-clear waters of Lake Tahoe. Treat the environment kindly by packing up what you pack in, and never leaving belongings or litter behind. North Lake Tahoe has detailed more of the Tahoe Fund's efforts here.
Become a Steward of Lake Tahoe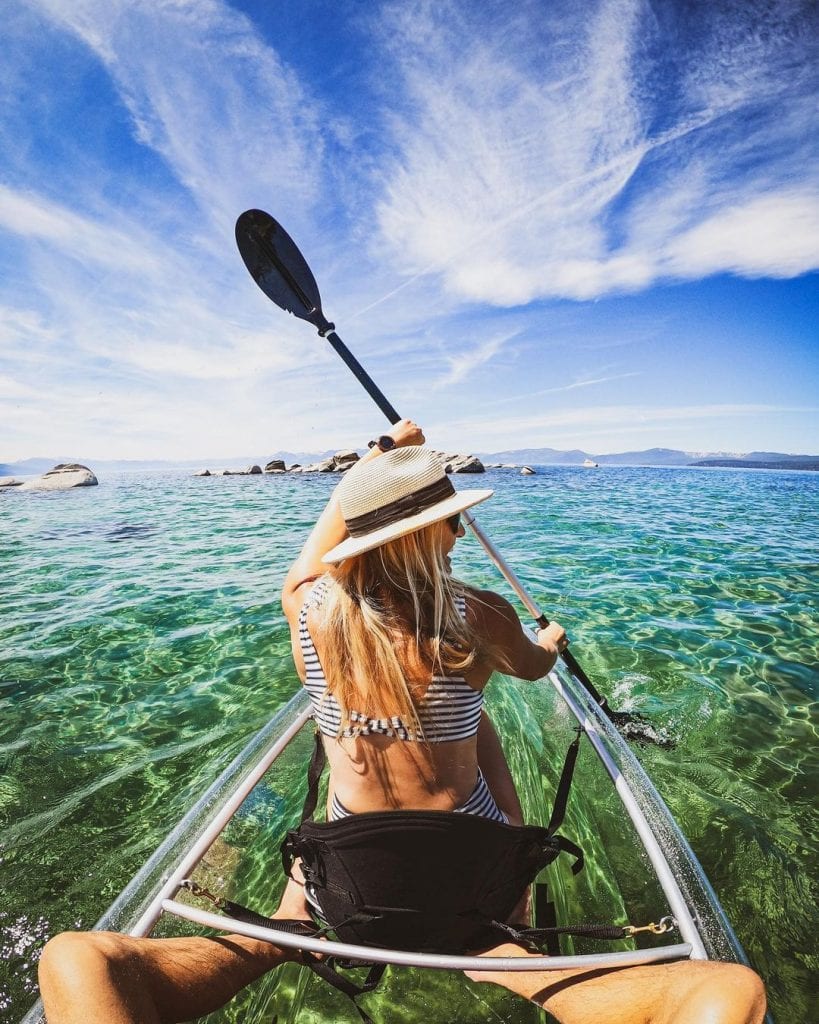 Next, I met up with Wild Society to get out in the water with one of their completely transparent kayaks (they also have transparent stand up paddleboards, if you're feeling extra adventurous). These kayaks come with anything you could ever want out on the water, including wireless waterproof speakers that can connect to your personal device, a waterproof phone case that keeps your phone dry and allows you to take underwater photos, high quality "dry bags," binoculars, goggles and snorkels, a small cooler, 2 cup holders, selfie sticks, and, of course, safety equipment.
Taking in Tahoe's vast watery landscape from the center of the lake gave me a new appreciation for its beauty. Any direction I looked was filled with magical scenery, green and blue as far as the eye can see.
Calling Lake Tahoe home like I have for so long, I've seen the impact that both locals and visitors have when they commit to sustainable practices. That's where becoming a steward comes in! It's simple— leave Tahoe better than you found it. Follow signage and other instructions, think like a local or even participate in one of the community clean up days! Read North Lake Tahoe's blog on voluntourism for more ideas on how to make Lake Tahoe a better place.
Keep Wildlife Wild and Be Fire Safe
Sugar Pine State Park is undoubtedly one of the most gorgeous places in Tahoe. The park has nearly two miles of lake frontage, and seeing the gorgeous Hellman-Ehrman Mansion look out over the water during sunset is a sight to behold.
Filled with dense forests of pine, fir, aspen and juniper, Sugar Pine makes for a great camping spot. That being said, it's important to remember two other tenets of the pledge: keep wildlife wild and be fire safe. Observe wildlife from a distance and never feed wild animals— it's extremely dangerous for both you and the critters. Fire restrictions are more important than ever, and visitors should always make sure that they are up to date with current fire restrictions AND that they completely put out any fires they make. Remember that fireworks are NEVER allowed anywhere in the Lake Tahoe Basin and pose a great fire hazard to this beautiful area.
Respect the Environment
The last activity for the day was meeting up with Sierra State Parks, the non-profit partner of the eight California State Parks in the Lake Tahoe and Donner Lake region, on the gorgeous Western States Trail on the West Shore. With over 2.5 million annual park visitors it's no easy task for Sierra State Parks to protect these treasured parks, and every one of those visitors has the power to help make Tahoe a better place by caring for the environment and treating it with kindness.
Respect the environment and honor the pledge by disposing of your trash properly, keeping your dog on a leash, using public transportation to reduce emissions and staying on designated trails to protect yourself and wildlife.
Take a look here for some of the fun events and activities Sierra State Parks have planned for the summer!
Stay Educated
Last but certainly not least, stay educated about where you're going. To be respectful of the environment and local communities, always check weather conditions and stay updated on travel advisories that may impact your travels.
North Lake Tahoe's Know Before You Go guide is your one-stop shop for everything you might need to know before you visit, from COVID-19 information to summer activity guides.