North Lake Tahoe is a backcountry skier's paradise. We are excited for Jeremy Benson's new backcountry guide featuring 9 routes exclusive to North Lake Tahoe along with over 80 other backcountry trails across the state of California – click here to learn more.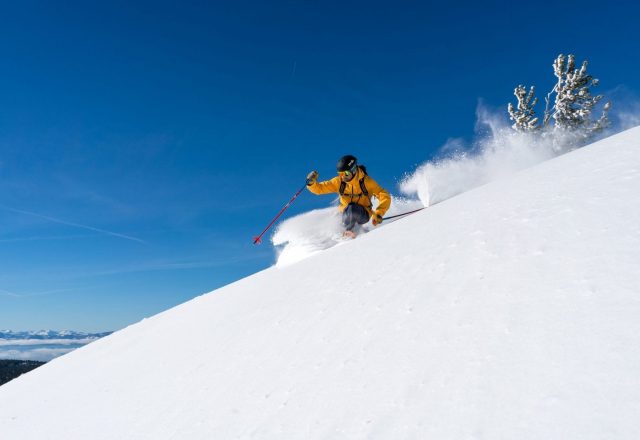 Credit: Chris Bartowski
This week, Australian transplant turned Tahoe powder hound, Jason Layh, of Alpenglow Sports takes over the North Lake Tahoe social channels for an in-depth look into everything backcountry. Layh has chased snow all over the world, including parts of Europe, Australia, Canada, Japan and the United States. He now works at Alpenglow Sports, a North Tahoe core mountain shop since 1972 that's staffed by expert outdoorsmen and women who have a passion for educating their customers about the incredible terrain across the North Shore.
Part One of our series outlines imperative information you need to know for getting out into Tahoe's backcountry. This includes: backcountry skiing locations, beginners guides and avalanche training. Check out Part Two for an introduction to backcountry gear and outfitting.
People escape to the mountains because it's a different way of doing things, a sensation of getting back in touch with the wild. Backcountry skiing is considered anything outside of ski resort boundaries. Powder is typically fresh. You have the joy of being the first man or woman to mark it with smooth lines as you hike up a ridge or ski down a wilderness peak.
The major difference between backcountry and resort skiing is that you need to be knowledgeable about the snowpack and prepared to handle the terrain so you're able to take on whatever may happen in the course of your day. There are no chairlifts; you're on your feet all day going uphill and downhill. Ski patrol is not there to help you. Everything is uncontrolled, it's all natural. You have access to the most incredible skiing experiences, but all who backcountry ski should begin with a fundamental knowledge about what they are doing.
Being Avalanche Ready
Before you even step out of bounds, you need to know what you're getting into. Take an avalanche level one class and get an introduction to decision making in avalanche terrain. These are nationally recognized courses offered by companies throughout the area. Truckee has Alpine Skills International – they teach great courses and have a host of different guides. Alpenglow Expeditions has guiding rights to the area and a host of different courses. Also, the Sierra Avalanche Center posts a variety of basic avalanche education information on their website, linking to avalanche education providers throughout the Tahoe region.
Starting out as a Beginner
You don't have to commit 100 percent to the gear right away. Try a mix of rental touring gear from North Tahoe shops, including Tahoe Mountain Sports, Tahoe Sports Hub and The BackCountry, to start figuring out what you prefer for factors including boot weight, camber, rocker. It's also a great way to get into backcountry without investing a ton of money from the start. There's also the Lake Tahoe Backcountry Demo Day on January 21, during which you can demo gear from multiple vendors all day long.
We also host an Alpenglow Mountain Festival that's eight days long. Throughout every one of those eight days, we have a guided tour that's designed for beginner and intermediate skiers. It's an opportunity to go out with local guides who know the area really well and can show you the basics. Also, a great way to meet others who are getting into the sport as well.
Preparing for a Day Out
Before you're even loading your skis in the car, there's a checklist you should be going through to ensure you're prepared. Look at the snowpack – including how it's been shaping up in the past two weeks. Sierra Avalanche Center posts a daily report from professional avalanche forecasters about avalanche conditions in backcountry terrain around Tahoe, which is very important to determine how your approach.
Based off the snowpack, you can start formulating a route and plan, talking to buddies about carpooling – which I recommend for easier parking. Pack your backpack with avalanche and emergency supplies, as well as snacks and extra insulation. Also, if you have a waxing bench at home, this is the perfect time to wax your skis and get them ready for the day ahead.
Where to Backcountry Ski
We are very lucky in the Sierra to have an incredible amount of backcountry skiing terrain with easy access and jaw-dropping views. That in combination with great road accessibility means there are a ton of locations to explore. Where I choose to ski depends on what's been happening with the snowpack and the latest storm.
If the most recent storm was heavier, I'm going to want to get higher where it's lighter and drier. Up around Mount Rose and Castle Peak there are several zones with very technical lines. Areas in the east have longer descents.
Jake's Peak along the West Shore offers an incredible view of the lake and a moderately steep descent. Silver Peak offers more of a mellow tour along the Sierra Crest near Squaw Valley, and usually has a nice, deep snowpack. For more backcountry locations, check out Ski Tahoe Backcountry, but always remember to check the conditions before you head out.
Want to know more? Visit www.alpenglowsports.com to chat with Jason Layh on preparing for your backcountry adventure.