WELLNESS: Noun. \ ˈwel-nəs \. "The quality or state of being in good health especially as an actively sought goal; lifestyles that promote wellness."
In North Lake Tahoe, wellness is more than a buzzword. It's a way of life, so deeply embedded in the culture that you'd be hard-pressed to find a corner of the region that doesn't offer some activity to engage your body, ease your mind or enrich your soul.
No matter how you bring about a state of well-being in your life, North lake Tahoe has something special for you—but don't just take our word for it. Check out 5 ways  you can experience North Lake Tahoe's special kind of wellness, then come experience them for yourself!
1. Let Mind, Body and Soul Take Center Stage at Wanderlust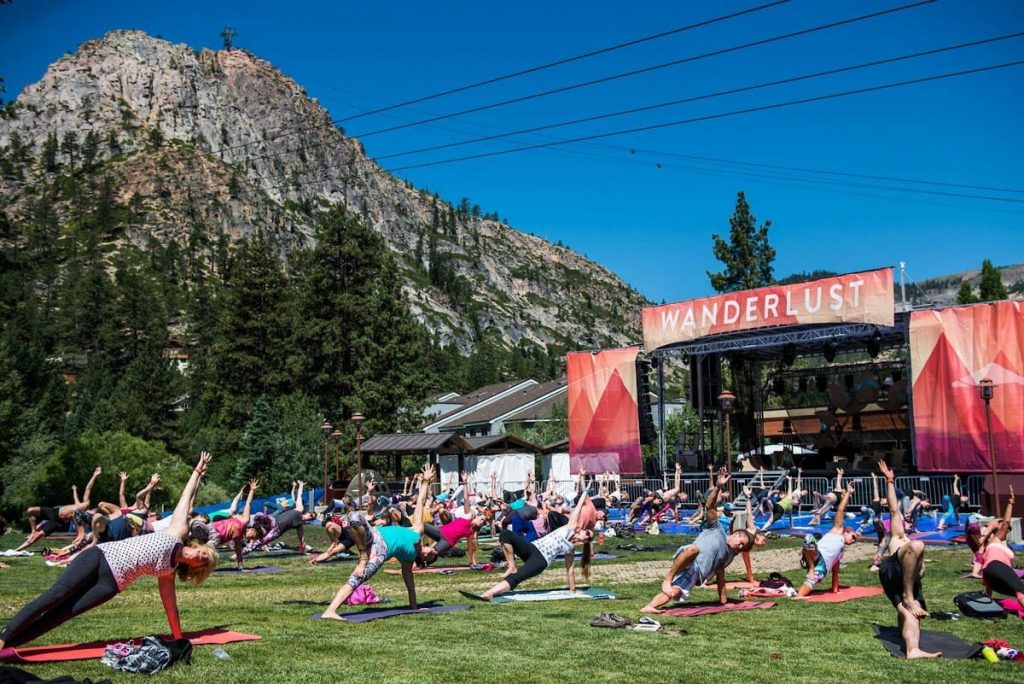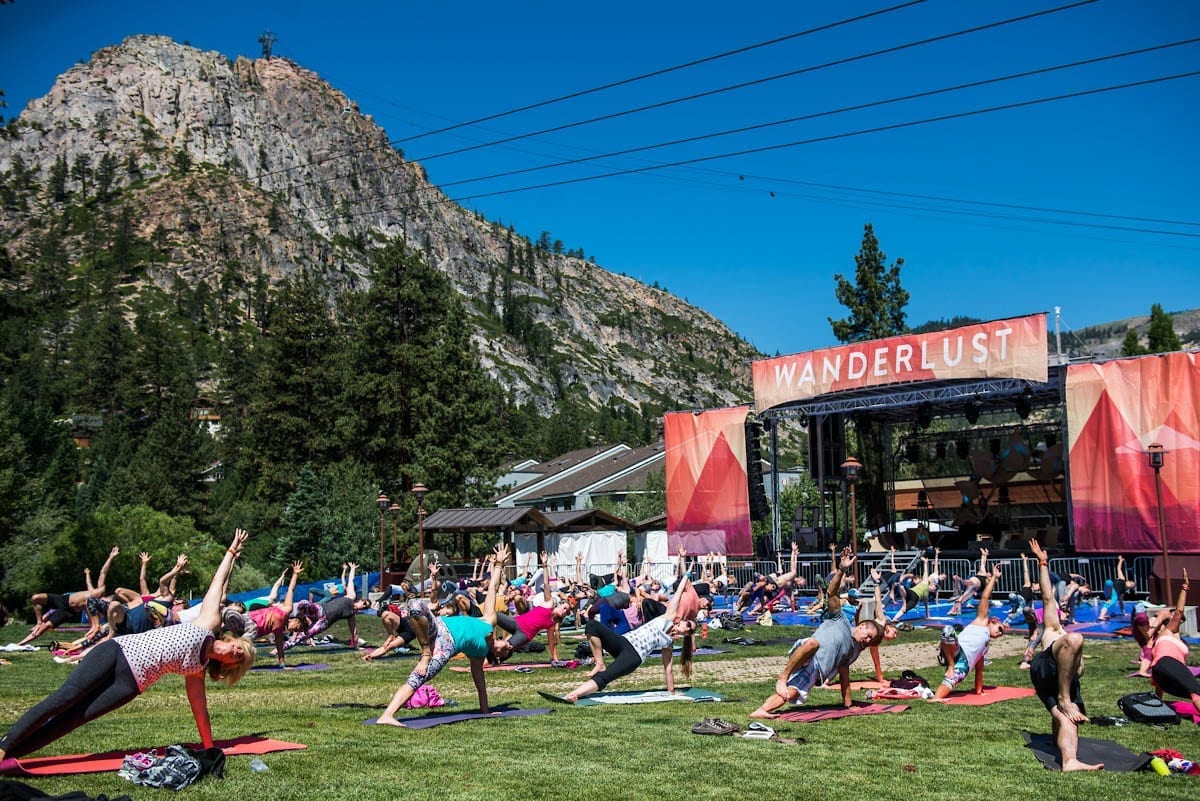 It isn't a stretch to suggest that you'll find balance, joy and a sense of calm at Wanderlust in Squaw Valley. Photo courtesy of Ali Klaus.
Clear your calendars and set a course for the 11-year Celebration of Wanderlust Squaw Valley in North Lake Tahoe, the original home to Squaw's marquee wellness festival—Wanderlust!
From July 18–21, you'll leave the noise of the world behind for one incredible weekend spent tuning into the signal of your soul. With goal-setting workshops, on-site yoga sessions, exclusive sounds and explorations of compassion in the form of the famed free Hugs Project, Wanderlust lives up to its commitment to helping everyday people to find their true north… and what better place to do that than in the crown jewel of the Sierra Nevada?
Many other North Lake Tahoe festivals offer celebrations of wellness year-round. Check out Granlibakken's Restorative Arts & Yoga Festival in the Spring or Wellness Weekend in the Fall, or enjoy SUP yoga at the Tahoe Cup Paddle Race Series throughout the summer.
2. Connect With Nature On North Lake Tahoe's Many Trails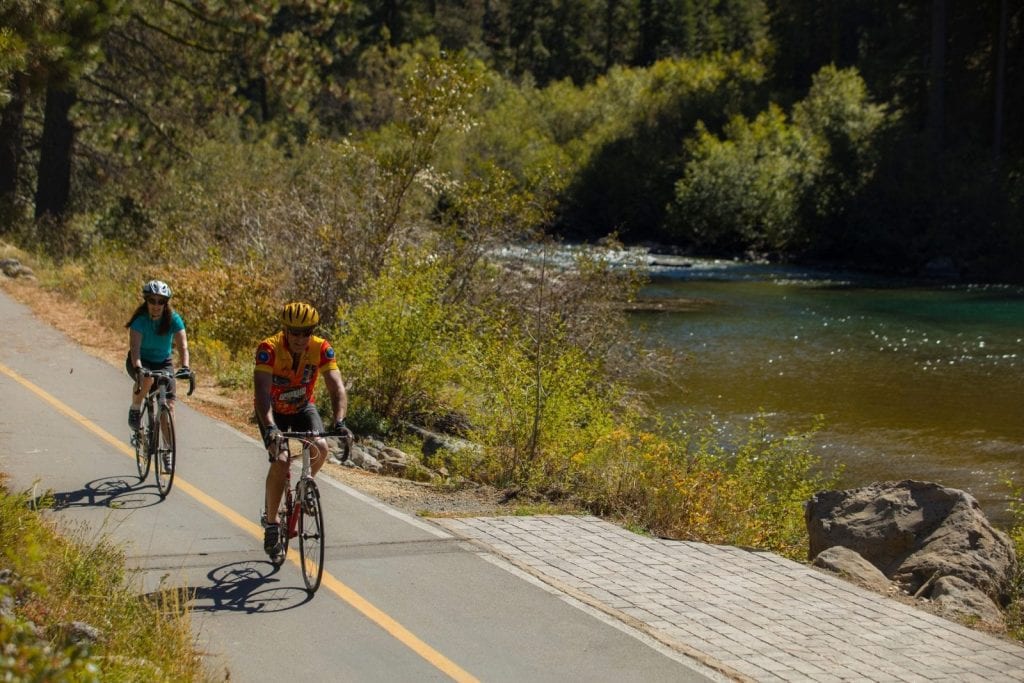 North Lake Tahoe's hiking and cycling trails offer full-body workouts and peace of mind to the wellness-inclined traveler. Photo courtesy of Ryan Salm.
Whether you're a cyclist or traversing the landscape on your own two feet, North Lake Tahoe's vast and varied landscape is the perfect place to step away from the bustle of daily life and into a rejuvenating adventure.
North Lake Tahoe is a paradise for every level of hiker, thanks to its miles upon miles of established trails of varying length and difficulty. For those who want to see all of North Lake Tahoe's marquee natural features—alpine flora, crystal blue lakes, and breathtaking mountain views—we recommend trying the Meek's Bay Trail.
For rugged explorers, mountain biking in North Lake Tahoe can't be missed. Take in fresh air, beautiful nature and get a full-body workout all at once by hitting Tahoe City's challenging-but-fun cross country trails.
3. Breathe Deep and Stretch Closer to Wellness —North Shore Style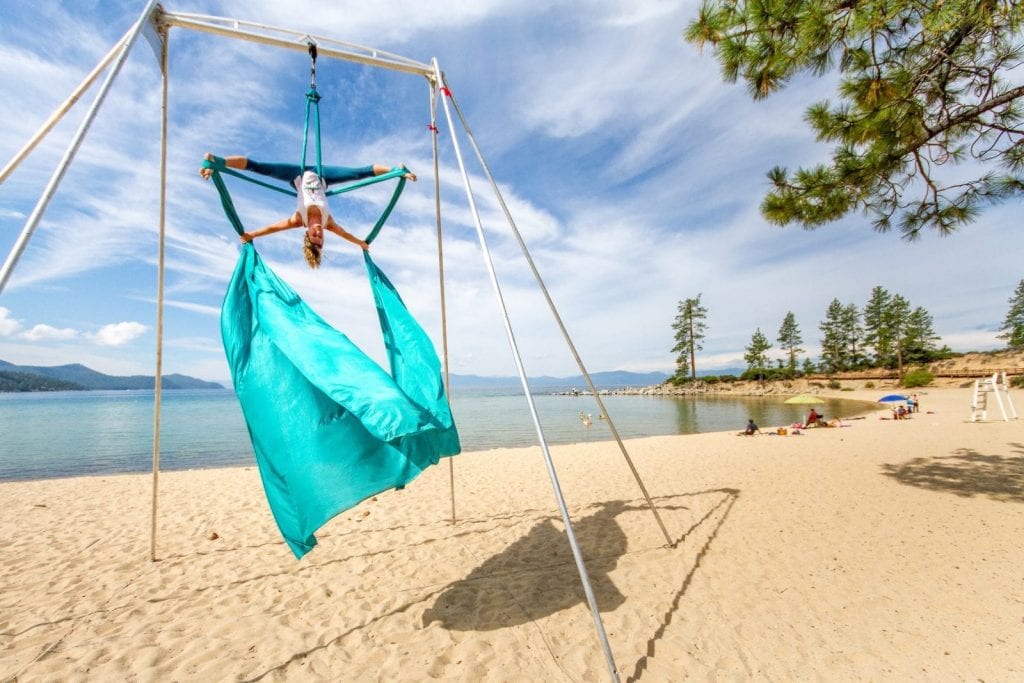 Fly high by the beach with aerial silks courtesy of Tahoe Flow Arts Studio.
Wellness and yoga go together like two peas in a pod—and that combination is made all the richer when you're surrounded by breathtaking natural landscapes.
Fortunately, in Tahoe, this perfect trifecta isn't hard to come by. Yoga studios, including Granlibakken Tahoe's famously sustainable shop and Squaw Valley's Wanderlust Studio, generously dot the region and offer a variety of wellness packages perfect for those at any experience level of their yoga practice.
For those who want to up their ante and combine their yoga practice with nature, Tahoe Flow Arts Studio offers beachside yoga and aerial silks instruction that will quite literally leave you with the feeling that you're walking on air.
4. Practice Mindful Consumption As You Dine, Drink and Explore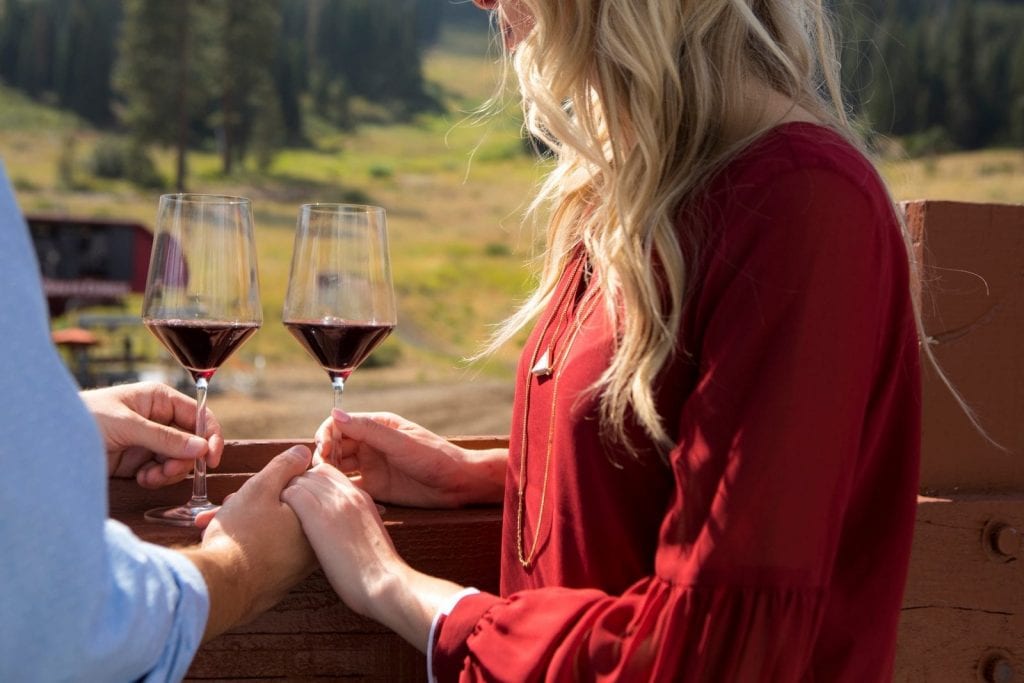 Take a moment to truly enjoy the Tahoe experience. Photo courtesy of Ryan Salm.
Mindfulness isn't just about exercise, setting goals, and taking in the sights. Its also about how you fuel those activities—physically and mentally.
North Lake Tahoe offers plenty of food and beverage options for those who want to practice more mindful eating—which consists of eating practices meant to emphasize the quality, pleasure, and value of food.
Whether you're sipping a glass of wine or sitting down at one of Tahoe's many fine dining establishments, remember to set aside your phone and focus on enjoying the richness of the food, the company you keep and the moment you're indulging in. You might find you enjoy every part of the experience that much more.
5. Soak In Tahoe's Bright, Beautiful Blue Waters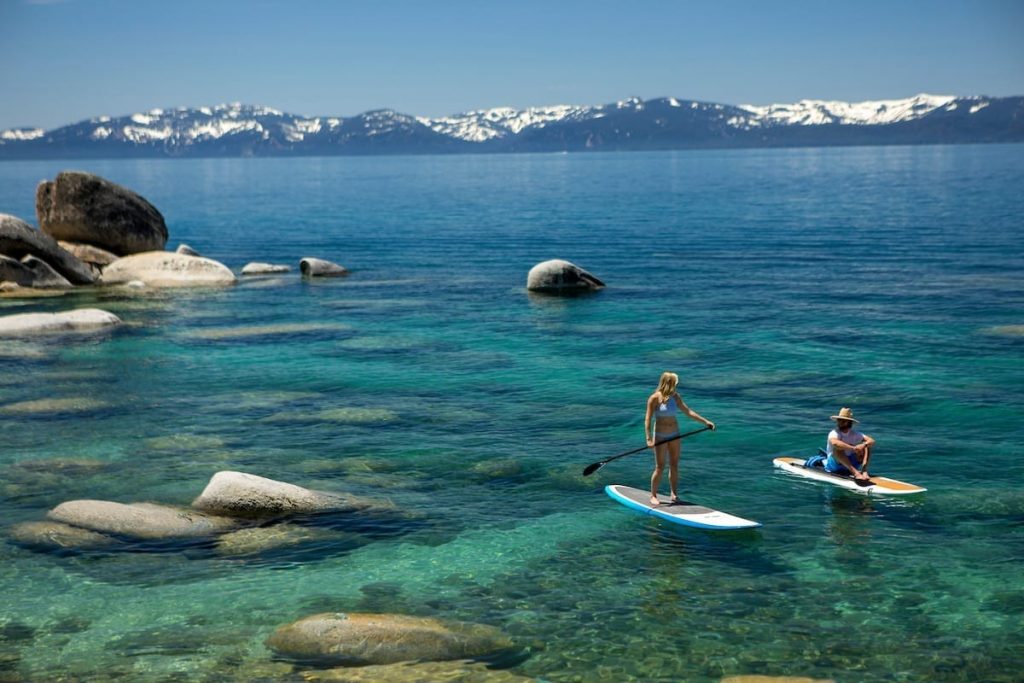 Vast bodies of water promote a sense of peace, well-being, and enchantment in the human mind. Photo courtesy of Ryan Salm.
One of the many things that make North Lake Tahoe so wonderful—and so rejuvenating to its visitors—is the lake itself. The stunning clarity and blue hues provide the perfect backdrop for mindful moments and inspire a peaceful feeling just from looking at it.
That's no exaggeration. In fact, some psychologists believe that vast bodies of water promote a certain sense of well-being and connectedness in the human mind, diminishing feelings of anxiety, exhaustion and overwhelm.
Experience that first-hand by visiting North Lake Tahoe's various shoreside communities and beaches. While you're at it, join our locals in a long-standing tradition of protecting the lake by packing everything in, recycling your waste, and leaving this epic slice of paradise just as beautiful as you found it.
As we said: North Lake Tahoe is one of the world's finest wellness destinations. The landscapes, culture, and options for exploration can't be beaten… but rather than take our word for it, why don't you book your stay, grab your Wanderlust ticket, and see for yourself?