As the last of fall's vibrant shades fade and a chill is carried in the mountain air, North Lake Tahoe's visitors and locals alike know that the season we've been looking forward to all year is right around the corner.
That's right, folks. Winter is coming, and we can hardly wait.
With some of the 12 downhill ski resorts already open for business and more to come as the season's first snowflakes make their fabulous debuts, there's no denying that there's more than a chill in the air—there's excitement, too.
To celebrate the forthcoming winter season, we've put together our guide to all of the things you can look forward to this year. Check it out, then grab your gear and get ready to join us in our mountain paradise.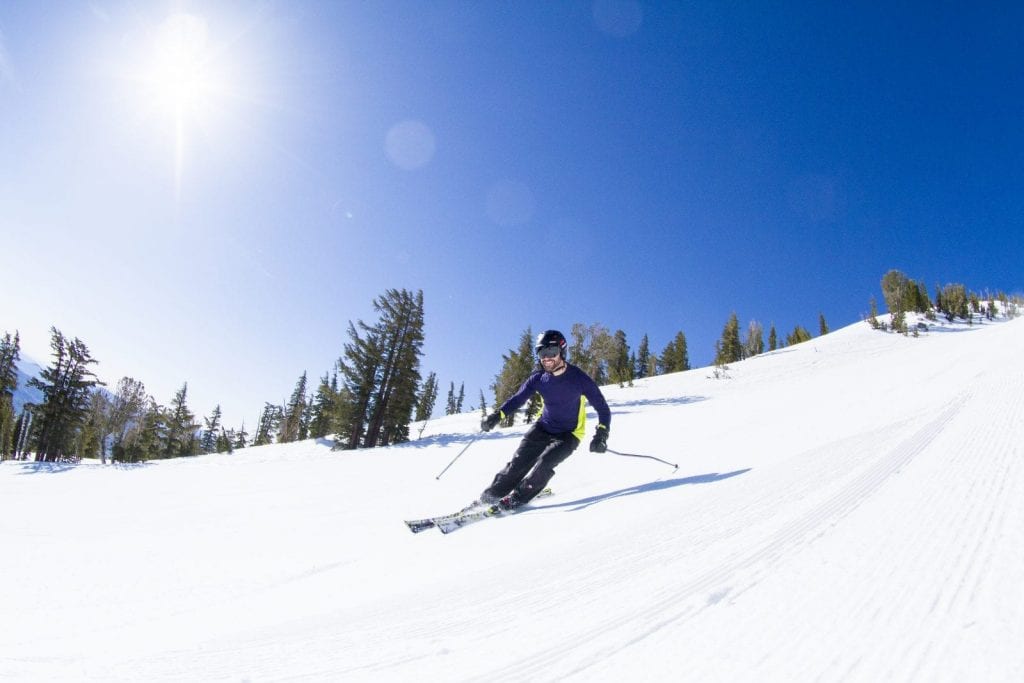 Mt. Rose is just one of the few ski resorts in North Lake Tahoe that have already opened for the 2019-2020 ski season. Photo Credit: Mt. Rose
Get Hyped to Hit The Slopes
There are lots of incredible things to enjoy about North Lake Tahoe, including its lake and mountainside communities where you can bite, sip, sleep and shop to your heart's content. These activities are available year-round, and we strongly encourage you to take advantage of them—especially during North Lake Tahoe's beloved spring and the exciting fall "Secret Season".
But there's no denying that year after year, one of the things Tahoe visitors and locals alike look forward to the most is snowfall—and their opportunity to ski, snowboard and sled down the region's exhilarating slopes.
For those looking to hit the slopes immediately, Mt. Rose has already started turning their lifts for the season on a limited—but soon to be full-time—schedule. As the region prepares to enter the winter season in earnest, 11 other properties—including Squaw | Alpine on November 15 and Northstar on November 22—will soon join Mt. Rose in the wintery festivities.
Whether you're a seasoned expert at snowsports or a beginner, there's sure to be a great snow-play option for you. For beginners especially, it's a good idea to keep your eyes peeled for special deals during "Learn to Ski & Ride" month in January. Visitors can expect to enjoy first-time packages for youths, special events, reduced pricing on lift tickets, concierge services and all sorts of other surprises.
To keep up-to-date on opening dates, resort status, and snow conditions, we recommend subscribing to our newsletter or checking out our regularly updated weather report.
Put On Your Party Shoes
This winter in North Lake Tahoe, there's plenty to celebrate. Music and film festivals, family-friendly holiday activities, and more abound. Don't let the snow fool you into thinking that people have gone into hibernation.
In November, the Northern Lights event series touches down at Incline Village and Crystal Bay and goes through the end of December. You can expect to bite, sip and socialize your way through a variety of Christmas Mixers, Santa pub crawls, film festivals, and live music at the North Shore's largest indoor venue, the Crystal Bay Club & Casino.
Also in  November and December, join Tahoe's denizens as they get into the holiday spirit with the Village at Northstar's Noel Nights. Noel Nights sees the Village transformed into a festive winter wonderland complete with horse-drawn sleigh rides, ice skating, s'mores and a plethora of other exciting activities.
Looking to 2020, Tahoe adventurers can look forward to Snowfest!—a 10-day celebration of the season complete with annual events like the famed Polar Plunge (in which Tahoe's bravest explorers dive into the lake's still-frigid waters)—and WinterWonderGrass, a 3-day mountainside festival which brings some of the biggest names in bluegrass together with craft brews to celebrate Americana in all its glory.
Want to Do Dinner and Drinks? Aprés Vous!
Don't let the phrase "aprés-ski" fool you into thinking that you have to earn your right to delicious dining and a brew or cocktail on the mountain. In Tahoe, aprés is for everyone!
Whether you're making tracks with skis, snowboards, sleds or snowshoes, we recommend taking a moment out of your Tahoe adventure to indulge in some of Tahoe's locally-made delights, new and old. 
For classic North Lake Tahoe standbys, we always recommend stopping by bars and grilles like PlumpJack or Whitecaps Pizza and Taphouse (the perfect headquarters stunning panoramic lake views and craft brews).
Those in search of new beverage options, can look forward to discovering Chef Michael Mina's Bourbon Pub in the Village at Northstar, as well as the Tram Car Bar (which serves drinks from a restored 70's era tram cabin)—and for diners, the newly opened Inclined Burgers and Brews will keep your belly full with one of the top ten burgers in the nation, according to Food and Wine Magazine .
Of course, drinks and indulgent meals aren't the only way to experience aprés. In fact, the diversity of experiences offered by North Lake Tahoe is a part of what makes our home so special. If you want to learn more about some of the region's other exciting aprés options, we invite you to check out our Aprés All Day guide. We promise there's a little something for everyone.
Now that we've shared a preview of what you can expect from North Lake Tahoe this winter, set your itinerary and book your stay with us today! See you on the mountain!