Something special happens in North Lake Tahoe as temperatures begin to fall. Glittering icicle lights begin to illuminate the region, homes, and businesses feature seasonal decorations, and a jovial holiday spirit captures the hearts of locals and visitors alike. These elements, combined with the epic beauty of the region and its endless options for adventure add up to a holiday season unlike anywhere else.
You won't want to miss a moment of the excitement as North Lake Tahoe's 12 downhill resorts declare open season, restaurants unveil their winter menus, retailers offer amazing gift options, and our mountain and lakeside communities bring their annual events to life. Truly, while every day of the year in North Lake Tahoe is ripe with a plethora of breathtaking experiences, winter offers something extra special. Here's what you'll need to know in order capture that holiday magic for yourself.
Get Into the Holiday Spirit with Seasonal Events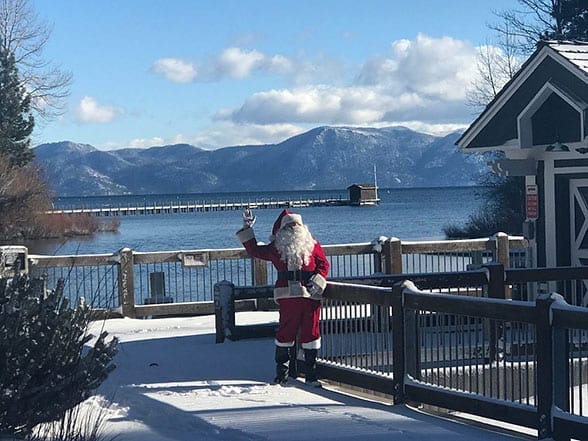 It's easy to get into the holiday spirit in North Lake Tahoe, thanks to a plethora of locally-run events! Photo courtesy of J.T. Chevallier.
As the holiday season unfolds in North Lake Tahoe, local institutions begin to celebrate in unique and exciting ways. Across the region's lakeside and mountain communities, you'll encounter a slew of special events that inspire holiday cheer and remind you of the reason for the season.
Among the special activities coming this winter are:
Squaw Valley | Alpine Meadows' Merry Days and Holly Nights, a series of events including orchestral performances, farm-to-table dinners, ice gardens and fun with Santa that spans from November 24 until December 31.
Noel Nights at Northstar California, a family-friendly extravaganza that sees transforms Northstar's Village into a winter wonderland. Featuring horse-drawn sleigh rides, outdoor ice skating, pictures with Santa and s'mores and hot cocoa by the fire pits. You'll truly be "walkin' in a winter wonderland".
The Northern Lights fest of 1990s fame, which brings a slew of musicians, parties and the Tahoe Film Fest to the region.
Rest Easy at Tahoe's Cozy Lodges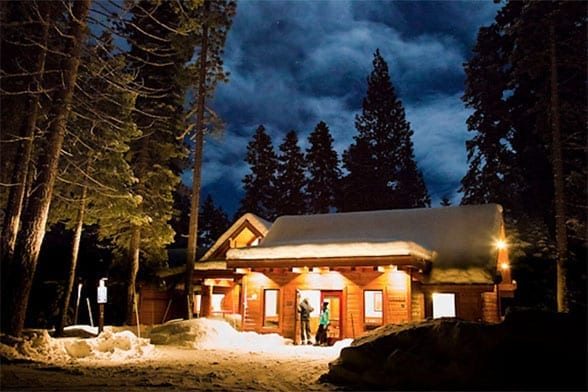 North Lake Tahoe's various lodges and inns offer an adorable escape from the mundane. Photo Courtesy of Granlibakken.
Whether you're traveling with a large group or heading to Tahoe solo, it's a good idea to understand the lay of the land where lodging experiences in the region are concerned. Every hotel, lodge, and resort in the area offers a different kind of experience. During winter, we love to stay lakefront at one of North Lake Tahoe's cozy lodges. With snow, holiday decorations and adorable architecture, these lodges look like something out of a storybook. Here are a few of our favorites:
Eat, Drink and Be Merry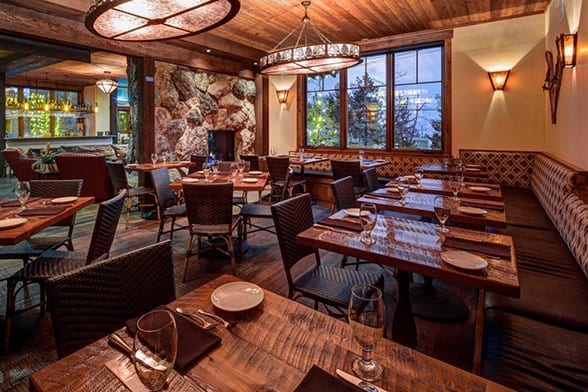 Enjoy bites and sips in comfort throughout North Lake Tahoe. Photo courtesy of Trevor Clarke.
What's better than being cozied up in our mountain paradise this winter? Filling your belly with selections from the delicious local dining scene. From standard California cuisine to Mexican, French fare to barbecue bites, North Lake Tahoe has a little bit of everything and more.
For winter-specific dining events, you'll want to catch:
Breakfast and brunch with Santa (at the Tahoe City Winter Sports Park and the Chateau at Incline Village respectively) on December 8.
The Farm-to-Table Dinner With Olympians at Squaw Valley | Alpine Meadows on December 27.
For dessert, bite into Northstar's sweetest tradition at S'moresapalooza on December 29.
You'll also want to catch a bite from newcomers to the region, like Inclined at Incline Village and the Tahoe Fusion food truck at Homewood Mountain Resort.
Break a Sweat with Winter Sports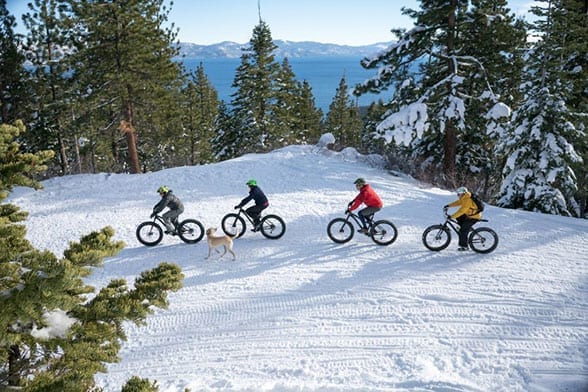 People around the world look forward to North Lake Tahoe's winter sports season every year. Photo courtesy of Chris Bartkowski.
North Lake Tahoe is internationally celebrated for its world-class winter sports offerings. From skiing and snowboarding at any of the region's 12 downhill resorts (each with a distinctive personality) to snowshoeing, fat tire biking and everything in between, there's certainly a winter sport for everybody in Tahoe this holiday season.
As you plan to climb, bike, and shred your way through the mountains, we recommend that you keep your eyes peeled for deals from the region's various local vendors.
As resorts begin opening for the season, we'll be keeping you up-to-date via our email newsletter and social media channels – scroll down to sign up and follow us.
Ring in the New Year, Tahoe Style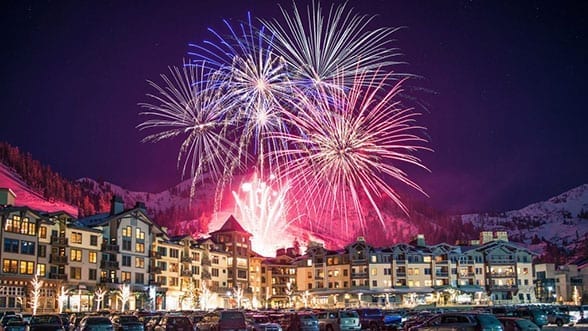 Enjoy glittering fireworks, framed beautifully by the snowcapped Sierra Nevada in North Lake Tahoe. Photo courtesy of Matt Palmer.
As the year draws to a close and we look forward to the next 52 weeks of fun in North Lake Tahoe, it only makes sense to cap off 2018 with a celebration. Throughout North Lake Tahoe, you'll find a variety of great options—perfect for families, couples and solo revelers alike.
Those looking to dance the night away and jump into 2019 in the company of live musical performers and DJs won't want to miss the Crystal Bay Club's annual NYE party; meanwhile, each of North Lake Tahoe's resorts will also offer celebrations with an array of differing vibes throughout the region—and you'll want to check for updates to our New Years Eve Guide for more details as the date draws nearer to.
There will be a lot going on in North Lake Tahoe this winter season. We have all the excitement a person could ask for in a mountain paradise. Now, all we need is you—so why not book your stay?