Get Ready to Fall in Love With Dining In North Lake Tahoe
You know that North Lake Tahoe's breathtaking views, vast waterscape, and endless recreational activities are incredible. What you may not know is that the crown jewel of the Sierra Nevada is also home to some of the best culinary delights in the region, with dozens of home-grown restaurants, celebrated restaurateurs, plus bites and sips from every cuisine you could think of.
In fact, our mountain paradise is so beloved for its food and beverage scene that it has long served as the home to the annual Autumn Food and Wine Festival—which marks its 34th year, September 20–22.
But rather than simply telling you about how great Tahoe's culinary scene is, we thought we'd showcase some of the most delicious and unique dining opportunities in the region. That way, while you work up a hefty appetite, you can plan your tour of Tahoe's best bites as part of your North Lake Tahoe adventure. Check it out!
Break Your Fast With A Big Brunch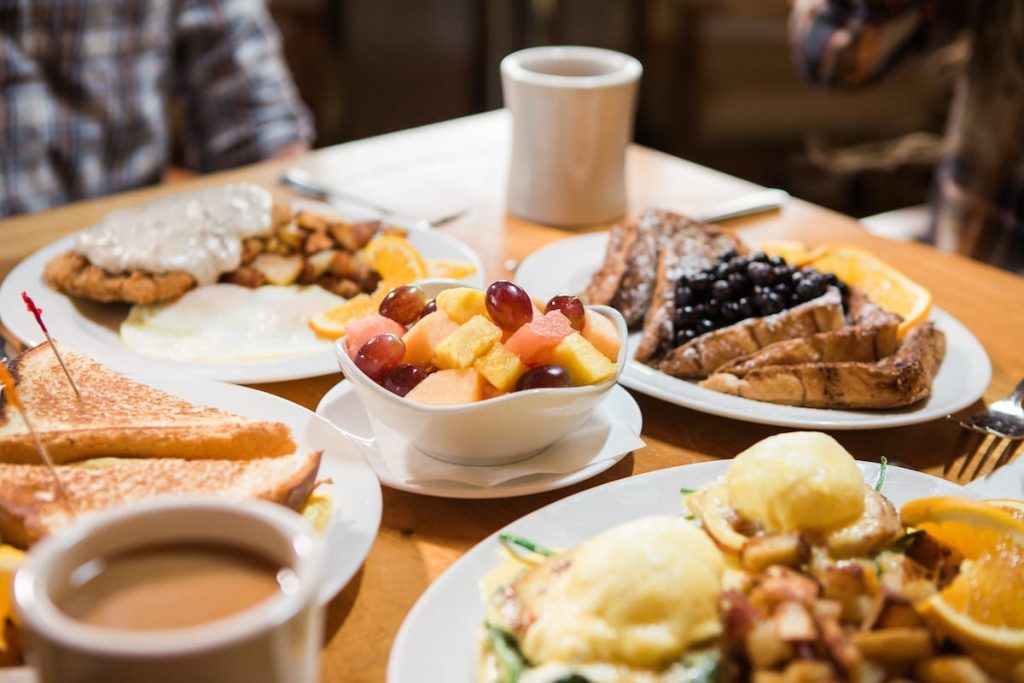 Start your day off right with the perfect breakfast—or brunch—in North Lake Tahoe.
Mimosas, Bloody Marys. Fluffy eggs. Warm waffles. Bacon, bursting with flavor.
What isn't there to love about brunch?
Whether you're waking up in Tahoe or starting your day trip there, Tahoe is the perfect setting to stage your brunch.
Regional favorites include: 
Carnelian Bay's Old Post Office Café:

This restaurant will remind you of a home away from home with its rustic decor, friendly staff and heaping helpings. Here, you build your own breakfast from a series of staples or try one of their specialties (like the famed Hangover Helper). While you're at it, consider washing your meal down with their freshly-squeezed juices, or indulge in a refreshing morning mimosa.
Tahoe City's Fireside Café:

A cozily appointed joint serving breakfast and lunch each day of the week, the Fireside Café is popular among residents and visitors alike—with good reason! Diners can enjoy the restaurant's fresh-made juices, vegan-friendly and gluten-free options, or their signature West Shore Special either in the comfort of the homestyle cafe, or surrounded by Tahoe's gorgeous alpine trees on their spacious patio.
Olympic Valley's Coffeebar:

Looking to energize, socialize and tap into that amazing "first thing in the morning energy"? Tahoe's take on Coffeebar is certainly the place to be. Start your day with a variety of vertically-sourced coffee beverages, or step out of your comfort zone and try something new, like the vegan-friendly Turmeric Latte. While you're at it, snag some chow. The breakfast burritos and house-made pastries are the perfect treat for Tahoe adventurers on-the-go.
Drink In Lake and Riverside Views While You Imbibe Lakeside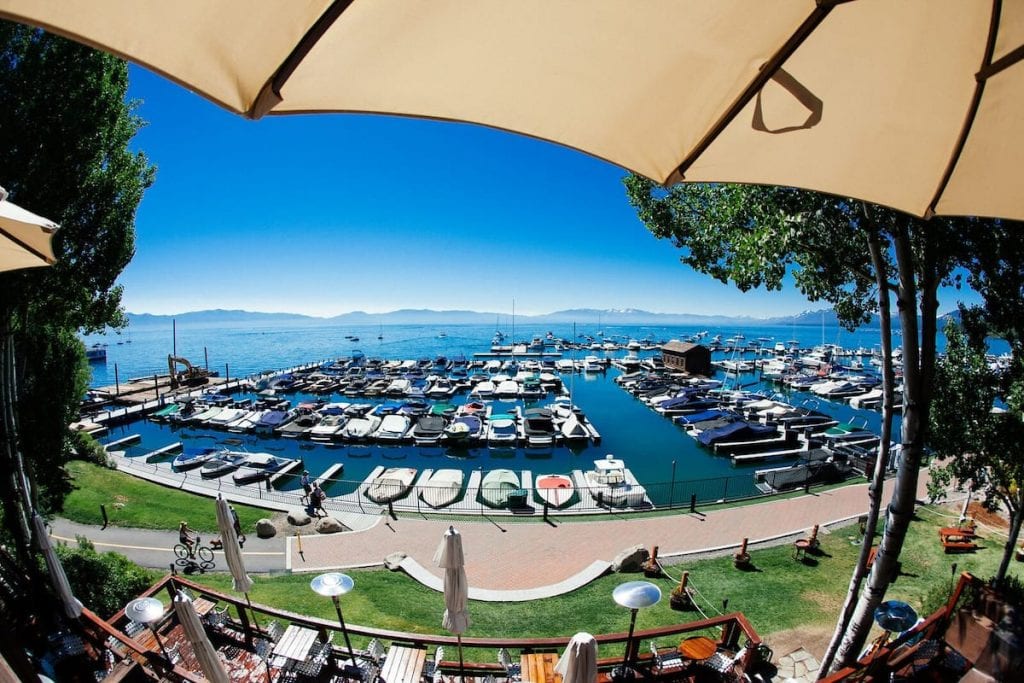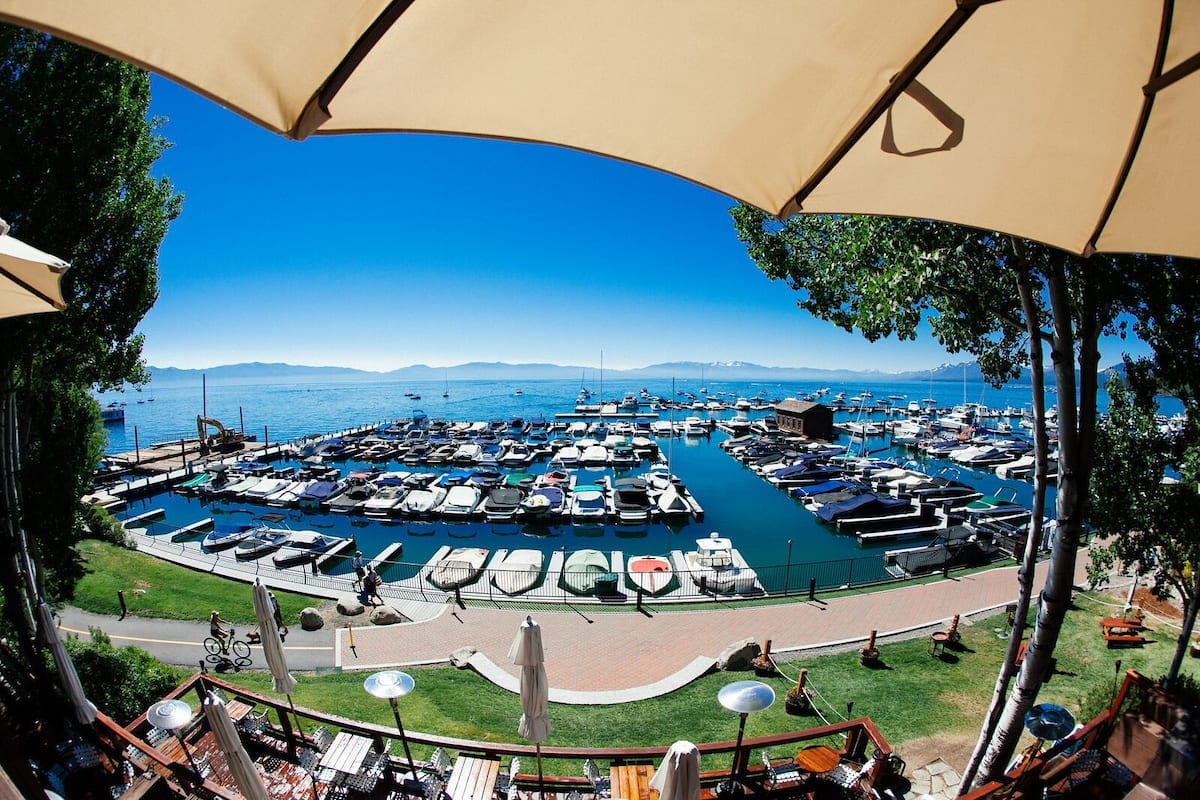 Jake's on the Lake is one of many classic lakeside dining choices in North Lake Tahoe. Photo courtesy of Mikolaj Walczuk.
What's better than a delicious meal? A delicious meal served in a beautiful location.

In North Lake Tahoe, that isn't hard to find—especially when you're dining over the turquoise and sapphire shades of one of America's largest, most beautiful lakes.
Regional favorites include: 
Tahoe City's Jake's On The Lake:

Satisfy your craving for Hawaii and California-style chow at Jake's, where you can dine with an expansive lake view as your palate cleaners on its bi-level deck. With fresh seafood, killer cocktails and a farm-to-fork special for everyone (including the vegans in the house), this is a dining experience you won't want to miss.  And make sure to end your evening with the famous Hula Pie dessert!



Tahoe City's Sunnyside Lodge & Grill:

Ships ahoy! This special lakeside dining venue offers an enormous deck and a dock where you can park your boat to stop in for a lunch of fabulous Tahoe tacos, garden salads, lobster tail and more. If indoor dining is more your speed, no worries: giant picture windows suspended in the lodge's refined interiors are like portals leading directly to the lake's surface.
River Ranch Lodge:

The lake isn't the only breathtaking waterfront site to behold in Tahoe. There's also the gorgeous Truckee River, which spans much of the region. The River Ranch Lodge, which has a massive two-level patio situated

beside

the said river, makes for the perfect place to take in burgers, sweet potato fries and the sounds of a rushing river all at once.
Feast Your Eyes On Tahoe With An Elevated Dining Experience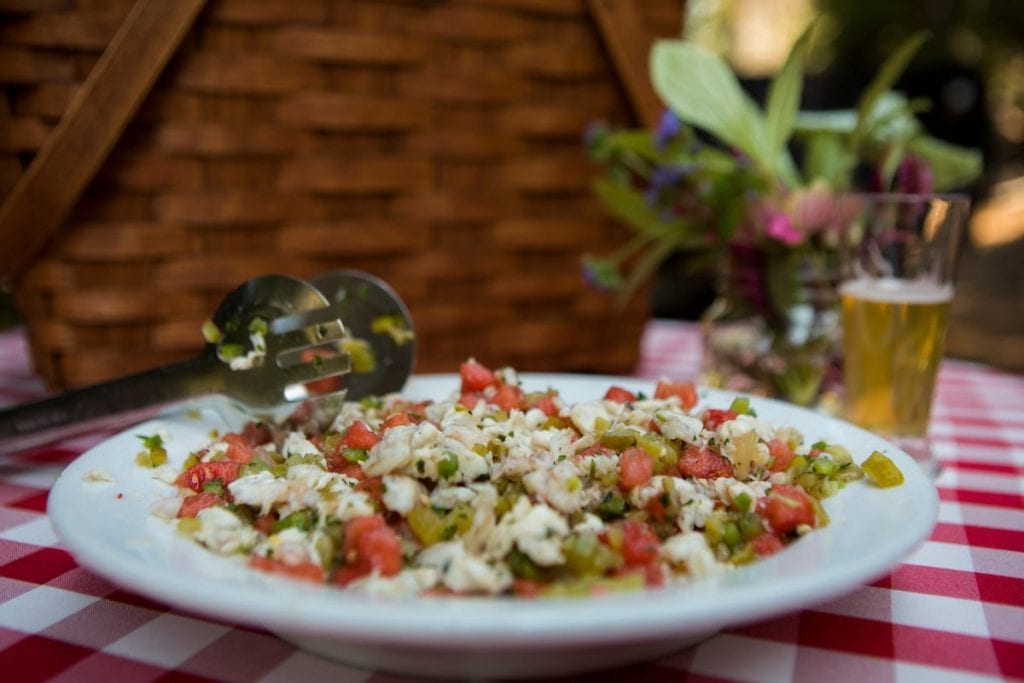 Al Fresco Dining is made simple in the fresh mountain air of North Lake Tahoe. Photo courtesy of Ryan Salm.
Forget those jokes about airplane food—dining at great heights is an experience worth having again and again in North Lake Tahoe.
At North Lake Tahoe's mountainside restaurants, you can bite into sumptuous cuisine from around the world while taking in region-spanning views of the Sierra Nevada, the Truckee River and the lake itself. Talk about dinner and a show!
Regional favorites include:
Northstar California's Lodge at Big Springs: Located atop of Big Springs Gondola with immediate access to upper mountain lifts, The Lodge at Big Springs serves fresh breakfast burritos, burgers, entree salads and more at the heart of the mountain. Three doors of indoor seating surrounded by picture windows mean you can chow down on something hearty, family-style, surrounded by North Lake Tahoe's peaks and valleys.
Squaw Valley's Terrace Restaurant & Bar: Enjoy fine-dining at High Camp—accessible via the tram, which climbs thousands of feet above the natural sea level. This restaurant offers top-notch views of Squaw Valley, and features innovative California cuisine like portobello strips, mountain chili and red-wine braised short ribs.
Squaw Creeks' Six Peaks Grille:

Enjoy specialty cuisine masterminded by the Resort at Squaw Creek's Executive chef, who sources sustainable seafood, meats and more from throughout the Reno-Tahoe region for a truly remarkable farm-to-table experience. Don't miss out on a meal featuring the resort's on-site hydroponic garden, from which salads, herbs and a variety of spices are developed to astonishing effect.
Enjoy a Tasty Tour De Force at the Autumn Food and Wine Festival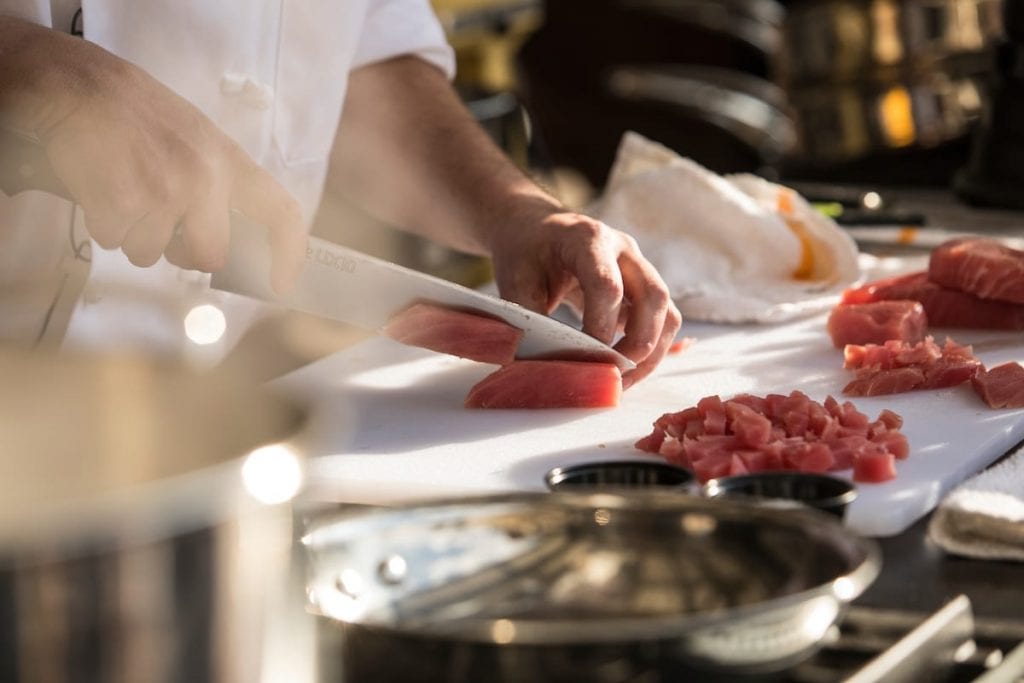 Enjoy world-renowned wine and celebrated local cuisine at North Lake Tahoe's Autumn Food and Wine Festival. Photo courtesy of Ryan Salm.
As temperatures fall and the vibrant colors of autumn bring a unique glow to the region, there's a plethora of reasons to enjoy North Lake Tahoe's increasingly beloved Secret Season. Among them? The annual Autumn Food & Wine Festival, which brings culinarians from around the region together at Northstar, California.
This iconic celebration of Tahoe's culinary achievements marks the perfect opportunity to kick-off the fall season. It takes you beyond traditional fine dining experiences into a fully immersive world of foodie culture, where you can sample the work of chefs competing in cook-offs, taste wine at varying elevations, and learn about where Tahoe's fine fare comes from.
Foodies, viticulturists, and adventurers are all welcome to explore this out-of-the-restaurant, into the open-air extravaganza. They'll quickly find that, when it comes to Tahoe dining, there's something to suit everyone's taste.
We don't know about you, but we're getting hungry. Why not satisfy your appetite for something uniquely Tahoe and book your stay in North Lake Tahoe today?