Top 10 Dog-Friendly Lodgings at Tahoe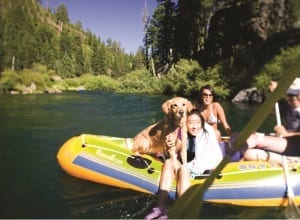 Dogs love Lake Tahoe. After all, there's plenty of hiking and swimming to enjoy. And for the more adventurous canine rafting and boating are options as well.
Lake Tahoe loves dogs too. If you stop into the Incline Village Visitors Center or even the Tahoe City Post Office chances are your pooch will be welcomed with a treat.
So how to go about planning a trip to Tahoe with your dog? First find some lodging that offers sleeping quarters for two- and four-legged guests. You can search GoTahoeNorth.com's accommodations listings by "Pets" to generate a list of canine-cuddly locations.
Here are a few of the doggie favorites in the North Lake Tahoe region:
1. Tahoe Moon Properties, Tahoe City: More than 50 dog-friendly rentals from small cozy cabins to ski-in condos. Properties are equipped with dog baskets that include dog tags with rental home information, dog towels, sheets for covering beds and furniture, a sticky roller for hair removal, dog biscuits and a poop scoop and bags. Tahoe Moon charges a fee of $40/dog that covers additional cleaning.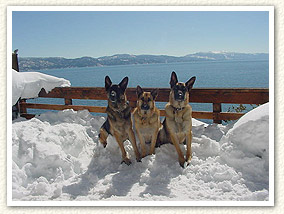 2. Holiday House, Tahoe Vista: Six-lakefront suites providing panoramic views of Lake Tahoe. The owner "welcomes pets to enjoy our piece of Heaven" and the property is centrally located to all things Tahoe, including beaches and restaurants. Don't be surprised to see a German shepherd, named Sierra, out on the water on a stand up paddleboard with the property's owner. There is a $30 flat fee for dogs for up to three days, and $10/night for extended stays.
3. Tahoma Meadows B&B Cottages, West Shore in Tahoma: Winner of the Golden Bone Award for exceptional service from DogFriendly.com. Guests stay in charming red cottages, reminiscent of Lake Tahoe 50 years ago, but with all the amenities that guests expect today. The owners at Tahoma Meadows will also post your dog pictures from Tahoe on their website. A good resource is their Pet Information webpage, titled "Adventures with Your Dog at Tahoe," which includes places – from beaches to hiking and cross country skiing – to enjoy with your pet. Fees are $20/night per dog.
4. Tahoma Lodge, West Shore in Tahoma: A historic, family-owned property with one and two-bedroom cabins geared for families. Nearby Sugar Pine Point State Park, which offers spectacular views of Lake Tahoe and is home to the notable Hellman-Ehrman Mansion, is perfect for morning jaunts as dogs on leash are invited on the paved trails. Dogs are $10/night.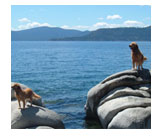 5. PlumpJack Squaw Valley Inn, Olympic Valley: Pampers pets with comfy beds, doggie treats, bowls for food and water, a customized PlumpJack guest ID tag, as well as dog-friendly rooms located on the first floor for easy in and out. A $150 fee per room is assessed when you bring your four-legged friend. Nearby Shirley Canyon is a must-hike for dog owners, especially with its many waterfalls that encourage Fido to get wet. And, don't miss one of the newest additions to the Village at Squaw Valley – Squaw Dogs is a shop featuring food, supplements, life vests, toys, leashes and harnesses that will keep your dog healthy and active for all your adventures.
6. Mother Nature's Inn, Tahoe City: Decorated with wildlife, nature-themed décor and renovated in 2004 to maintain its classic Tahoe charm, offers dog-friendly rooms that are also budget friendly. The property is centrally located, and guests are literally able to walk everywhere, including to coffee shops, chic clothing boutiques, and restaurants.
7. Ritz-Carlton Lake Tahoe, mid-mountain at Northstar-At-Tahoe Resort: The five-star luxurious resort also welcomes pets to enjoy the ambience that includes rooms with in-room fireplaces, floor-to-ceiling windows, private walkout balconies and views of Martis Valley. Pet fees are $125 (non-refundable).
8. Hyatt Regency Lake Tahoe Resort, Spa & Casino, Incline Village: This AAA Four-Diamond resort welcomes you and your pooch, but they must be 25 pounds or lighter. Pets to this stunning locale are charged $50/night.
9. The Rustic Cottages, Tahoe Vista: Nestled on two acres of pine trees these old Tahoe-style cottages include many that are dog-friendly. The historic property was originally the sawmill and labor camp of the Brockway Lumber Company and was converted to vacation cottages in 1925. Pets are $20/night.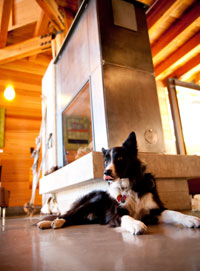 10. Cedar House Sport Hotel, Truckee: Baxter Baird, the owner's adorable border collie, just may be your first greeter and you may recognize him from the hotel's advertisements. The property offers rooms that are an eclectic mix of contemporary design and functionality with an organic edge geared for relaxed comfort. Dogs are welcomed with special treats, dog beds, and bowls. The dog-loving staff is also a great resource in providing guests with preferred dog venues throughout the area.