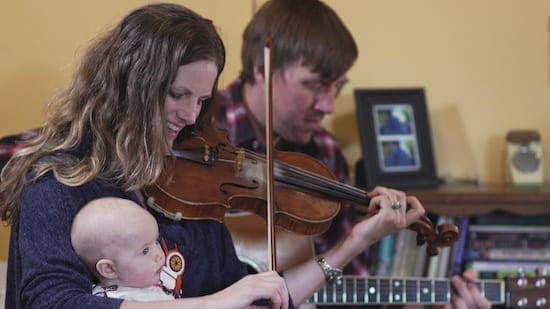 Jenni Charles, a Local Luminary, was born and raised in the mountains of North Lake Tahoe. A passionate musician by trade, Jenni grew up exploring the outdoors while also playing soulful music with her family and band at outdoor venues sprinkled throughout the region. When not on stage, Jenni, her husband Jesse and newborn daughter, Mabel Juniper, live a North Lake Tahoe life to the fullest.
To get a local's perspective on all things North Tahoe, we caught up with Jenni to see how she explores the area with her family and friends. Discover insiders tips to the best music venues, restaurants, date nights and more with Jenni's interview below.
Top 5 Places to See Live Music:
Crystal Bay Club in Crystal Bay Casino
Auld Dubliner in The Village at Squaw Valley
Moe's BBQ in Tahoe City (the Blackened Mahi-Mahi is unbeatable)
West Shore Pizza in Tahoma
Moody's in Truckee
Favorite Coffee/Tea:
My new favorite is Coffeebar at The Village at Squaw Valley. Their lavender latte with coconut milk is pretty decadent.
Best Date Night:
For our fancier nights, Soule Domain is great for a romantic mountain meal that's really delicious and comes with personalized service. For a more casual date night, Tahoe Art Haus is the best for a movie, beer or kombucha on tap and popcorn.
Favorite Way to Spend the Afternoon with Kids:
Mabel and I love to get outside as much as possible! We're big fans of hiking on the Tahoe Rim Trail, which is always great because there are endless miles to choose pick up and start from. Well, not endless, but 72 of them! You also can't beat dipping your toes in the lake, even if it is a little chilly.

A Song That Reminds You of Home:
Tahoe Gal by Dead Winter Carpenters.
Favorite Music to Hit the Open Road With:
When the open road beckons (which it does a lot as a touring musician), we're always blasting a little bit of country, bluegrass, folk, classic jams, and the occasional rock. In fact, next time you find yourself venturing somewhere new and fun, take some of our favorite songs with you!
Listen on Spotify: Road Trip Essentials by Jenni Charles
Best Way to Wind Down:
Restorative yoga at The Yoga Room in Tahoe City.
Favorite Tahoe Season:
Fall– The leaves are gorgeous, there is more room on the trails and beaches, and the temperature is perfect.

Favorite Tahoe Splurge:
An outing with Tahoe Sailing Charters. There's nothing better than a Sunday spent sailing around Lake Tahoe on the 50′ "Tahoe Cruz."
What is Your Greatest Tahoe Love:
Hands down, the community. We are an impassioned bunch of adventurers, makers, artists, families, and go-getting friends. They say you come for the winter and stay for the summer, but I think you come for the winter (or summer) and stay for the people.

Describe Your Perfect Tahoe Day:
Waking up in Tahoe is always a great day, but I would have to say that my perfect day is one where I get to spend time with my daughter and husband, get outside in the sun and jam out with close friends under the stars. I like to start these days with a home cooked breakfast with fresh fruit from the local farmers market, spend the afternoon either hiking a local trail or playing in the sand at Commons Beach with Mabel, and then get together with Jesse, my bandmates and close friends for a backyard BBQ. You can be sure there are lots of instruments out and we are having ourselves a grand old time jamming to classics, singing our hearts out, and dancing barefoot in the grass.
There really is nothing better than a Tahoe day. 
– Jenni
Want to learn more about Local Luminary, Jenni Charles? Click here to discover her full story. 
What is North Lake Tahoe Local Luminaries? 
Local Luminaries: An original video series that examines the lives and passions of North Lake Tahoe locals. This six-episode series features short-film documentaries and corresponding blog content from Local Luminaries who embody the character flavor and eclectic culture of North Lake Tahoe. Viewers can access local tips and lifestyle perspective while also engaging on a deeper level to understand why these individuals purposely choose to call Lake Tahoe home and how the common thread of community keeps them here permanently.