Much like the flowers that begin to appear, North Lake Tahoe blooms in the spring. Not only does springtime guarantee sunny days and blue skies that perfectly compliment the snow, but spring also brings longer days with more hours of sunlight.
With more hours of sunshine throughout the day comes more opportunities to fit adventure into your schedule, and maybe try a few things you've never done before! Here are six ways that you can take advantage of longer days in North Lake Tahoe.
1. Mix snow and sun for "Dual Sport Days"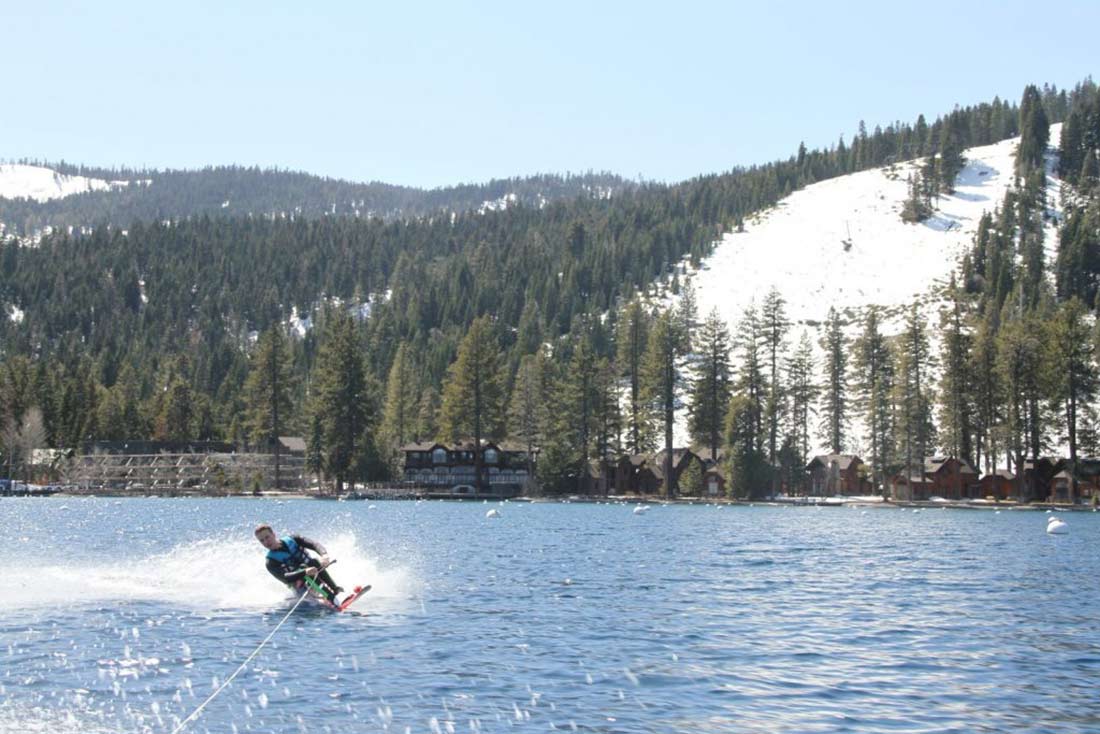 Experience Lake Tahoe in two different ways with "Dual Sport Days". Photo courtesy of Homewood Mountain Resort.
Spring is truly the best of both worlds in North Lake Tahoe, and with a winter season that saw over 50 feet of powder, snow is still lingering while sun and surf can be found lakeside.
Because of these unique conditions, spring is an idyllic time to get more out of your day in Tahoe with Dual Sport Days! Start off with a half-day of classic spring skiing at one of North Lake Tahoe's 12 downhill and cross country resorts; due to record snowfall in February, snow is expected to stick around for optimum skiing conditions, and resorts have extended their seasons to as late as July 7!
Later in the day, make the most of the remaining sunlight with a picturesque hike (or snowshoe) on one of North Lake Tahoe's beautiful trails, like the Tahoe Flume Trail or Tahoe Rim Trail. There's also a host of lakeside activities available to travelers, such as kayaking and stand-up paddleboarding. With longer days in North Lake Tahoe, it's possible to fit two adventures into one day!
2. Attend one of North Lake Tahoe's spring events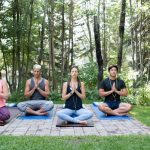 Spring in Tahoe is full of must-experience events, like the Restorative Arts & Yoga Festival. Photo courtesy of Granlibakken Tahoe.
There's never a dull moment during the spring months in North Lake Tahoe, with a host of events all season long to work into your schedule!
Need a little mindfulness in your life? Granlibakken Tahoe's Restorative Arts & Yoga Festival returns May 31-June 2. This weekend celebrates yoga, meditation, and wellness set within the historic, tree-covered, 74-acre Granlibakken property.
Later, the No Barriers Summit, taking place June 13-15 at the Resort at Squaw Creek, is an inspiring and engaging event where participants embark on new and adaptive activities and experiences. The weekend-festival will also feature live musical performances—including one from headliner Magic Giant, inspirational speakers and storytelling, innovation and more! Be sure to check out our events page to stay up to date on which events you should add to your calendar.
3. Enjoy a lakeside view with dinner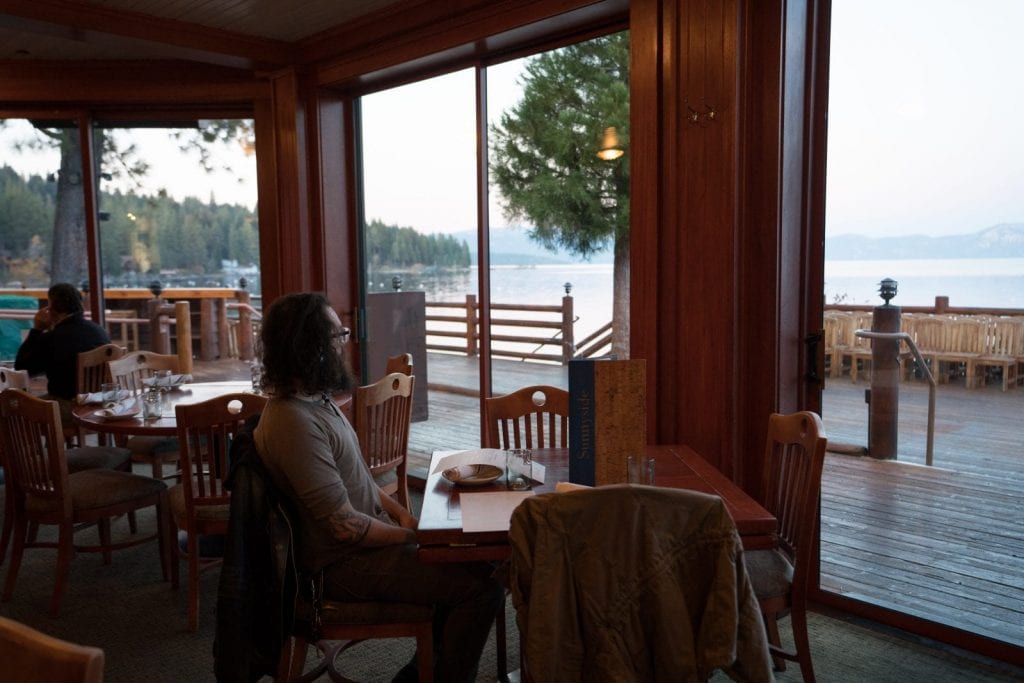 Enjoy lakeside views while savoring a delicious meal. Photo courtesy of Lisa Bao.
As lakeside snow begins to melt away, several restaurants along the shore open their outside seating area for guests to enjoy their meals. Not only do lakeside diners receive the added benefits of warm sunshine and cool mountain breezes to go along with their delicious meals, but evening dinners also give guests the luxury of enjoying a signature Lake Tahoe sunset.
Sunnyside Restaurant and Lodge is one of North Lake Tahoe's most iconic lakeside getaways, with a gorgeous view of the lake and plenty of Mai Tais! Lone Eagle Grill, located across from the Hyatt Regency Lake Tahoe, offers guests a private beach to pair with delicious dining options. In late May, the West Shore Cafe will resume service, providing breathtaking over-the-lake views and mouthwatering cuisine. These are just a few of the lakeside dining options available to visitors during the spring, check out our restaurants page for more options.
4. Discover sunken treasures below Tahoe's surface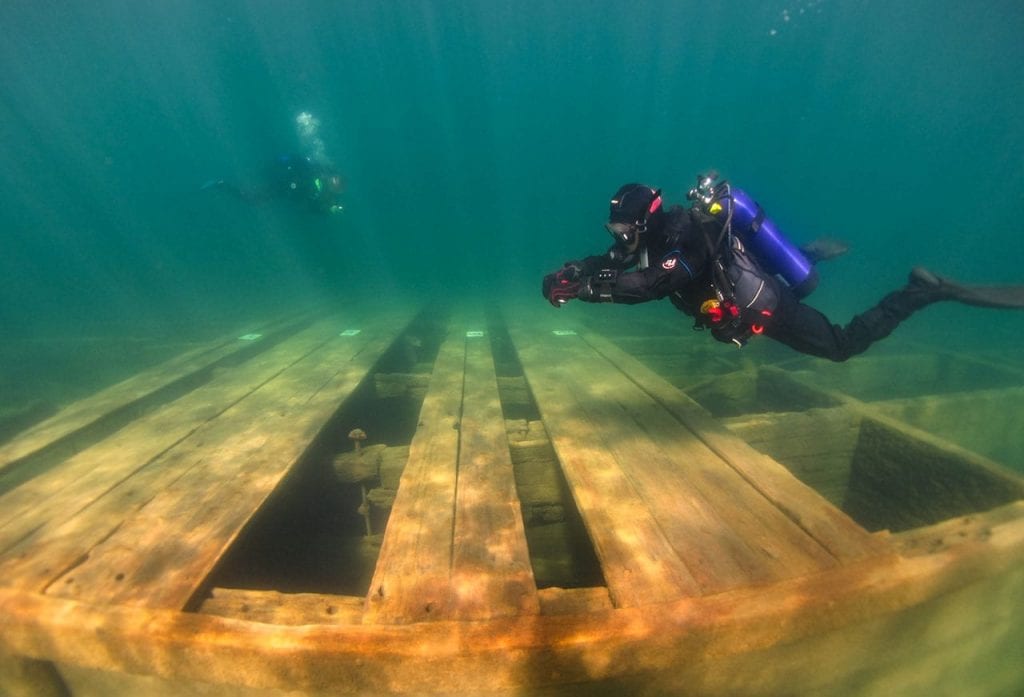 Explore sunken treasures on the Underwater Heritage Trail. Photo courtesy of Mylana Haydu.
While there's lots to explore around Lake Tahoe, maybe  you've dreamed of discovering what lies beneath the lake's surface.      
If so, take advantage of longer spring days by exploring sunken treasures via the new Emerald Bay Maritime Heritage Trail.

Scuba divers can experience Lake Tahoe like never before, interfacing with interpretative panels that have been placed at four dive sites—revealing sunken ships in Emerald Bay. With warmer temperatures, both on land and underwater, spring is the best time to try something new with this innovative Tahoe experience.
5. Scale the side of a mountain and observe fantastic views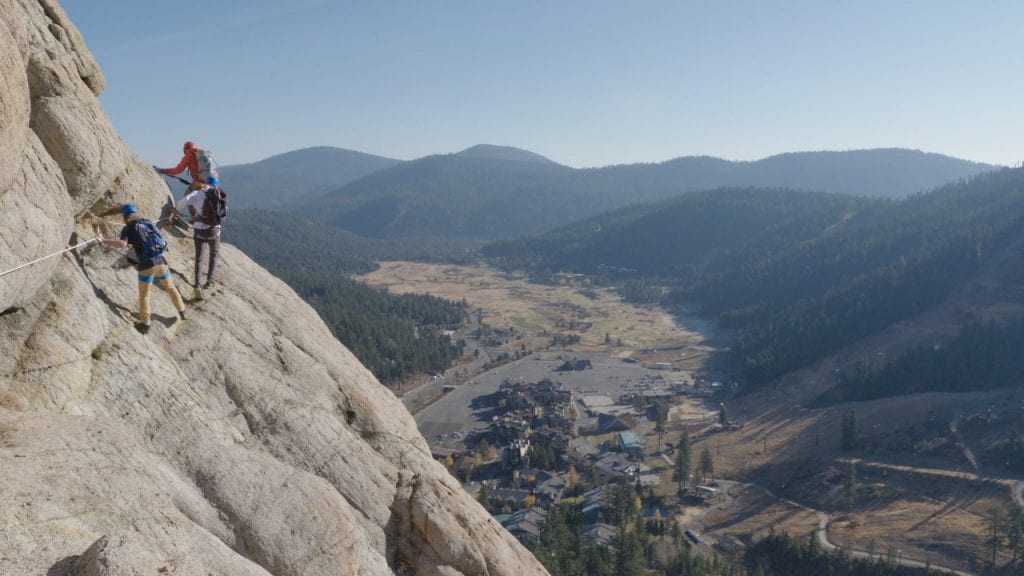 Test your stamina by scaling the top of a mountain. Photo courtesy of Squaw Valley
New this spring is the Tahoe Via Ferrata, a protected rock climbing route by Alpenglow Expeditions, located in Squaw Valley Alpine Meadows.

Tahoe Via Ferrata is America's newest Via Ferrata route, and one of under 10 total routes in the U.S. It's friendly to climbers of all skill levels, including children age 10 and up, so the whole family can harness up and scale one of two guided tours.

For more information on Tahoe Via Ferrata, check out our Treasures of Tahoe guide on high-flying Tahoe adventures!
6. Shop 'til you drop, all day long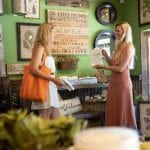 Go on an extended shopping spree to fill those longer spring days. Photo courtesy of Ryan Salm.
Longer spring days mean that your "retail therapy" can last the entire day! And with sunny days and blue skies on the horizon, North Lake Tahoe's outdoor shopping experiences become an optimal way to enjoy a little fresh air during your shopping spree.

The north shore features some of the best luxury shopping around, including shops at The Village at Squaw Valley and Northstar California Resort, along with smaller boutiques and thrift stores.

Check out our shopping page to see all shopping experiences in North Lake Tahoe, and find out where your next purchase will be at! Additionally, don't miss the Made in Tahoe Festival, May 25-26 at The Village at Squaw Valley, to help support local artisans, and take a piece of Tahoe home with you!
Are you ready to take advantage of longer spring days in North Lake Tahoe? If so, you might need somewhere to stay! Make sure to check out our frequently updated lodging deals when you book your stay—and don't miss event and value highlights in our monthly newsletter.