Summer in North Lake Tahoe is like nowhere else. With its vast, glittering lake, towering mountainscapes and exciting events, there's no shortage of activities to help you enjoy the long days, warm weather and leisurely pace of the season.
Check out our guide to summer in North Lake Tahoe—filled with everything you'll need to make this summer one for the memory books. Then book your trip and let the fun times fly.
Make a Summer Splash!
With the water warming up for the season and the sun beaming down, summer marks the perfect opportunity to splash into Tahoe's water-based activities. Interested in human-powered sports? Grab a friend and enjoy the rush of kayaking or stand-up paddleboarding—you can rent equipment from outfitters like Clearly Tahoe and Wild Society, or go on a kayaking/paddleboarding tour with the Tahoe Adventure Company. While you're at it, don't forget to kick off the season at Opening Day on the Lake.
If motorized activity is more your speed, now's the perfect time to break out your boats and other watercrafts. Just make sure that you check out the latest information on watercraft inspections to keep your boat, your adventure, and the lake all in good shape. Not a sailor but still interested in watercraft festivities? Hop on the Tahoe Gal, or enjoy a chartered lakeside cruise
Celebrate Summer Holidays, Tahoe Style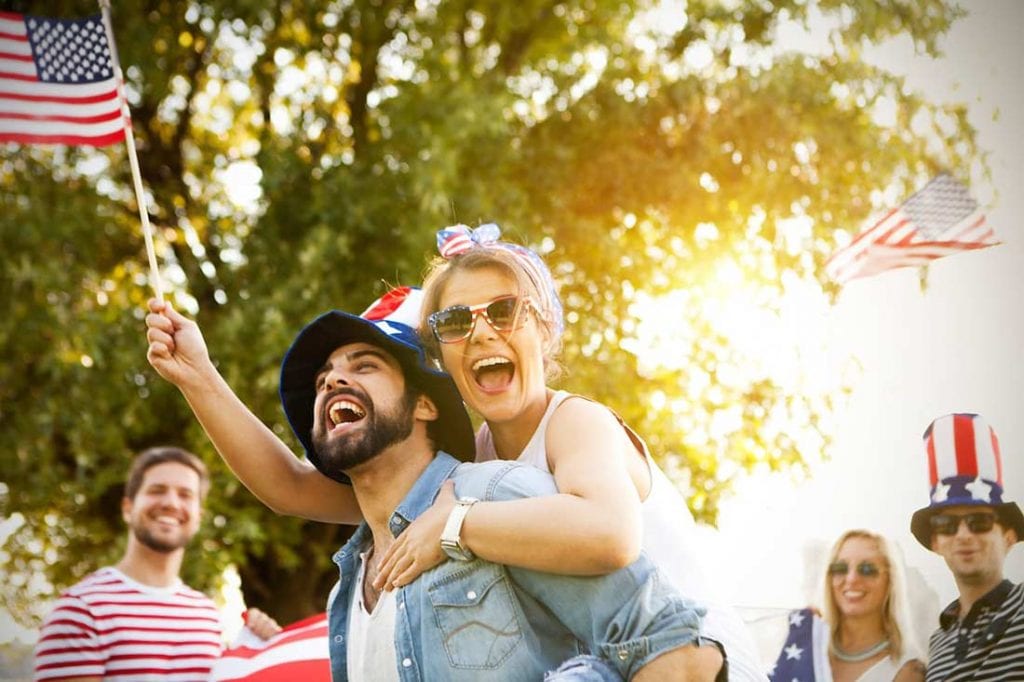 From Father's Day to Fourth of July fireworks, there's plenty to celebrate in Tahoe this summer. Photo courtesy of Matt Palmer.
North Lake Tahoe's pristine beaches, mountain resorts and endless opportunities for fun make the region a natural magnet for holiday revelers. To kick off the summer, you won't want to miss Memorial Day. Over the course of the weekend, you can lounge on the beach, take a hike with family and friends, cycle along Tahoe's trails and even get in a few golf strokes on Tahoe's putting greens.
Later this summer, head to Tahoe for Fourth of July festivities, including Tahoe City's Dyno-Mite Big Bang 4th of July Show and Kings Beach's Annual Fireworks and Beach Party. While you're here, find a spot for yourself at any of the region's peak spots—including its best decks and docks—so you can catch the annual fireworks display in stunning detail.
Celebrate Tahoe Arts, Music & Culture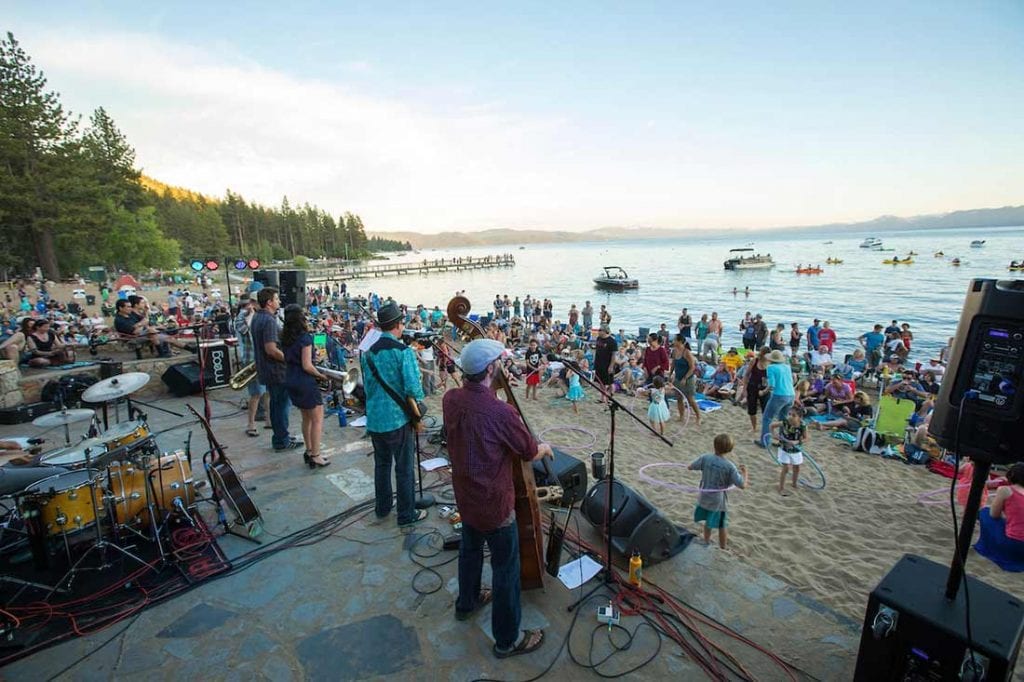 Enjoy the sonic stylings of local and visiting musicians all summer long at  Tahoe's various musical events throughout the summer. Photo courtesy of Ryan Salm.
All summer long, Tahoe's peaks and valleys will be alive with the sound of music—and film, and the chatter of artists and patrons at galleries and marketplaces throughout the region. Every night this summer starting June 1, Tahoe visitors and locals alike can catch live music at various locations during Tahoe's summer long celebration of music.
While you're at it, don't miss out on your chance to get ahold of local treasures, eat, drink, and sip at Tahoe City's Sidewalk Saturdays. This summerlong event brings the Tahoe community together to enjoy annual specials and other business highlights that you have to see to believe.
Finally, for lovers of the fine arts—like theatre and classical music—don't miss the world-famous Lake Tahoe Shakespeare Festival, Classical Tahoe, and the Lake Tahoe Music Festival!
Refresh Yourself With Tahoe Wellness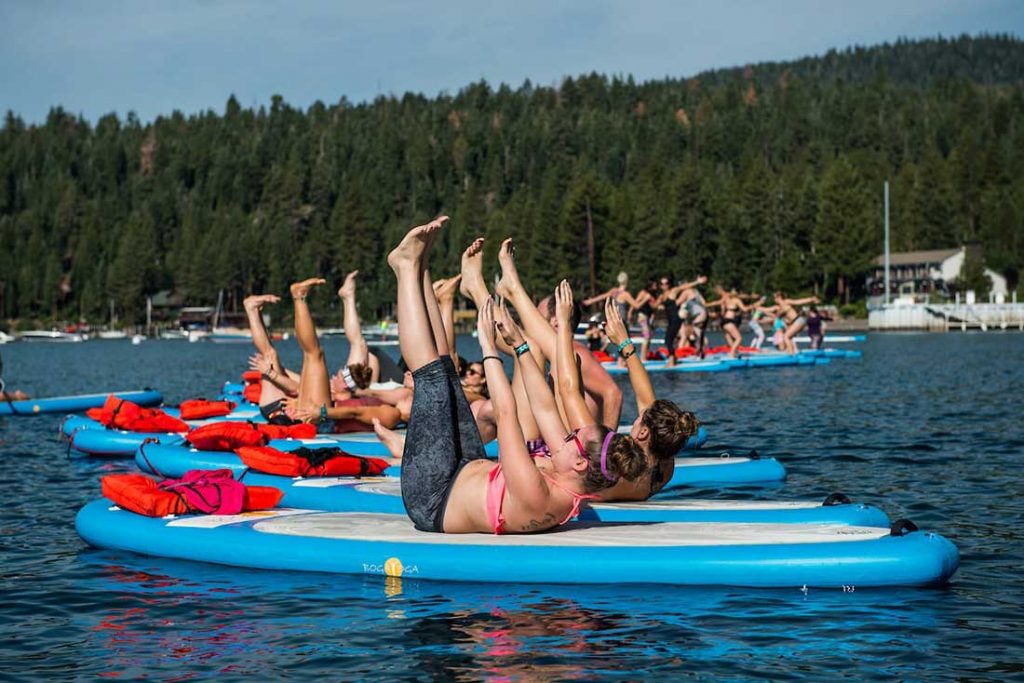 Unlock a sense of inner peace and renewal at Tahoe's various wellness-focused events this summer. Where else will you find paddleboard yoga but here? Photo courtesy of Ali Kaukus.
Thanks to longer days and fabulous weather, the summer solstice marks the perfect opportunity to focus on personal wellness. Take advantage of this time of year by visiting Tahoe's numerous spas, or staying atop your Tahoe fitness routine with yoga or other activities.
Kick off your personal summer wellness initiative by attending Granlibakken's Restorative Arts & Yoga Festival, May 31–June 2, or Wanderlust at Squaw Valley | Alpine Meadows, July 18-21. At both events, you'll enjoy music, yoga classes as taught by experts, and much more.
Delve Deep Into Tahoe's History and Epic Wonders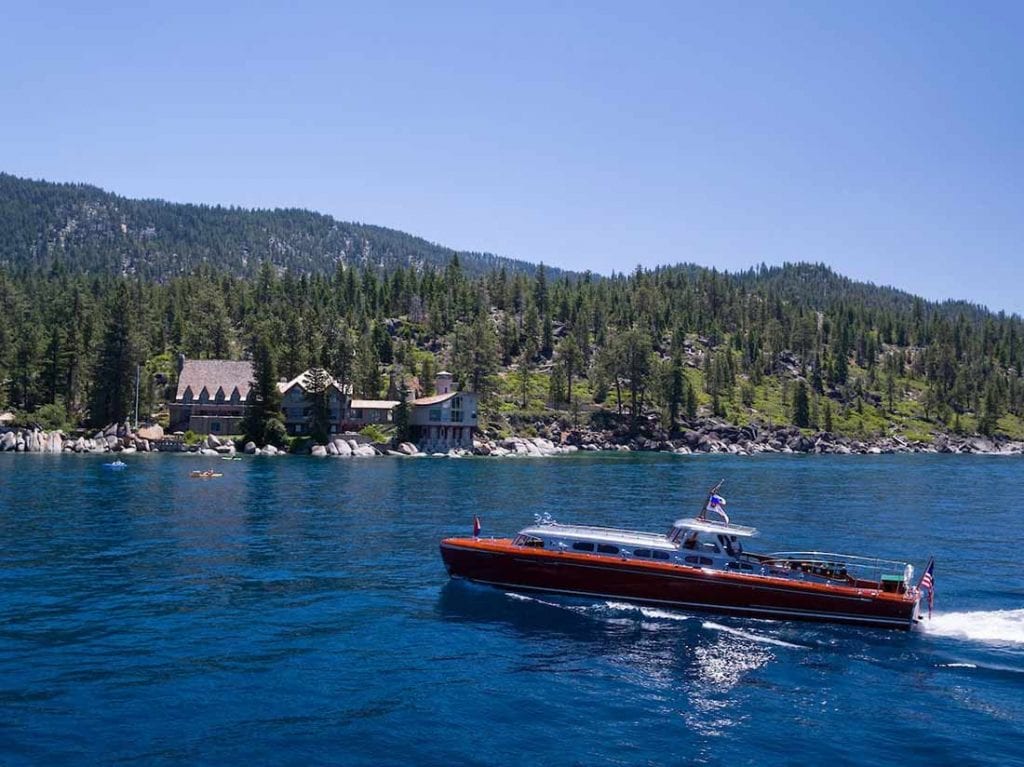 Summer marks the perfect time to touch Tahoe's roots and learn about the region's rich history. Why not take a step off of the beaten path to check out the ever-enchanting Thunderbird Lodge, whose sturdily constructed stone house and gorgeous grounds evoke the magic of a bygone era?
Don't Miss It: Get to know Local Luminary, historian and Chief Executive Officer of the Thunderbird Lodge—Bill Watson!
Other points of interest include the Watson Cabin Museum (the oldest building constructed onsite in Tahoe City), the Tahoe Maritime Center's museum and gardens (home to watercraft, engine and small object exhibits that detail Tahoe's aquatic heritage), and the Gatekeeper's museum (a historically accurate recreation of the century-plus old cabin which once housed Tahoe's watermasters—people who controlled the flow of water out of the lake).
Cross Tahoe Drinks and Dining Off Your Bucket List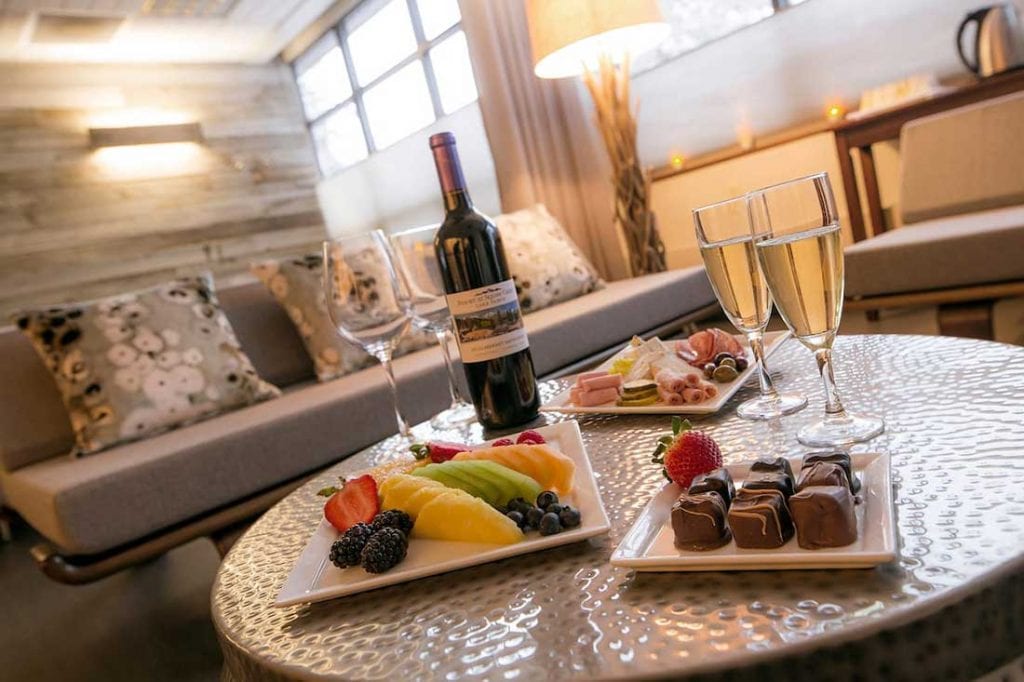 This summer, enjoy a bouquet of the best bites and sips that North Lake Tahoe has to offer. Photo courtesy of Squaw Valley Alpine Meadows.
With a veritable bounty of delicious local brews and dining options all around the region, there's no shortage of things to eat, drink and enjoy in North Lake Tahoe. This summer don't miss out on Northstar's Beerfest & Bluegrass Festival, complete with beers, craft sodas and all kinds of other exciting events and entertainment brought to you by local vendors. As for local bites: don't miss farmer's markets in  Tahoe City, Incline Village, and Truckee all summer long, and plan ahead for the 34rd Annual Autumn Food and Wine Festival in September.
Summer is the perfect time to break out of your routine and let the good times roll. Why not come up to North Lake Tahoe to splash, sip, dine and refresh yourself in one of the most beautiful places in the world?