The beauty of the crystal blue water of Lake Tahoe to the treelined mountains surrounding it can't help but inspire an authentic connection with our environment and this majestic corner of the world. So it's only natural that the magic of North Lake Tahoe has inspired many who call the region home to dive headfirst into efforts of sustainability, environmental preservation, education and awareness.
We want to celebrate a few of these stewardship superstars with a 5-week blog series. Each week we'll highlight another superstar in hopes to inspire all of us to do our part and to work collaboratively to make a difference. And while you're being inspired, make sure to take the Traveler Responsibility Pledge and commit to making small changes that can make a big difference.
All of these interviews were originally featured in Moonshine Ink and were written by Liz Bowling.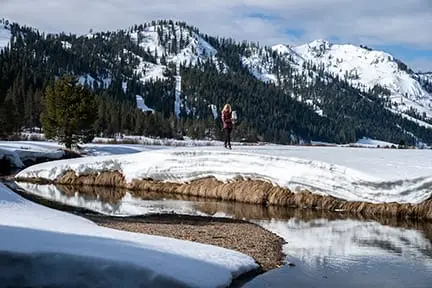 Over a decade ago, ski legend Shane McConkey acknowledged the troubling future of our planet. "We have a lot of environmental issues to conquer," he stated. "Time is of the essence." Of his many legacies, Shane's passion for the environment is evident through work of the Shane McConkey Foundation, an organization dedicated to making a positive difference. Running point on everything from the Pain McSchlonkey Classic to a national EcoChallenge for students is Sherry McConkey. Kind to her core and wise in the wisdom she imparts, Sherry's commitment to protecting our planet is connected to community, her daughter's future and perhaps in part, another way to honor her beloved.
The Shane McConkey Foundation was established in 2012 and four years later the EcoChallenge was created, empowering students from across the globe to have a voice in protecting the planet they're going to inherit. How did environmental stewardship, climate change and working with students become a key focus?
I had always wanted to incorporate an environmental aspect into the foundation. Working with students was purposeful because not only are they amazing, but they're also very conscious. As adults it's difficult to change our habits but if you start creating and implementing good stewardship practices at a young age, they are more likely to stick and become customary.
What are some of the stand-out EcoChallenge project submissions you have seen?
There are so many! We make a point of acknowledging every project that gets submitted, which is a conscious effort to uplift through the process. Kids need to believe that they can effect change and we want to reinforce that. One student started collecting golf balls in Monterey Bay and by shedding light on a significant trash problem, Pebble Beach Golf Course committed to monthly clean-up days. A team from Whitefish, MT banned Styrofoam by making changes at school – bringing their own plates and utensils, washing their dishes – and then the whole community got behind it. A Truckee team from Donner Trail Elementary collected 900 pounds of plastic lids for their Don't Drop The Top campaign and now they are getting benches made for our town. It's simply incredible, the creativity we see.
Have you seen a shift in the problems students are identifying and feeling passionate about solving?
There are a number of environmental issues students are trying to solve for, so the range has always been broad. What I'm seeing is a feeling of empowerment shift to feelings of frustration when they fight for change with viable solutions and get ignored. When they demonstrate courage and speak in front of leaders and get called "cute." It's discouraging for kids to see a lack of real action from leaders and in turn, impacts their motivation.
You shared this great post that talked about the simplicity of stewardship – not overthinking small shifts that actually have a big impact. How can each one of us participate in more active stewardship?
It's about making it fun! Create a game, set a goal, use recyclables for art projects. Get the whole family involved! It can be so simple, you just have to start. Turn off lights, conserve water, be mindful of packaging and come back to nature. Routines become habit and if you're in a constant competition to be good to the environment, real change takes place.
What concerns you? What gives you hope?
I'm worried that we're not working fast enough to implement change; that we're not working hard enough to protect this world for our kids. A parent's greatest fear is losing a child but we're not thinking about the planet we're leaving them with; the drastic impacts our behaviors have on their future. Our grandchildren's future. I'm excited because I've never seen so many people committed to the work. Even locally, we have dedicated people and nonprofit organizations fighting for change.
Impact
To date, the Shane McConkey Foundation and its sponsors, supporters and donors have raised over $550,000 for charitable causes and organizations.
1,300 students have participated in the EcoChallenge competition.
Get Involved
Follow Sherry and her team's efforts at: