Home to the continent's largest alpine lake and situated beautifully in the cradle of the Sierra Nevada, North Lake Tahoe is a destination flourishing with beauty and a sense of adventure unlike anywhere else.
One perfect way to soak in the region's killer views while enjoying some of the human powered sports for which the region is known is to tee yourself up for a few days of fun at one of Tahoe's incredible golf courses.
Whether you're an avid golfer, a history lover, or simply a first-timer looking to experience something new, North Lake Tahoe's golf courses offer a range of experiences that are suitable for visitors of all kind. But rather than just take our word for it, why not check out our guide to golf in North Lake Tahoe—then book your stay and find out what it's like for yourself.
For A Serious Challenge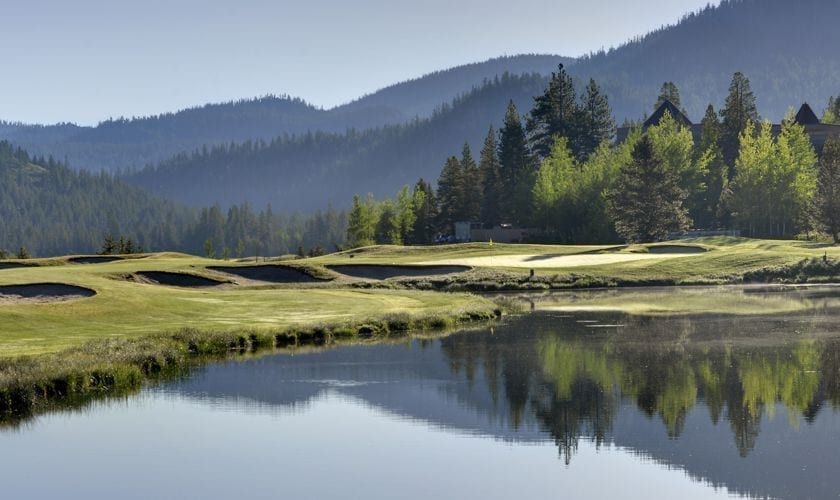 North Lake Tahoe's golf courses will leave you breathless. Photo courtesy of the Resort at Squaw Creek.
The Links at Squaw Creek
Just beyond the famed Olympic torch in Squaw Valley, you'll find a breathtaking—and highly challenging—golf course at the Resort at Squaw Creek. The sweeping emerald landscape, featuring 18 holes across the meadows and forests of the valley, is best suited for golfers who are masters of precision.
Non-golfers can relish their time here, too! Following an exciting day on the green, make your way to the Resort at Squaw Creek where you can enjoy delicious dining options at six restaurants, or indulge in massages, full-body treatments, skin care and more at the resort spa.
Northstar California Golf Course
Gorgeously nestled upon the wooded and mountainous terrain of the Sierra Nevada, the Northstar California Golf Course provides golfers with ample challenge—and beautiful views that are conveniently situated near the village at Northstar California. Golfers can enjoy a tough-but-enjoyable round of golf, then stop by the village for food, drinks and a good night's sleep perched in Tahoe's mountain paradise.
For A Historic Experience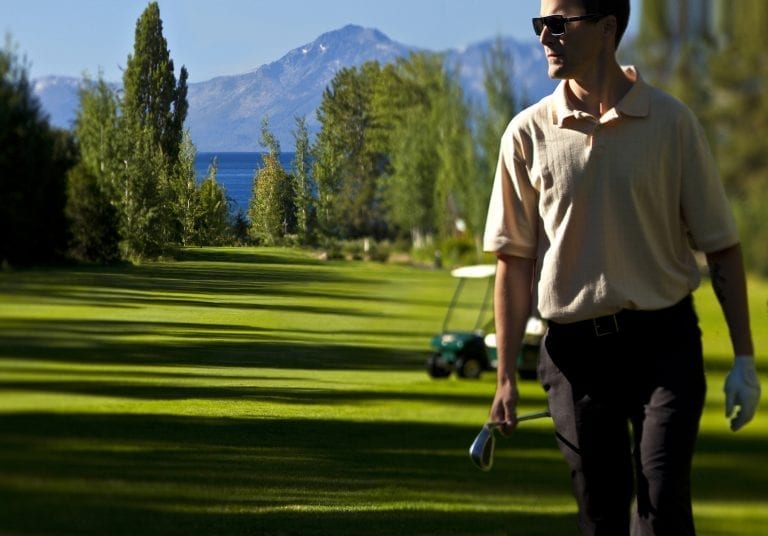 North Lake Tahoe's golf courses offer a glimpse at the region's history of glamor and excitement. Photo courtesy of the Tahoe City Golf Course.
Tahoe City Golf Course
Alongside adventure in North Lake Tahoe, you'll often find that the region is steeped both in natural—and cultural—history. One such example of this can be found at the Tahoe City Golf Course. Designed and established by female golfing legend Isabella May "Quennie" Dunn-Webb in 1918, the course has been a locally beloved treasure known for its classic, glamorous feel. Famously, the course has been host to silver screen legends and musicians like Bing Crosby, Bob Hope and others—who are rumored to have enjoyed exciting, high-stakes games of golf when they weren't patronizing the Cal Neva Resort & Casino.
As of May 2018, Tahoe City Golf Course is celebrating its centennial anniversary, highlighting the course's unique history and offering visitors the chance to experience all the glamor with special packages.
Old Brockway Golf Course
Another historical site is the Old Brockway golf course is perfect for history-buffs who also love a lakeside experience. Like the Tahoe City Golf Course, Brockway was a popular haunt for famous figures like Frank Sinatra, Dean Martin and President Dwight D. Eisenhower. Founded in 1920, this historical site is a must-visit on any North Lake Tahoe golf trip for its classic beauty and stories alone.
For Serene Scenery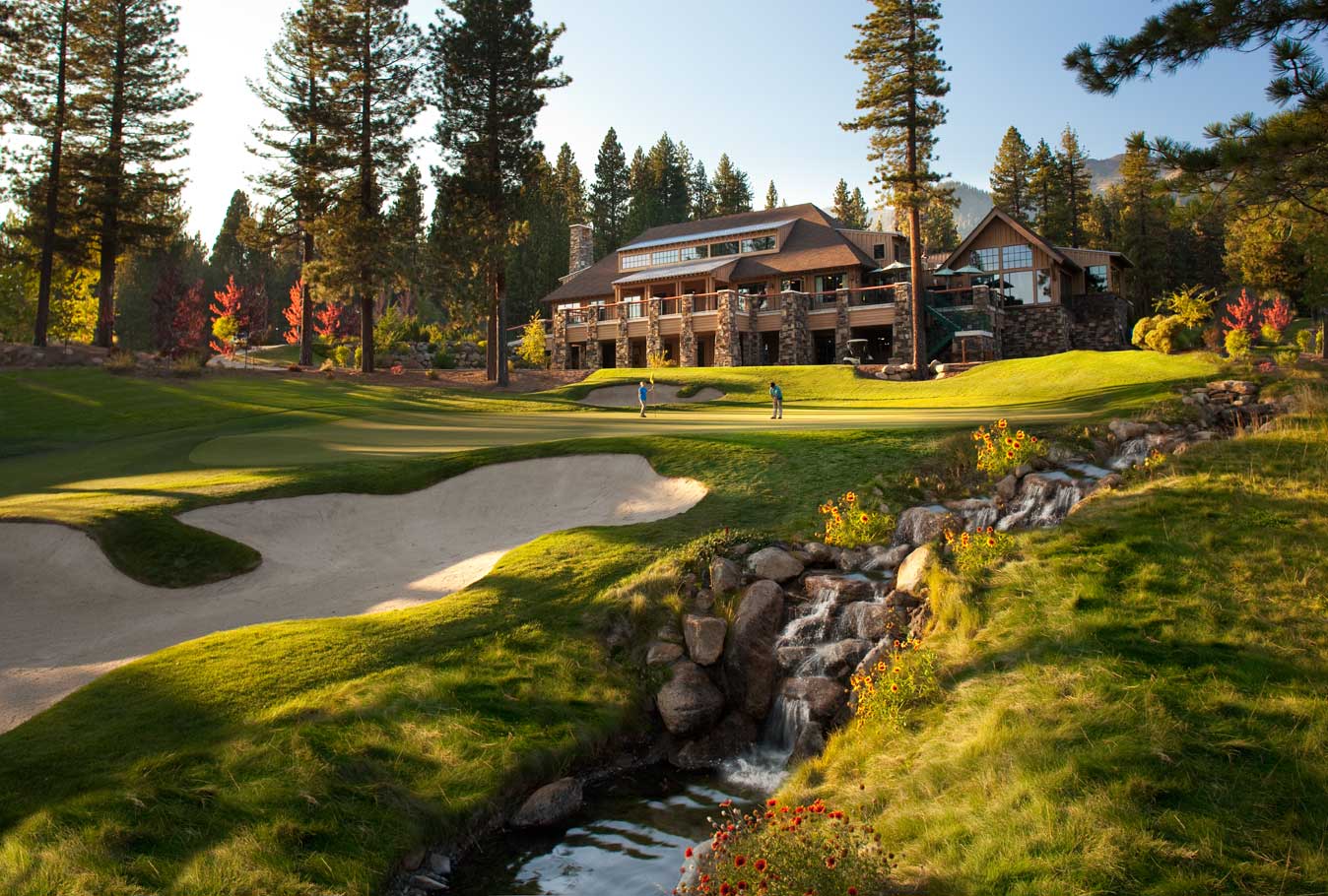 North Lake Tahoe's beautiful courses offer a getaway from the mundane. Photo corutesy of the Incline Village Championship Golf Course.
Incline Village Championship Golf Course
Though all of North Lake Tahoe's golf courses are beautiful works of art, some are even further distinguished by the seemingly perfect mixture of location and design. One course that is widely praised as a "masterpiece"—bringing a trifecta of perfect features into play–is the Incline Village Championship Golf Course.
Home to two distinctive fields of play, the Championship Golf Course offers varying challenges for players of any skill level or budget. The course provides an exciting mental and physical challenge, emphasizing both accuracy and distance on what its designer, Robert Trent Jones Sr., described as the "ideal mountain layout with views you will never forget."
Celebrated as one of the "Top 10 Best Courses You Can Play in Nevada" by Golfweek Magazine, the course offers visitors exciting play and The Grille at the Chateau, where you can taste locally-sourced Tahoe flavors.
In North Lake Tahoe, it's easy to have a full day of sport—enriched by the region's epic natural beauty and the plethora of amenities. Tahoe's countless lodging options take the guesswork out of figuring out where you'll stay—and with over 200 days of sunshine each year, it's always the perfect time to experience North Lake Tahoe.
We'll see you on the greens!