Surrounded by the towering Sierra, rich with impressive species of flora, and home to the largest alpine lake in North America, fall in North Lake Tahoe is unlike anywhere else in the world.
All year-round, our mountain paradise is home to epic adventures—and fall is one of the most exciting times of them all. Whether you're looking to witness stunning gold, orange and yellow hues as leaves transform in preparation for cooler temperatures; keeping fit with Tahoe's endless array of human-powered sports and wellness opportunities; or simply leaning into the fall spirit at the region's wide array of seasonal events, there's a North Lake Tahoe adventure for everyone. We've rounded up 5 of our favorites.
Peep Fall's Finest Foliage Along Tahoe's Hiking Trails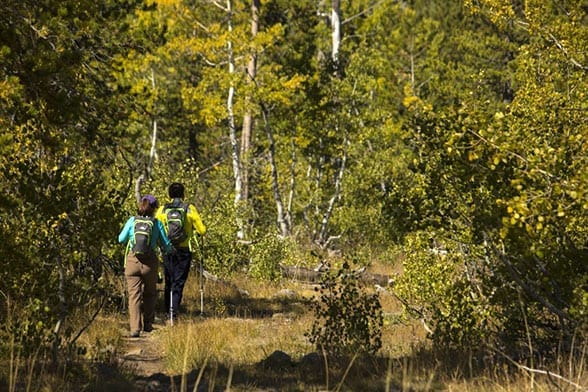 Fall is the perfect time for hikes of any difficulty level, thanks to cooling temps and availability of the region's trails. Just make sure to dress in layers, and bring plenty of water. Photo courtesy of Ryan Salm Photography.
One of fall's simple-yet-essential pleasures is taking in the sight of leaves as they change with the season. As the natural home to over 10 different species of trees, North Lake Tahoe offers visitors the chance to experience nature's bounty of autumnal colors as expressed by transforming leaves. This change in color is the result of diminishing chlorophyll (that's what makes the leaves green)—plus a complex equation of species, moisture, temperature, location and what insect species are active in a region—and is especially apparent in deciduous trees like the Aspen.
Visitors can hike Tahoe's various trails, which include the Mt. Rose Summit, Tahoe Meadows, Ellis Peak and Sugar Pine Point State Park trails, for maximum leaf-peeping satisfaction.
For those in search of more structured adventures, Alpenglow Expeditions has you covered. This year, the company debuts Via Ferrata, a protected climbing route in Squaw Valley | Alpine Meadows that is the first of its kind. Similarly, Tahoe Adventure Company is offering a range of guided hikes, cycling routes, climbing and backpacking tours.
Celebrate Wellness and Renewal at Granlibakken's Wellness Weekend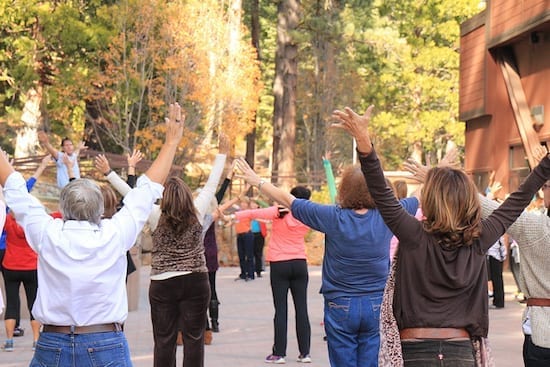 Granlibakken Tahoe's Wellness Weekend aligns with the spirit of rest, recovery and renewal associated with the fall season. Photo courtesy of Granlibakken Tahoe.
Fall's about much more than changing leaves and cooling temperatures—it also represents the start of an annual cycle of renewal that is critical to the wellness of our ecosystem. You, too, can get in on the wellness movement of the season by joining Granlibakken Tahoe for Wellness Weekend on November 9–11. This year, Granlibakken is proud to announce that Doctor Mike Dow, a best-selling author, and renowned psychotherapist, will headline the weekend with a keynote address titled "Healing Your Drained Brain". Cleanse your mind, body, and spirit and prepare for a prosperous year ahead as vendors, local artisans and holistic practitioners come together to celebrate the things that help us to feel good.
Work Up a Sweat, then Drink In the Flavors of Fall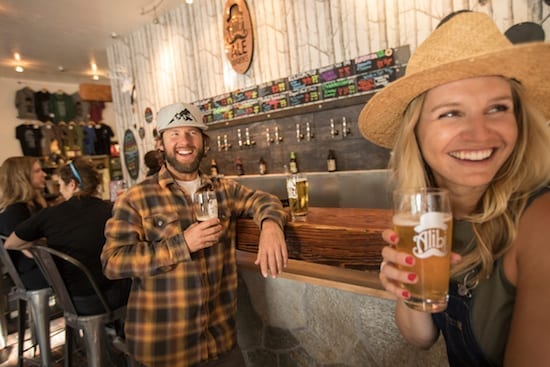 Quench your thirst for adventure—and a delicious brew or two—along North Lake Tahoe's celebrated Ale Trail! Photo courtesy of Ryan Salm Photography.
Every fall, you can count on a few things happening: the leaves will change colors, the temperatures will descend, pumpkin-spice everything will pop up everywhere and—of course—the Tahoe City Oktoberfest will roll into town! This annual event—held on September 29 this year—rings in the fall with the help of local craft breweries, live musical performances and delicious food.
The fun doesn't stop there. Whether you're a craft beer aficionado or simply looking to wet your whistle after a day of cycling, hiking and paddleboarding, North Lake Tahoe's Ale Trail offer an array of beloved regional watering holes replete with locally-brewed craft beers. Take a day to peep the beautiful leaves of Tahoe's aspen groves and alpine forests, then head up to places like Rubicon Pizza and Backyard Bar & BBQ to wind down and refuel.
Double Down on Fall Fitness with Dual Sports Days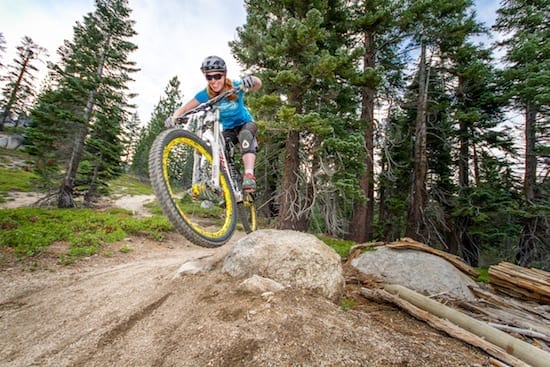 No need to let the cool weather slow you down! North Lake Tahoe's human-powered sports will keep you in peak condition all throughout the equinox. Photo courtesy of Chris Bartkowski.
Take advantage of cooler temps by staying outside longer and linking multiple sports together. In the fall, you can easily start the morning off with a round of golf and follow up with a long-distance cross-country mountain bike ride. Trails that once seemed too steep for the warm summer months are now ready for the taking. Explore Tunnel Creek trail in Incline Village, bike up Old Mount Rose Highway and descend the Tahoe Rim Trail, or cruise through the trail system of Tahoe XC.
For those who want to get on the water, many local sports stores rent stand-up paddleboards and kayaks well into the fall. And while wetsuits are recommended, smooth-surfaced lakes — from Tahoe to Donner Lake to Boca Reservoir — make for ideal waterskiing and wakeboarding. Trout also grow more active with the cooling water temperatures, and area lakes and rivers offer some of the finest fishing in the West.
Step Into the Season's Spirit With These Fun Fall Events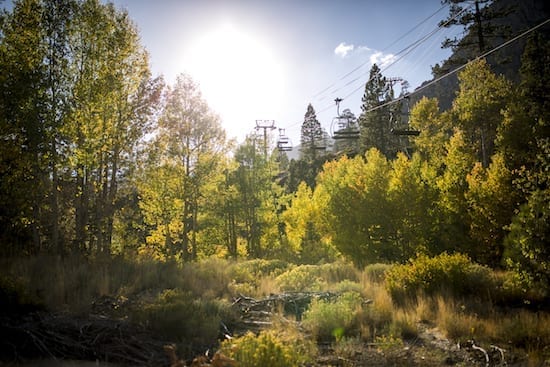 Step into the spirit of fall with these unique events. Photo courtesy of Ben Arnst.
Fall can be perfect for bundling up indoors and reading a good book alone—but for those of you who love getting out all year-round, North Lake Tahoe's events scene offers plenty of activities to keep you busy! For those looking to explore the region's terrain, join The Resort at Squaw Creek as they offer fall tours—this year through Shirley Creek—and kick off the season with a Fall Harvest Festival for two weekends (October 13–15; 20–22).
RSVP for Passport to Dining, one of Tahoe's premier tasting events and fundraisers. The cost of entry will transport you to a fabulous fundraiser that will benefit the North Tahoe Business Association as you bite, sip and celebrate at over 30 different tasting stations, enjoy a raffle and bid at the event's silent auction.
While you're visiting North Lake Tahoe, you won't want to miss out on the excellent lodging deals to be taken advantage of during the season. Consider booking your stay today, and prepare for a fall adventure like nowhere else.