Summer in North Lake Tahoe is like nowhere else. Here, you'll find breathtaking beauty, groovy music, delectable dining, and dozens of other awesome adventures around every corner. Even better? When you make one of North Lake Tahoe's resorts your homebase, all of the fun is literally right at your doorstep.
Whether you're with family, a group of friends, or going it alone, a new adventure is always around the corner in North Lake Tahoe. Check out our guide to some of our favorite experiences in the region, then chart your own adventure with our interactive map.
Make Memories at Northstar California
Situated beautifully in the Sierra Nevada and home to entertainment, dining and lodging options for just about any kind of group, one of the many things that makes Northstar California so special is the sheer variety you'll experience during your visit. This is especially apparent when you take a stroll through the The Village—which, surrounded by the beauty of nature and filled-to-the-brim with shops, restaurants and other amenities, will give you exactly what you're looking for in the blink of eye.
Make a Day Of It:
Soak Up the Fun at Squaw Valley | Alpine Meadows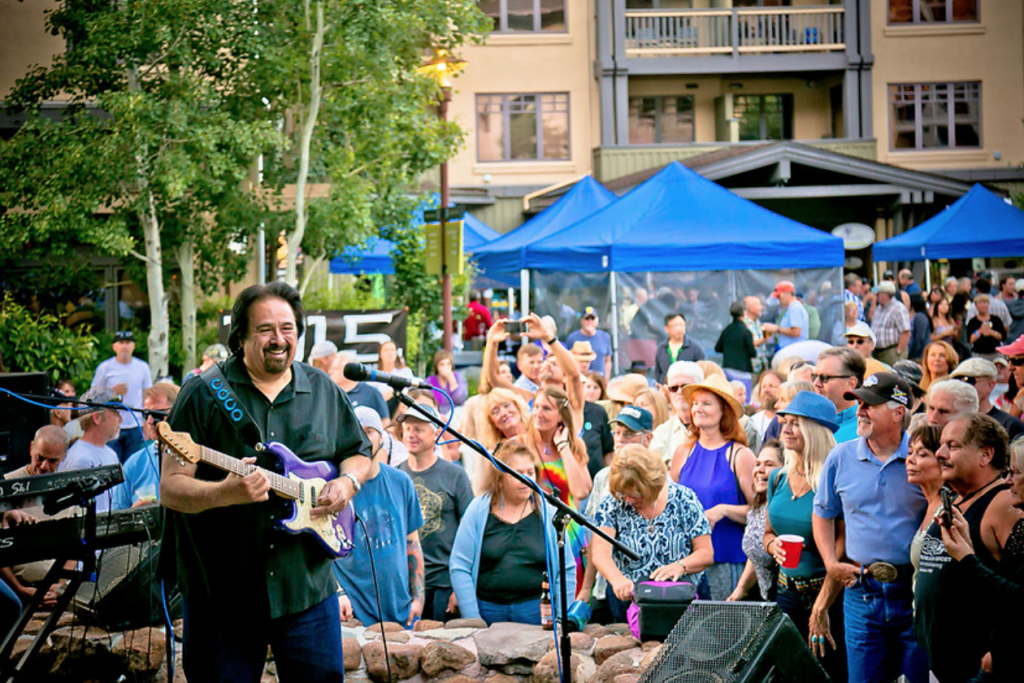 With music, a vibrant local community, mini-golf and plenty of other opportunities for fun, Squaw Valley is perfect for thrill-seekers of any age. Photo courtesy of Silent A Photography.
Year-round events, a vast property and a variety of amenities have made a name for Squaw Valley | Alpine Meadows and its surrounding community. Home to a village where shopping, dining, and lodging are easily accessible—as well as an "elevating" experience in High Camp—Squaw Valley | Alpine Meadows has everything you'll need to make your time in Tahoe's mountains truly memorable.
Make a Day Of It:
To get there, start your journey with a scenic lift on the aerial tram. Be sure to bring your camera for one-of-a-kind panoramic views of the region.
If visiting on Friday, you'll want to catch High Camp's poolside music series.
Once you're done with your High Camp soak and swim, fill your belly at establishments like the nearby Poolside Grill, Auld Dubliner Irish Pub and Restaurant, or the Fireside Pizza Company.
Don't miss Bluesdays each Tuesday in The Village at Squaw Valley. This popular outdoor music series brings famed blues performers to the region together with great food and flowing brews.
Take the stress out of accommodations by staying on-site—and enjoying one of the luxurious resort's lodging specials.
Hit Up High Altitude Adventure in Homewood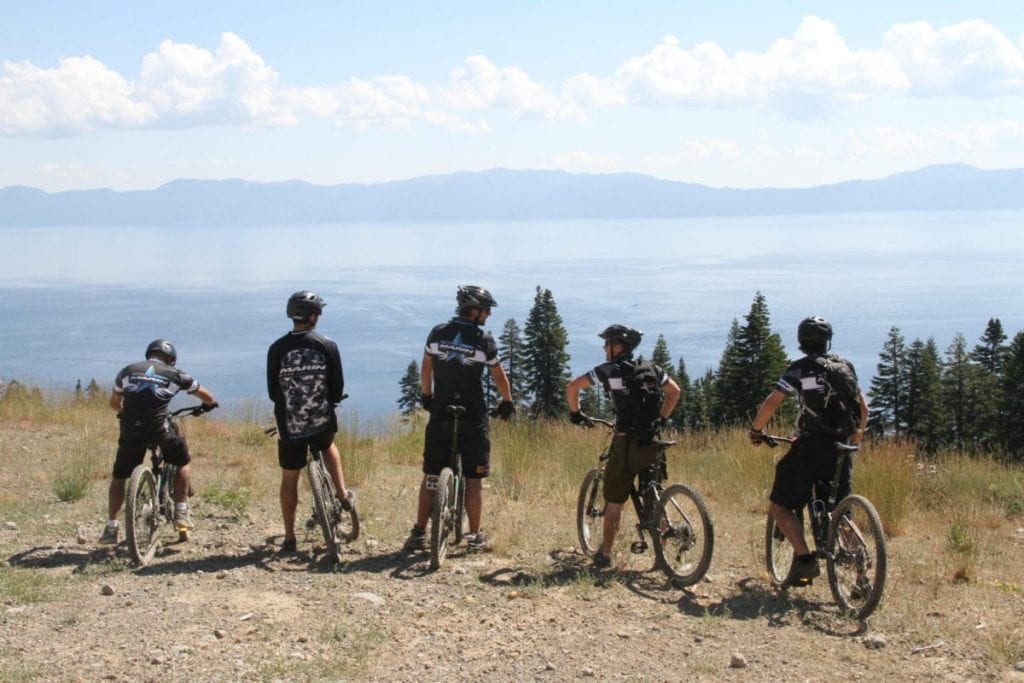 Famed for its snowy terrain in the winter, Homewood is also the perfect summer mountain destination for the actively-inclined, with unfettered Lake Tahoe views to boot. Photo courtesy of Homewood Mountain Resort.
Pack a lunch, lots of water and snacks, and get ready for some high-octane exploration. With endless hiking and biking trails that offer a beautiful view of North Lake Tahoe's glittering expanse from the peak of the Sierra, Homewood makes for the perfect HQ for anyone whose top priority for a day in Tahoe is breaking a sweat.
Make a Day Of It:
Before you start your adventure, take some time to research Homewood's summer-friendly hiking and mountain biking trails.
On your way to hit the trails, take a moment to stock up on supplies (like snacks, water, sunscreen and other goods) at New Moon Natural Foods.
Spend a few hours exploring the region's trails, and don't forget to take a breathtaking snap of the local flora and fauna.
When you're done with your outdoor excursion, grab a bite from the West Shore Café, Swiss Lakewood, or Chambers Landing Restaurant & Bar (fully open and operational on June 1) where you have to try a famous Chambers Punch!
When you're all done, turn in and get some much-needed shut-eye at the West Shore Cafe & Inn.
Find Inner Peace in Incline Village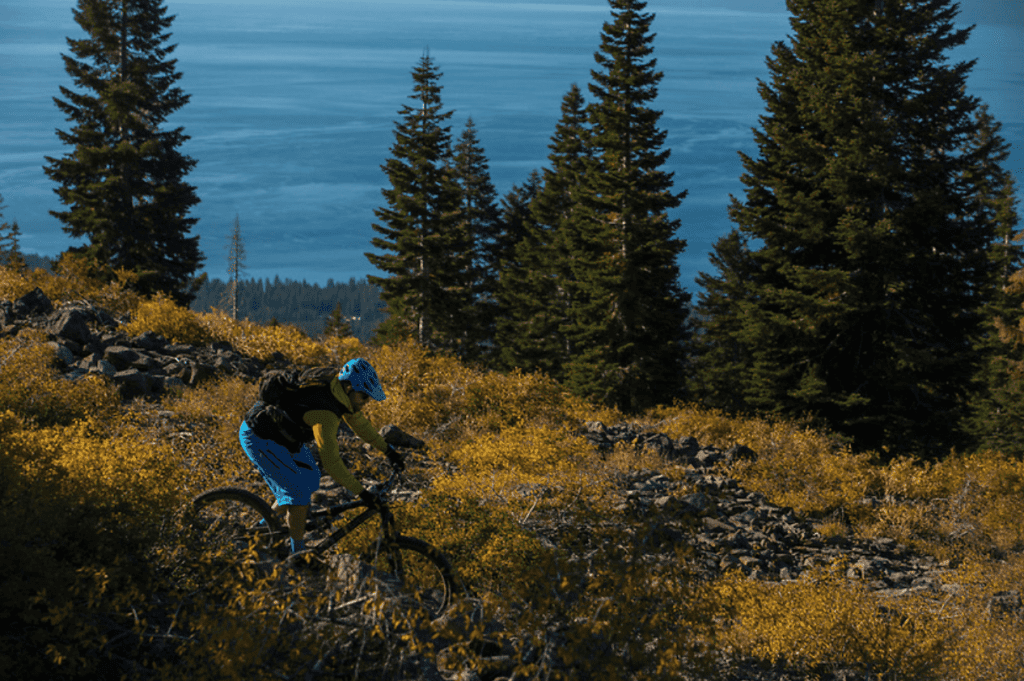 Home to Diamond Peak Resort and Mt. Rose, Incline Village offers breathtaking mountainside experiences and a luxuriously cozy, homey feel. Photo courtesy of Ryan Salm Photography.
While Diamond Peak and Mt. Rose are generally closed for the season, its surrounding community in Incline Village is very much thriving—and worth a visit. Whether you're looking for some of the best bites in the region, beautiful hikes, or the perfect picnic spot, Incline Village is a place you won't want to miss. In fact, the region has become a particularly beloved spot for nature-lovers and big personalities alike, who are attracted to Incline Village's beauty and laid-back pace.
Make a Day Of It:
Start your day with a delicious breakfast or brunch along Tahoe Boulevard, where you'll find both quick-and-easy bites and sit-down dining at places like the Wildflower Café, Tunnel Creek Café and Barjay's Gourmet Diner.
Next, soothe your mind and body at any of Incline Village's yoga studios or day spas. Ivy Studios is a great option for would-be yogis, while Aloha Spa and Stillwater Spa are classic local staples.
Continue your relaxed day by prepping for a picnic. You can collect supplies from Raley's, Village Market or Nuestro Sueno—then hit the Diamond Peak Resort Trail, where you can find a spot to enjoy your snacks and take in the view.
If you'd rather enjoy a round of golf, the Incline Mountain Golf course is the perfect addition to a day of "active rest". For something a little more intensive, consider mountain biking on the Flume Trail.
Incline Village is home to a number of lodging options available year-round, with many offering great deals on mid-week stays.
As you can see, the possibilities for fun, excitement, and memory-making in North Lake Tahoe are endless. Why not book your stay today—and get ready for the mountainside summer adventure of your life?