Many images come to mind when picturing winter in North Lake Tahoe. One may think of world-renowned ski and board resorts like Squaw Valley, Northstar California or Sugar Bowl and images to the likes of Jonny Moseley and Shaun White tearing up the mountain. However, North Lake Tahoe isn't just for the pros. North Lake Tahoe is for families. Below are just a few of the top reasons why North Lake Tahoe is the all-ages getaway for 2012.
January – Learn to Ski and Ride Month
Now is the perfect time to learn how to ski or ride. Squaw Valley, Alpine Meadows, Homewood Mountain, Diamond Peak Ski Resort, Sugar Bowl, Mt Rose and Boreal Mountain Resort are all celebrating this month offering special discounts and deals to get the whole family on the mountain and ski or ride like pros.
Grab Tahoe Eats… and Drinks!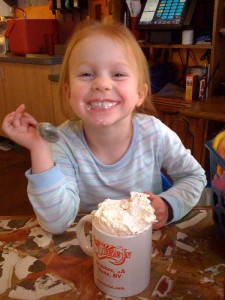 The Squeeze In has been pleasing kids since 1974. Kids get toy baskets, get to write on the walls, have a special menu and are treated like actual guests at the Squeeze In home. Order their rockin' hot cocoa piled high with whipped cream and sprinkles. It's a winner every time, along with the signature Teddy Bear Pancake! A bear shaped smile for every kid, young and old!
At the Tahoe House, kids feel right at home by the cozy fire, with loaner crayons, colorings books and plastic and wooden toys – all of which keeps them busy as they wolf down their bagel. Family owned and operated since 1977, the Tahoe House Bakery & Gourmet features baked breads and pastries, the "best coffee on the lake," sandwiches and much more!

Tubing, Sledding, Snow Play!!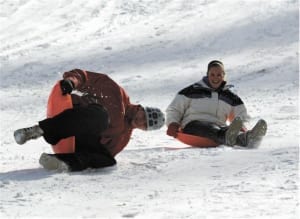 Granlilbakken Granlibakken ski area features a groomed snowplay area with rental saucers for sledding. Open daily, weather permitting.
Snowtubing at Squaw Valley USA Squaw's tubing park at the Papoose Learning Center offers two tubing lanes for varying thrill levels. Open daily, weather permitting.
Sledding and Tubing at Soda Springs Winter Resort Currently only open on weekends,  at Soda Springs you can sled and tube! Sledding lanes, tubing lanes and a Little Dipper children's area provide a variety of thrill and fun for adults and children alike.
Tubing Hill at Northstar-at-Tahoe Northstar-at-Tahoe offers tubing serviced by two separate tow lifts at mid-mountain just above the Gondola.
Ice Skating
Right now are perfect conditions to put on those skates and head to one (or all!) of North Lake Tahoe's ice skating rinks:  
Ice Skating Rink at the Village at Northstar Located at the heart of the Village at Northstar, this 9,000 square foot rink is the center of a hubbub of activity, day and night. Rentals, lessons available.
Olympic Ice Pavilion Enjoy scenic views of the Lake while skating atop Squaw Valley on an Olympic-size rink at High Camp recreation complex. Open 11am – 9pm during the winter season. Rentals, lessons available.
Ice Skating Rink at the Resort at Squaw Creek Skate on the Resort at Squaw Creek's own private rink with heated waterfalls, hot tubs, a pool and the peaks of Squaw Valley as a backdrop. Rentals available. Open December to April.
Truckee Ice Skating Rink The Truckee rink features skate rentals, a snack bar, group and private lessons for all age groups taught by experienced instructors, broomball leagues, and more.  
These are just a handful of the family opportunities up in North Lake Tahoe right now. What are your favorite family activities?