When the sun bows behind its evening curtain call, and the stars appear for a midnight light parade—we encourage you to grab a thermos of your favorite something, and look up. This August, the annual Perseid Meteor Shower shoots bits of illuminated star dust through the sky, close enough for earthlings to enjoy.
Stargazing is one of the hottest new trends, as travelers journey to less light-polluted areas like North Lake Tahoe to observe stars, planets and constellations. Not only that, but stargazing is one of the most eco-friendly and sustainable ways to enjoy good company, disconnect from technology and explore the wonders of our universe.
From mountaintops to kayaks, check out the best places to stargaze in North Lake Tahoe, and don't forget your telescope!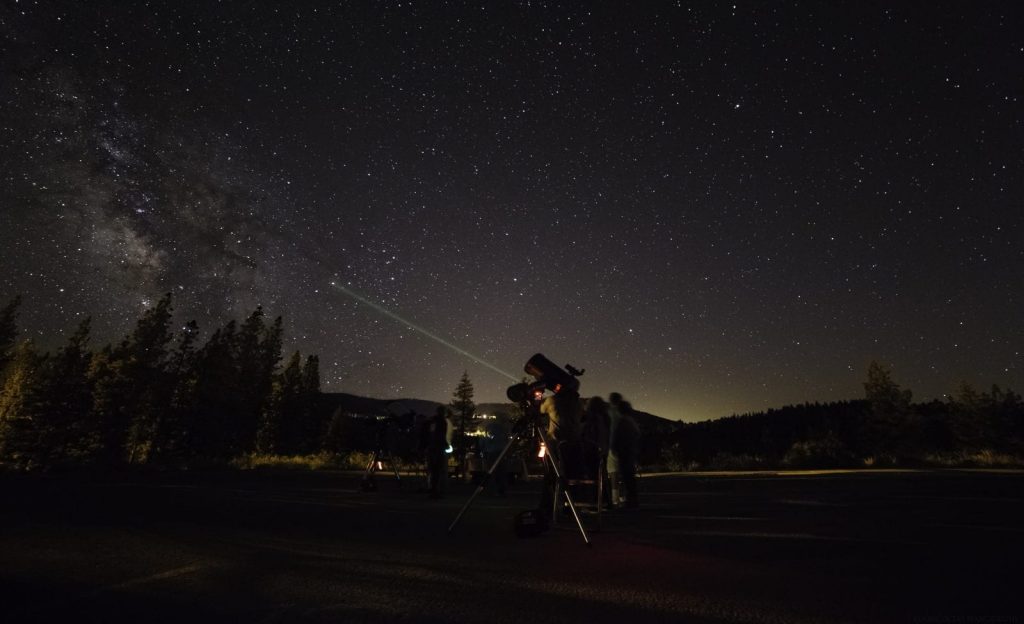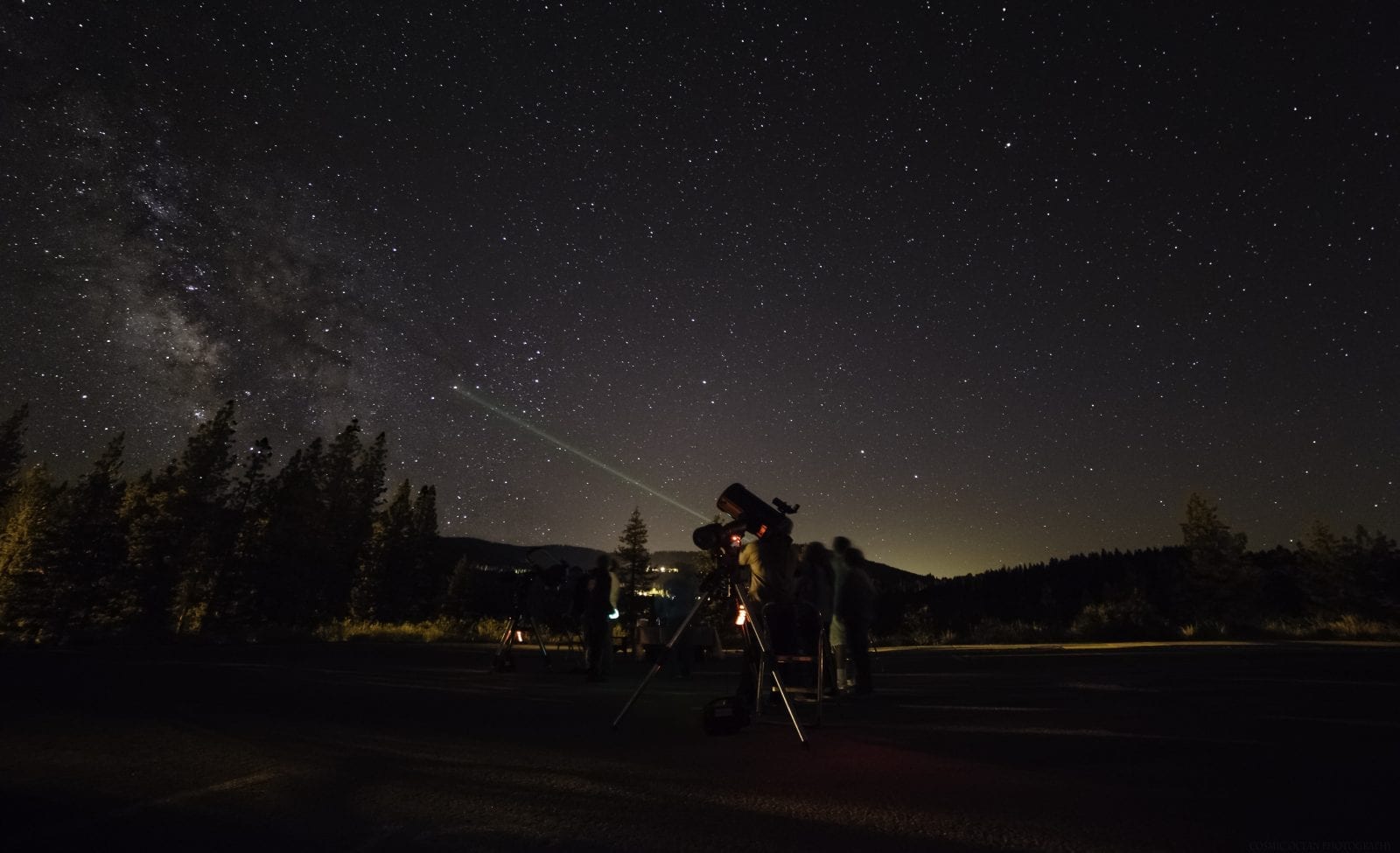 Explore the beauty of a starry night in Tahoe with Tahoe Star Tours at Northstar California Resort! Credit: The Abbi Agency
Take a Tour of the Cosmos
The best way to learn everything you've ever wanted to know about space is by a Tahoe Star Tour at Northstar California Resort. Renowned star guide and poet Tony Berendsen gives an in-depth look at our solar system with powerful Celestron telescopes … (powered by s'more's!) Tahoe Star Tours provides more than just a simple stargazing opportunity, but a deeper understanding of the universe. 
Tahoe Star Tours takes place weekly on Thursdays and Sundays through the end of August. Purchase your tickets now!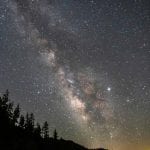 Views of the milky way have never been better than at Sand Harbor! Photo credit: jscbuxton
Sand and Stars
For a more laid-back stargazing experience, plenty of North Lake Tahoe's best beaches are prime for stargazing. Sand Harbor is a terrific south-facing beach for an evening of sunsets before the stars appear, one-by-one. The beach also includes a picnic area and barbecue grills— so bring grub! 
Heading further north, Secline Beach in Kings Beach provides a superb view of the entire lake looking to the east and south for prime viewing of the cosmos from all angles. Secline Beach also features easy access onto the beach and no parking fees, along with a picnic area and barbecue grills. Not only that, but Secline Beach makes for a vibrant starry getaway as most of the light pollution from the neighboring Kings Beach is obstructed by trees.
For more of North Lake Tahoe's best beaches for scoping out the stars, check out our best beaches blog!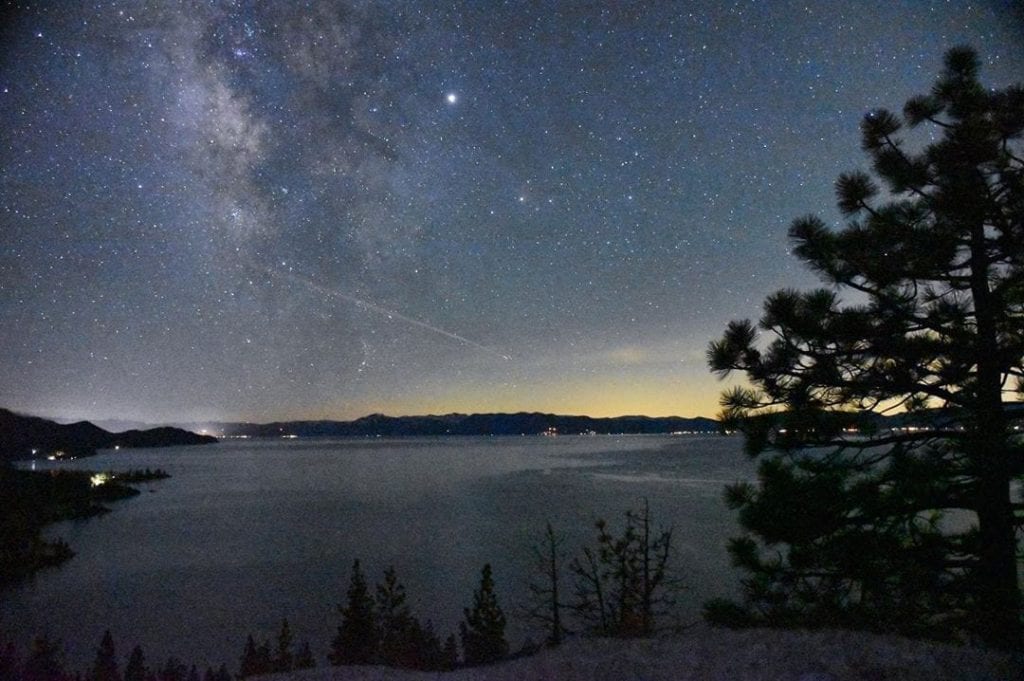 A sky full of stars has never looked better than over the mountainous peaks of North Lake Tahoe. Credit: thetravelingpatch
You Can See Everything From Up Here!
When Julie Andrews "climbed every mountain, and forded every stream," we wonder if she "stargazed from every peak." 
During the day, North Lake Tahoe's mountain trails speak for themselves … but at night, they provide an all-new perspective for the adventurous heart. Imagine being that much closer to the galaxy, high above the city lights, surrounded by a blanket of crisp air and peace.
The Sheep's Flat Recreation Area, located off of Mt. Rose Highway, features a wide-open celestial view from a meadow. Sheep's Flat is a great place for moonlight hikes with easy, year-round access, as well as camping at the nearby Mt. Rose campground for overnight stargazing.
Slide Mountain, also off of Mt. Rose Highway, is another striking spot for spectacular east and south views. It offers year-round access for guests and easy places to set up your telescope for prime dark sky viewing.
The Historic Stateline Fire Lookout is another favorite for stargazers looking for a safe, high altitude spot. Located near Crystal Bay, high above the Tahoe Biltmore, The Stateline Fire Lookout offers one of the best and easily accessible views of North Lake Tahoe. Not only that, but the trail is dog-friendly, just in case your pooch is a budding astronomer, too!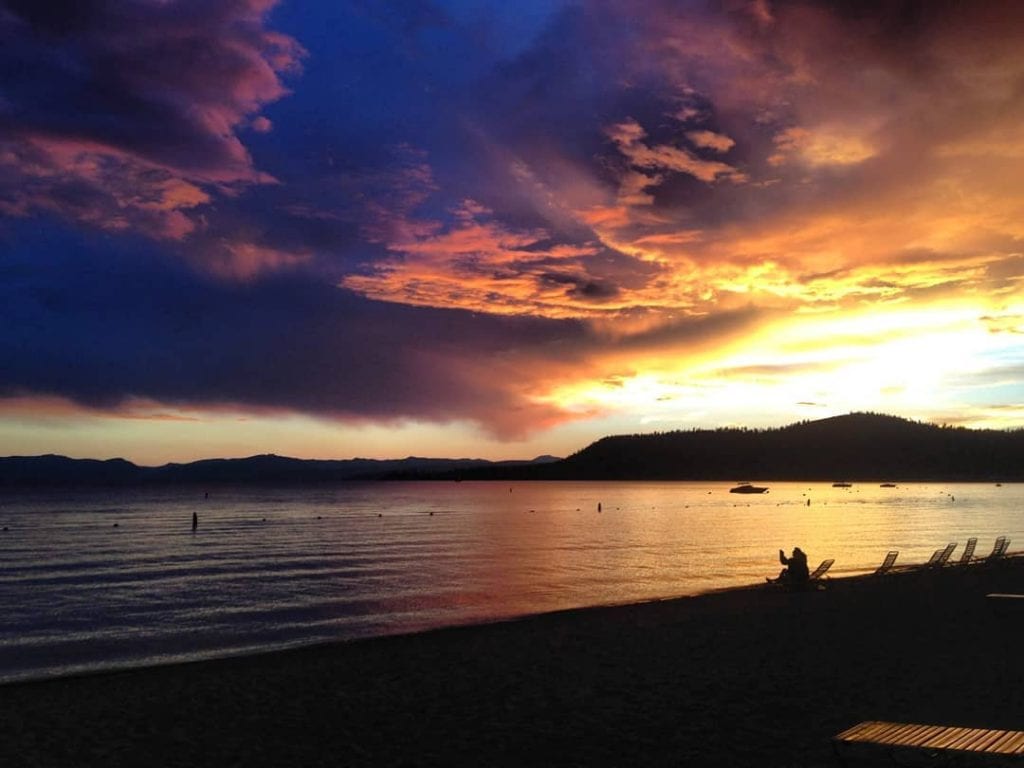 Watch as day turns to night with spectacular sights in the sky! Sunset and Full Moon Kayak Tours are the best way to experience North Tahoe's astral delights. Credit: Tahoe Adventure Company
Lakefront Luminations
Did you know that you can even stargaze while adrift on Lake Tahoe? It's true. Tahoe Adventure Company offers two tours this summer, allowing stargazers to bask in moonbeams while kayaking across the darkly majestic waves of the lake.
For a double-whammy of sunsets and space views, the Sunset Kayak Tour commences as the sun-drenched colors of day turn to night. Offered on Fridays, guests can learn about astronomy, while enjoying the illuminated shoreline of the lake. 
Tahoe Adventure Company also offers a Full Moon Kayak Tour during select dates in September. Check out the full schedule and start planning your next "star-venture".