With the days getting longer and the sun hanging higher in the sky, it's the perfect time to start thinking about where to spend your spring break! Whether you're off for the week from school, or just need to get out of the office for some much needed fresh air, it's time to scratch that spring itch and make plans to visit North Lake Tahoe.
We're a little biased, but we think North Lake Tahoe makes for the perfect spring getaway. In-between ski season and beach season, spring in North Lake Tahoe hits that sweet spot of getting the best of both worlds, plus a little bit extra.
Here are your top five reasons for selecting North Lake Tahoe as your destination for spring break. Start planning!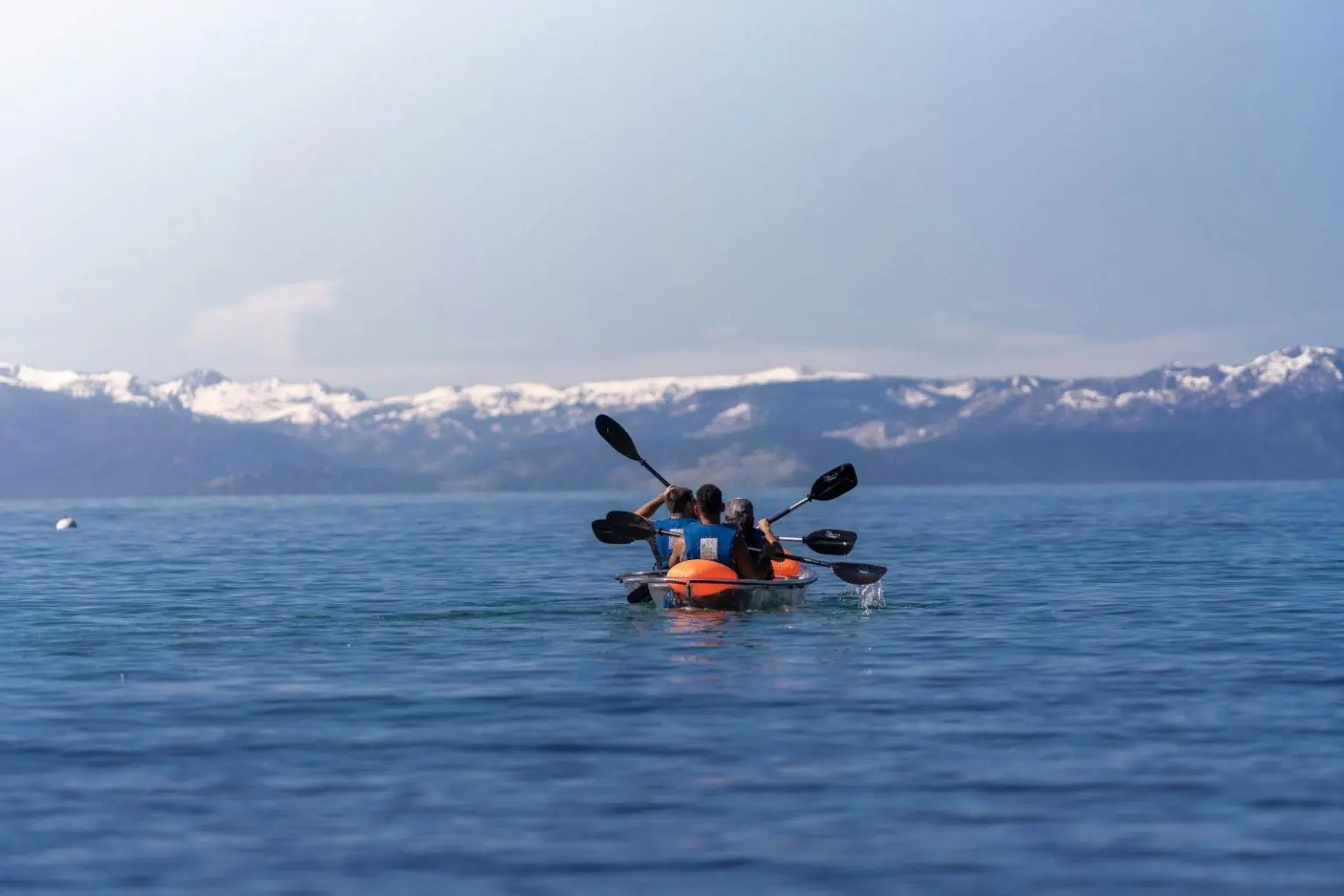 Reason #1: Wide Open Fun
One of the best reasons for visiting North Lake Tahoe this spring vacation is how spacious the region is. Snow lovers are enjoying the corn-skiing and boarding goods at North Lake Tahoe's 11 downhill resorts, but lift lines move fast so you get all the turns in you need to put a smile on your mug. AND the north shore's many scenic beaches are there for you after you've skied to your heart's content.
This also means taking scenic walks or bike rides along the East Shore Trail. Or picking a prime spot for you and your crew to take in the view of a sunset on the beach. Or just luxuriating with some fabulous aprés ski activities, like a post-ski cocktail and appetizers at West Shore Café.
Spring break in North Lake Tahoe provides some much wide-open space to relax, enjoy and play.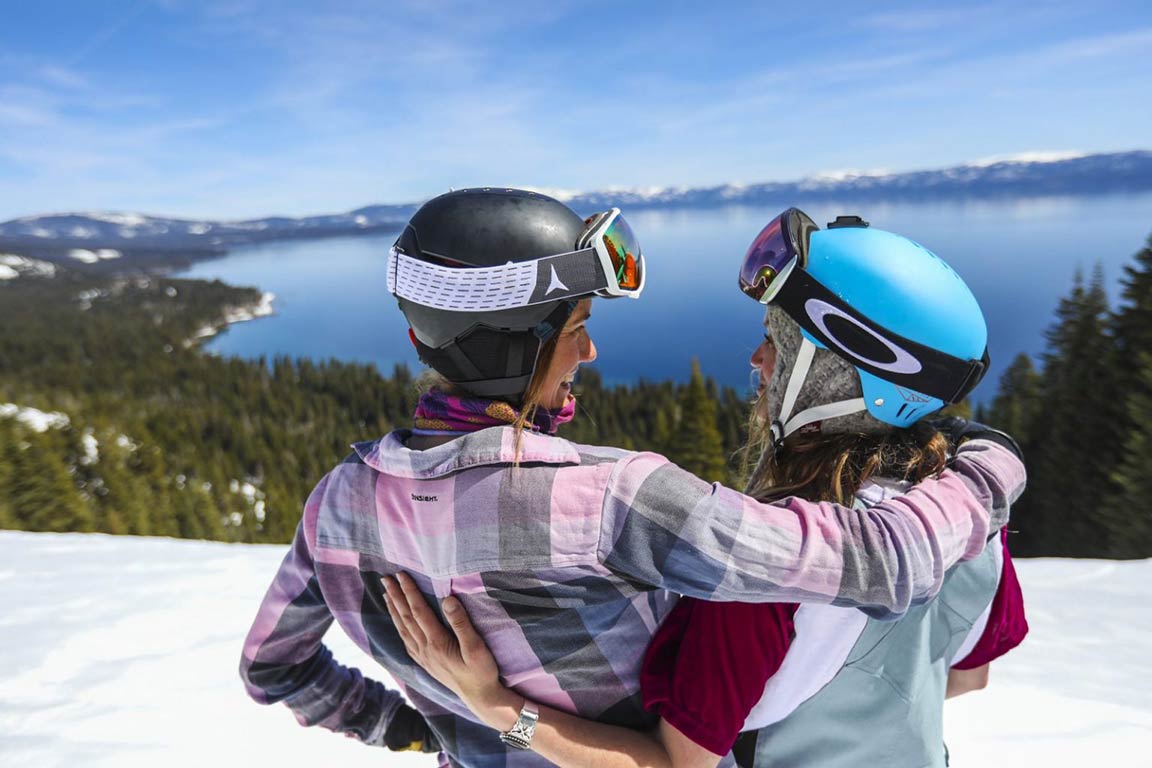 Reason #2: Summer and Winter All in the Same Day
Spring in North Lake Tahoe also presents a special type of climate, one rarely seen around the country. You can often find our Sierra Nevada mountains covered in snow, perfect for a day on the slopes, while later enjoying a sunny day down by the lake. This combination of winter and summer rolled into one makes spring an ideal time for travelers looking to experience the best of both worlds.
We call them Dual Days in North Lake Tahoe. It means that you can hit the slopes in the morning, then make your way down to the lake later in the day for a lakeside dinner. Or, you can start your day with a clear-bottom kayak ride on the lake, then decompress with a spa treatment in the mountains. Or maybe you're celebrating a snowshoe hike to Spooner Summit, followed by a shopping spree among the shoreline shops. Basically, there's no wrong way to spend a dual day in North Lake Tahoe.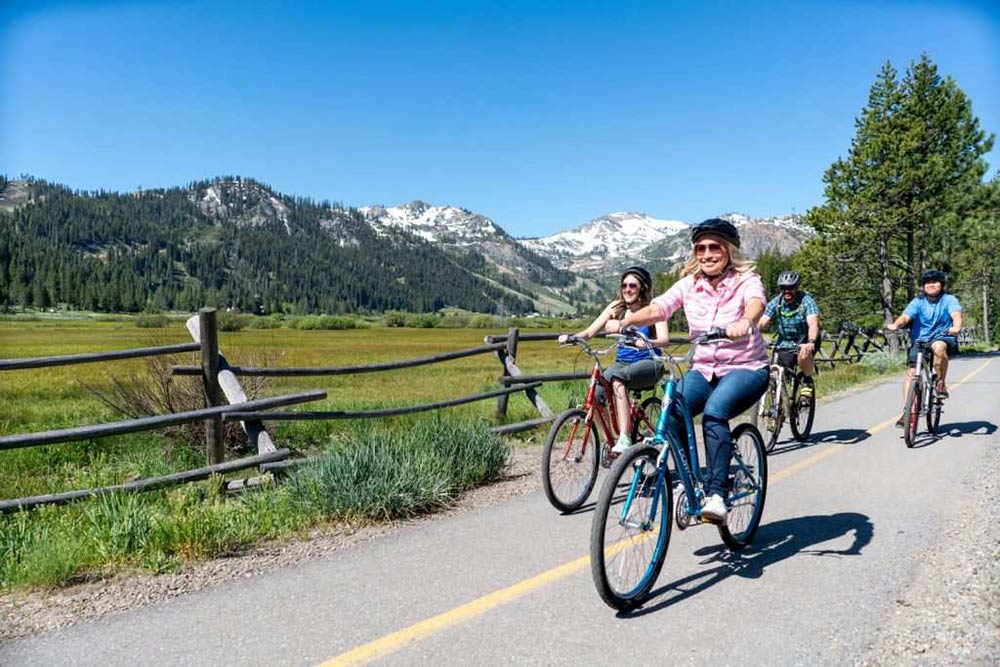 You don't have to be a hardcore athlete to enjoy North Lake Tahoe in the spring. All you need is a desire to explore! Photo credit: Generikal Design – Bikers on the Bike Path in Olympic Valley, CA
Reason #3: North Lake Tahoe Welcomes All, with Something For Everybody
Which brings us to our next point; North Lake Tahoe is for everybody. One of the common misconceptions about our beautiful alpine region is that it's only for sporty types. And while shredders and swimmers alike love the impeccable outdoor adventures found in Tahoe for good reason, there's so much more for everyone to enjoy.
North Lake Tahoe's various trails and hikes range from easy to challenging, so no matter your endurance level, there's plenty of options for all ages. Outdoors not your thing? Treat yourself to a blissful day of spas and Après-Ski activities in the mountains, and allow the beautiful scenery to bring you inner peace. Or check out the various art galleries, museums, and cultural sites around North Lake Tahoe for an inspirational trip (and perhaps the perfect watercolor or large-scale Tahoe panoramic photo for the dining room?).
North Lake Tahoe is accessible and inclusive for everybody, no matter your age, ability, or interests. For more spring activities for all, check out our handy guide for everything to do this spring.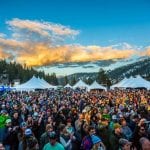 Gettin' Plucky at WinterWonderGrass 2020. Photo credit: Dylan Langille
Reason #4: WinterWonderGrass is a Wonderful Musical Mash-up
With massive music festivals like over-crowded and over-priced Coachella, this spring is the time for a more intimate kind of music gathering. In its sixth year, the WinterWonderGrass Music Festival returns to Palisades Tahoe (formerly Squaw Valley) for a weekend of bluegrass music, craft beers, and plenty of song-worthy mountain views. 
What makes WinterWonderGrass different? For starters, no other festival offers the same kind of setting. As the warm California sun highlights the snowy whiteness that covers the mountains the music comes alive! Listen to some of the world's finest pickers and pluckers amidst a close-knit group of like-minded tune lovers at the base of the legendary Palisades Tahoe.
Along with stunning views, WinterWonderGrass also features some of the most high-profile names in the world of bluegrass music. This year's lineup includes The Devil Makes Three, The Infamous Stringdusters, Billy Strings, and more. Whether you're a longtime fan or a recent convert, the combination of sweet sounds, a family friendly atmosphere, and a beautiful spring day is enough to make WinterWonderGrass the centerpiece of your spring break.
WinterWonderGrass returns to Palisades Tahoe every March. Tickets to the event can be purchased here.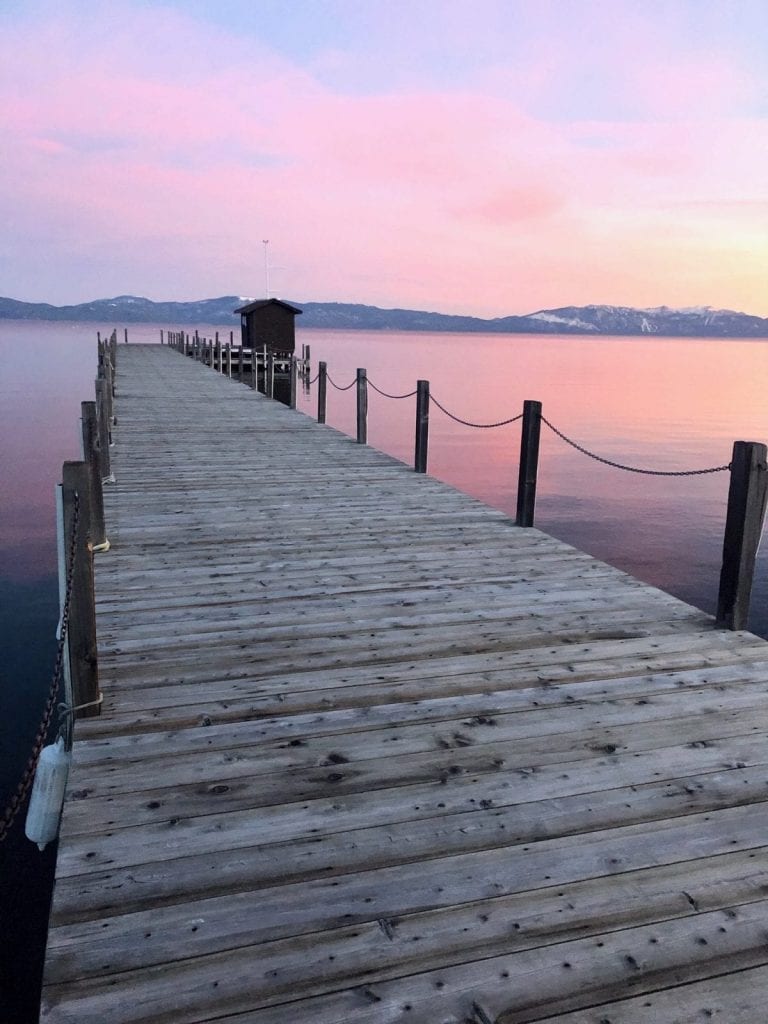 North Lake Tahoe is full of Instagram-friendly spots to make your social media the envy of all of your friends. Photo caption: NLTRA
Reason #5: Envy Worthy Instagram Feed
Today, your vacation pictures are almost as important as the trip itself. After all, we want our friends to know how much fun we're having on our North Lake Tahoe vacation. This side of the Lake is full of Instagram-friendly locations perfect for social media, and sure to make your friends a touch of envy-green.
Check out our list of the most Instagrammable spots in North Lake Tahoe. Whether you're posing next to a rock shaped like a monkey atop the Tunnel Creek Trail, or grabbing the Instagram story of a lifetime as you ascend up Squaw mountain on the aerial tram, these are some shots that you have to get on your trip. Other scenic shots perfect for the 'gram include the East Shore Trail, and the pier at West Shore Cafe. 
So go on, make your homebody friends jealous with the incredible shots you're getting in North Lake Tahoe. Just make sure that you tag your photos with #TahoeNorth so we can share them to our page (let's up the jealousy-notch a bit, shall we?)!
Have we convinced you to pick North Lake Tahoe as your spring break destination? Check out our lodging page to find the perfect resort, inn, or hotel, or check out our deals page for exclusive offers. See you in spring!