With grand snow-capped mountains and crystal blue waters, there are few winters as spectacular as North Lake Tahoe's. There are so many ways to experience the magic here – especially lakeside. We've rounded up some of our local favorites to help you plan a wonderful winter getaway.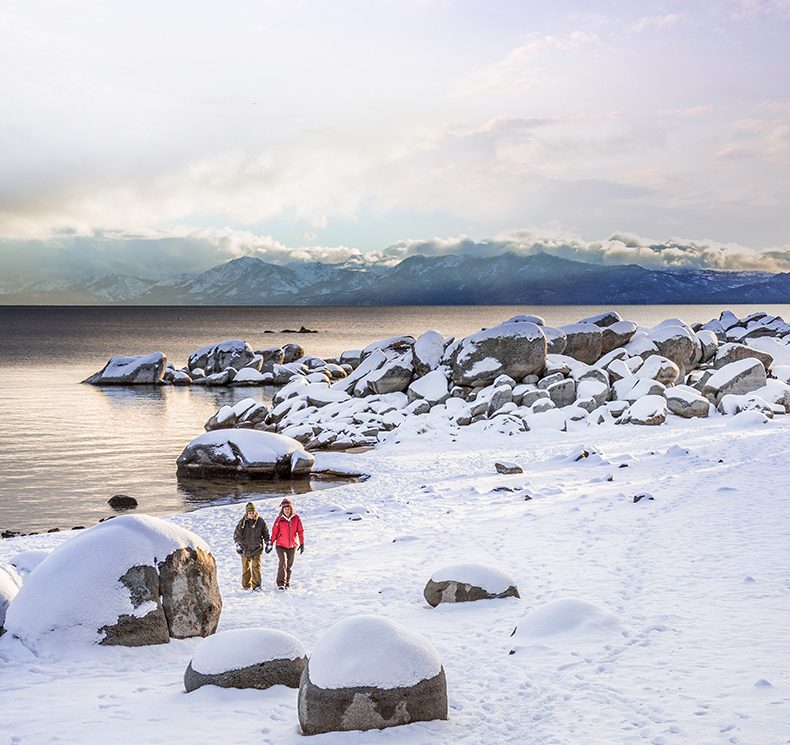 A WONDERLAND SURROUNDS YOU
Enjoy North Lake Tahoe's natural beauty on any of the lakeside decks and docks that are open for public use such as those in Kings Beach or Tahoe City. Jutting out over the water, these stable docks let you immerse yourself in Tahoe's expansive allure. It also puts you steps away from a delicious meal at one of our excellent lakeside restaurants such as Tahoe City's Jake's on the Lake or Kings Beach's Jason's Beachside Grille.
While the lake certainly catches the eye, so does the art of North Lake Tahoe, viewable year-round. One highlight is Ursa Mater, or Penny Bear as lovingly known to locals – a huge bear sculpture found in Tahoe City's lakefront Heritage Plaza. The stunning piece is just one of the many in the region.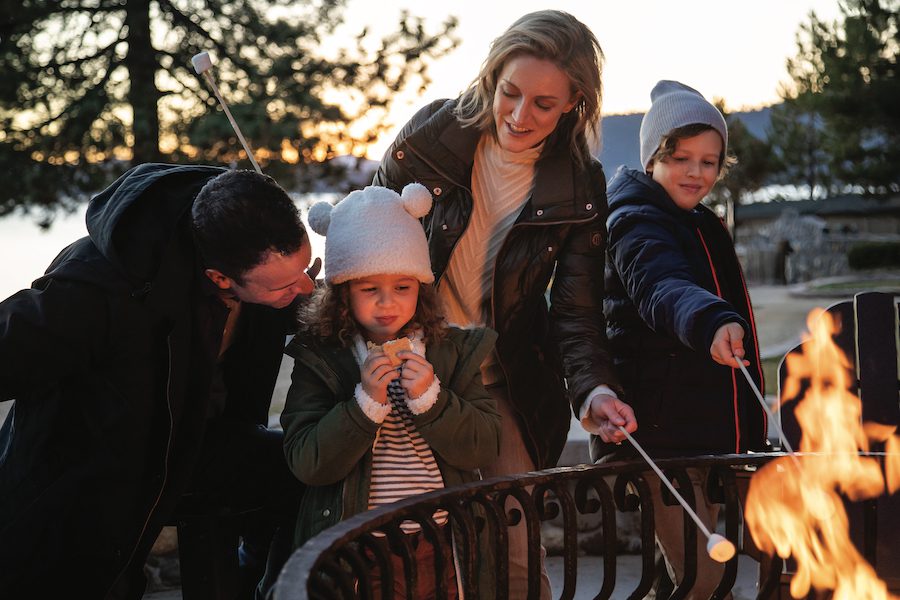 COZY UP TO THE FIRE PIT
As two-story fireplaces accompanied by lakeside views are a rare yet delightful find, you'd be wise to cozy up near the one at the Hyatt Regency Lake Tahoe in Incline Village. The Lone Eagle Grille can set you up with their Spiced Apple Cider or The Flapjack, a bourbon-based cocktail with spiced pear, lemon and maple notes. You can also take your drinks outside to one of their many fire pits along the shore.
And there are not many desserts in the world that can hold a flame to The Baked Tahoe at Lone Eagle Grille. You may have heard of Baked Alaska, but this is a deliciously different experience. Imagine layers of buckwheat cookie and vanilla toffee ice cream topped with torched meringue and drizzles of chocolate sauce and you'll understand why The Baked Tahoe is a must for the season.
Complimentary s'mores, a warm fire and stunning lake views make for a great time at the Basecamp Tahoe City in Tahoe City. In their aptly named "Cozy Lobby" you'll find a double-sided fireplace with comfortable leather couches. Check out their happy hour specials from 4pm – 6pm daily.
If your fire time is best enjoyed with minimal crowds, then book a stay at the Mourelatos Lakeshore Resort. Right on the water, this all-suite, boutique resort offers spectacular views of Lake Tahoe and private fire pits right along the shore.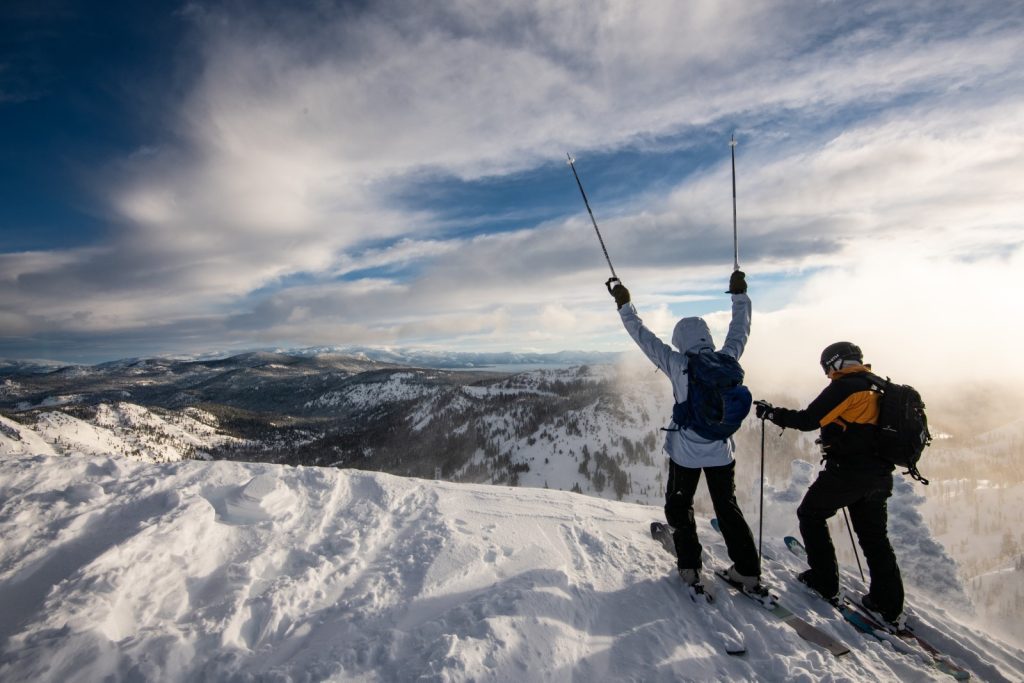 EVERYTHING NEW
This year has accounted for the largest investment in ski lift infrastructure and the resorts are ready for you. Many have some new offerings for the 2022-2023 winter season to handle all the excitement. Northstar is celebrating its 50th anniversary and launching its improved Comstock Express lift, a six-person chair that will increase to double capacity.
Palisades Tahoe's Base-to-Base Gondola will offer uninterrupted access to all 6,000 acres of terrain at both Alpine Meadows and Olympic Valley. The 16-minute 2.4-mile ride will offer incredible views of Lake Tahoe and the Sierra Nevada with a 2,000-foot vertical climb. And Mt. Rose Ski Tahoe upgraded its Lakeview chair lift, redirecting the chair all the way to the top of the zone for an expansive Lake view that was previously unseen.
The Martis Valley Trail just opened, connecting the town of Truckee through Martis Valley to the Northstar Drive roundabout. The 4.6-mile paved pathway is open year-round and is a collaborative effort between the Northstar Community Services District and Placer County. Along the trail, you'll find details of the Washoe Tribe's history in the region, as well as protection for cultural resources.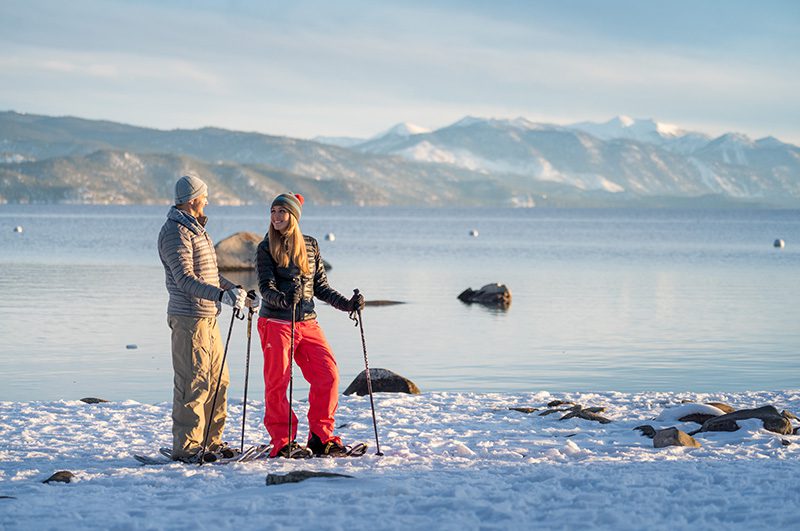 IF THE SNOWSHOE FITS, YOU'RE READY
You're welcome to venture out on your own along one of our excellent snowshoe trails such as at the Tahoe Cross Country Ski Area. Twenty-one separate trails lead skiers and snowshoers through beautiful Ponderosa Pine and White Fir Forest, into open meadows and up to stunning views of Lake Tahoe. Plus, all trails are machine groomed daily so it's easy to explore and find on-site warming huts.
If you're looking for snowshoeing with a side of adventure, then head over to Tahoe City's Winter Sports Park. They offer ski and snowshoe rentals so you can choose between snowshoeing, cross-country skiing, sledding (including a small hill for young children), ice skating or a nice snowy stroll. Trails are groomed seven days a week and there's a great restaurant and bar for when you get hungry.
If you'd feel more comfortable with an expert guide, then reach out to Tahoe Adventure Company. They can customize the length and difficulty to your preference and can accommodate children as young as eight years old. You can opt for amazing Lake Tahoe vistas or a snowy forest, all with an expert guide to fill you in on natural history and interesting sites. We recommend the lake views. They're truly spectacular.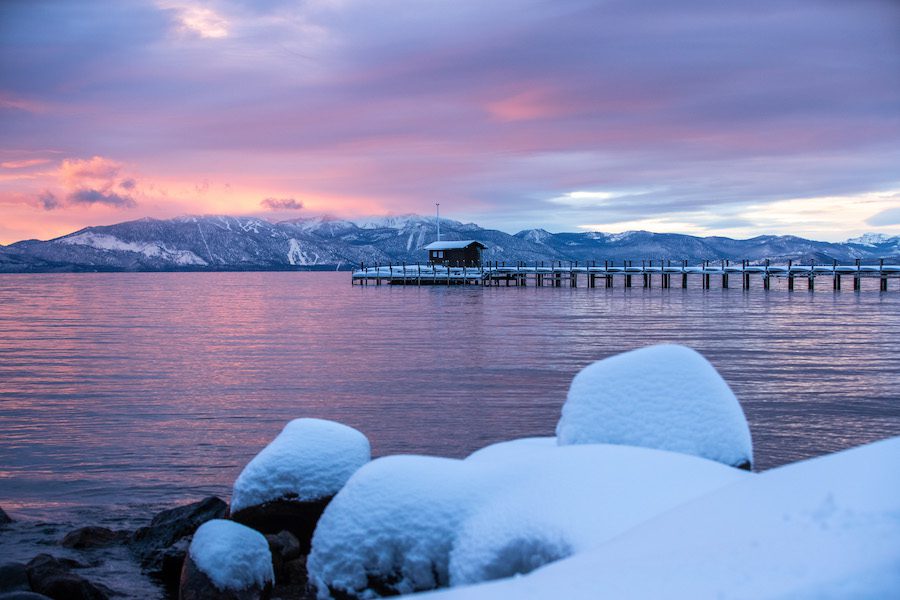 CRUISE THE LAKE
Even in the winter, you can enjoy the majesty of Lake Tahoe – whether it be kayaking, fishing or by boat.
Don a warm jacket, rent a kayak at Sunnyside Lodge, then head out on the lake for a tranquil ride. You're likely to experience less kayakers this season, so it will be like having the waters all to yourself.
You can also join Captain Danny Salvado for a wintery fishing adventure at Reel-Lentless Fishing Charters. His state-of-the-art equipment and determination will almost guarantee you a catch for the day. Cameras are encouraged to catch a great picture, too.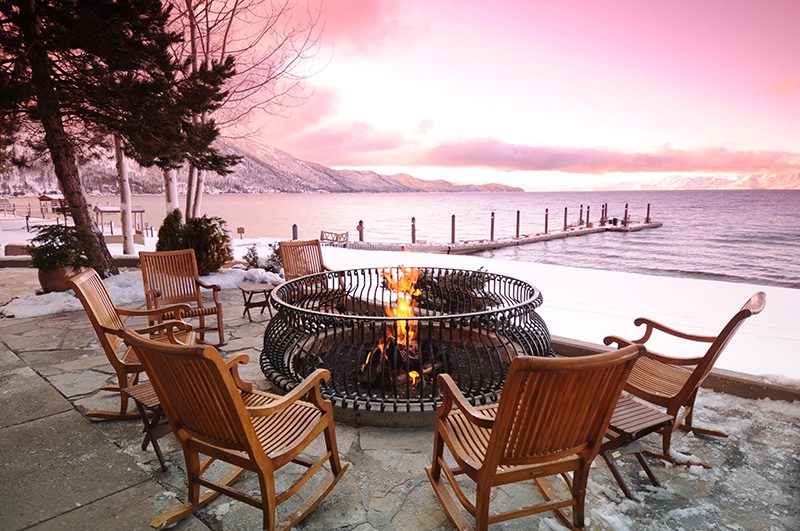 THE ART OF WINTERING
Wrap up your visit with some culture in cozy spaces. Gallery Keoki has a new exhibit offering new photos of Warren Miller athletes.
Next, head over in Tahoe City, Gatekeeper's Museum has several new exhibits, including a new Maritime one that celebrates the rich history of "Being on the Lake." Other new exhibits include a movie exhibit that tells the history of movies filmed in Lake Tahoe, a resorts exhibit featuring unique artifacts from the Tahoe Tavern, Chambers Landing and Meeks Bay among others, and a "Characters in Lake Tahoe" exhibit featuring Baby Face Nelson's pocket watch.
Upcoming exhibits will showcase "At Home in Lake Tahoe", highlighting common artifacts and furniture seen in classic Tahoe cabins from the late 1800s to the 1940s and an exhibit on rare Lake Tahoe maps from the mid-1800s to the present day.
STAYING SNOW SAFE
North Lake Tahoe offers no end to winter magic, and to experience that in full, we encourage you to be snow safe when traveling to the area. This includes being prepared with our Know Before You Go Guide. Top tips include:
Checking weather conditions before you head out on your trip
Being prepared with chains and other essentials for your vehicle if conditions call for them
Driving with caution
Being backcountry safe
Taking public transportation, like TART Connect and available resort shuttles to limit road traffic
You can learn more tips about getting around North Lake Tahoe during this season here.
DISCOVER WINTER WOW
Choose your winter adventure with an extended stay in North Lake Tahoe. Many lodging properties are offering special mid-week rates, so head out with your gear and get ready to see the sights.