Deals
Dining
Human Powered Sports
Ski & Snowboard
Winter
A Lover's Guide to North Lake Tahoe: 10 Date Ideas for Winter in the Sierra
Love and winter are a match made in heaven. As a chill captures the region and mountains stand tall beneath bluebird skies, there has never been a better time to bundle up with your love and experience a picturesque Valentine's Day in North Lake Tahoe.
February 14 falls on a Wednesday—cash in those vacation days and extend your weekend visit. Here are 10 date and gift ideas that will leave your partner swooning.
Lodging Specials, for the "Stay in and Snuggle up" Couple
Many North Lake Tahoe lodging properties offer cost-saving deals for 3+ nights (where the 4th night is free), others have couples romance packages to celebrate the holiday.
For example: Enjoy the Lake Tahoe Romantic Getaway package at The Resort at Squaw Creek. This special offer includes dinner a 50-minute couples massage to set the mood, a fabulous welcome basket featuring delicious chocolate and champagne, and full access to the resort's range of outdoor hot tubs.
For a full list of lodging properties and romance packages around the North Shore, check here.
Couples Massage, for the "Spa=Love" Couple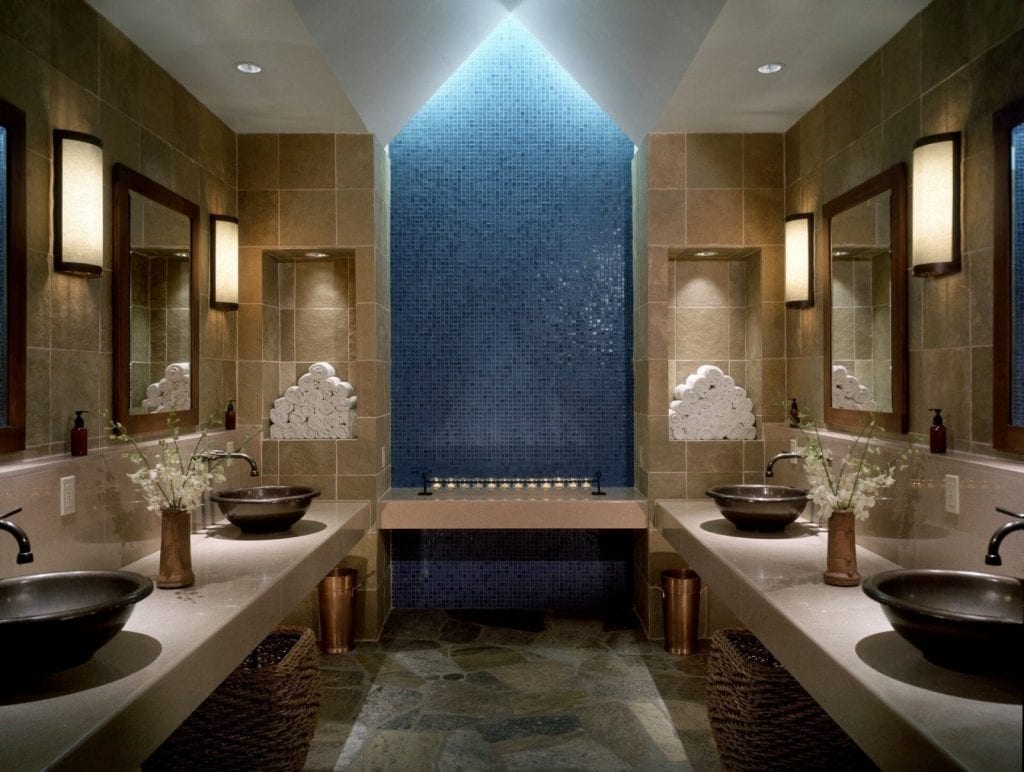 Beautiful spa experiences aren't hard to find at North Lake Tahoe's many fabulous resorts. Photo courtesy of the Hyatt Regency Lake Tahoe.
North Lake Tahoe has a wide range of spas to satisfy your need for a little TLC on this romantic holiday:
Book an appointment with your sweetie for an Après Ski Recovery massage or Twinkle Toes manicure and pedicure at The Ritz Carlton, Lake Tahoe.
Backcountry Access, for the Adventurous Couple
Ski and ride outside the designated boundaries of Squaw Valley Alpine Meadows, and get an introduction to the backcountry with Alpenglow Expeditions. A certified guide will lead groups of up to four through two distinct zones: Tram Ridge and Munchkins. Best of all? This terrain can now be ridden with a guide, opening up lift-accessed riding for skiers and snowboarders regardless of backcountry experience.
Never gone skiing or snowboarding before? No problem! Throughout the first quarter of the year, many of North Lake Tahoe's resorts are offering beginner's ski and snowboard lesson packages. You and your sweetheart can share in a memory that will open up new pathways to adventure for many years to come.
Ice Skating, for the Winter Classic Couple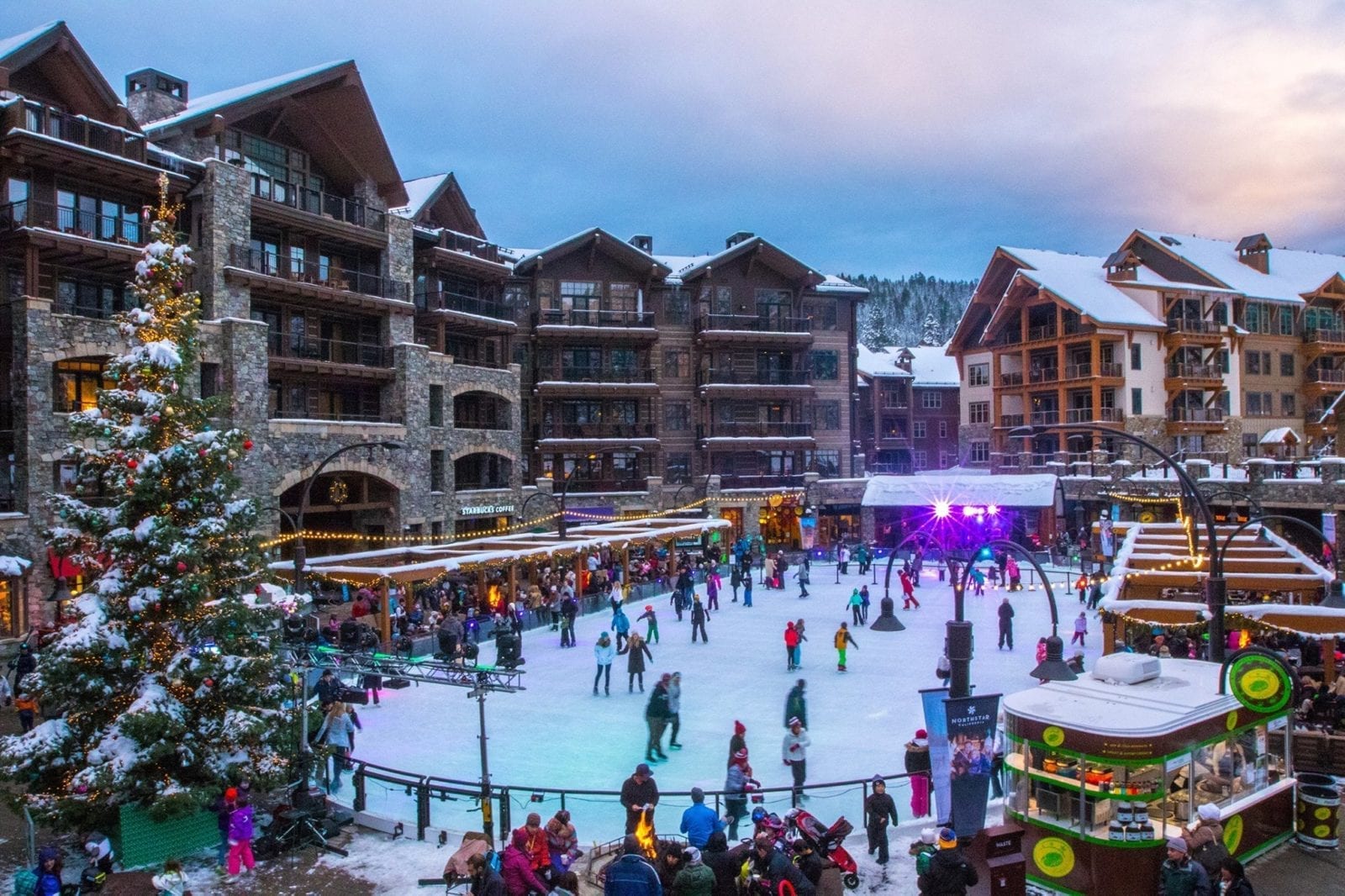 Go ice skating for a classic winter adventure with your sweetheart. Photo courtesy of Northstar California.
If a classic winter date is more appealing, rent some ice skates and enjoy the multiple rinks —from lake level to high mountain peaks—that North Lake Tahoe offers.
Village at Northstar: The Ice Skating Rink is located in the heart of the Village at Northstar. This 9,000 square foot rink is the center of a hubbub of activity, day and night. Rentals and lessons are available.
Resort at Squaw Creek: Skate on the resort's private rink with heated waterfalls, hot tubs, a pool and the peaks of Squaw Valley as a backdrop. Rentals are available. Open December to April.
Tahoe City: The Tahoe City Winter Sports Park welcomes a brand new ice rink to the metropolitan area of downtown. The rink is another desired amenity to the all-inclusive area with the Sports Park sled hill, cross-country area and nearby restaurants and lodging properties.
Make sure to take a selfie while you're out there practicing waltz jumps and share it with the #TahoeNorth tag!
Puppy Play Date, For the "Must Love Dogs" Couple
Want to get out for a sweet date but can't bear to leave your canine companion behind? That's alright. For those of you who date "dog lovers only", there are plenty of dog-friendly activities and establishments to be found throughout the North Shore. Romantic trailblazing for two usually includes four legs, but not quite like this. A perfectly simple and unique dating experience awaits.
Après, for the Wine and Beer Connoisseur Couple
Feeling adventurous and thirsty at the same time? Indulge your inner epicurean on Thursday nights at PlumpJack's Wine Voyage, where you and your partner will learn about and taste fine wines from regions around the world. In February, vintages from Eastern France and the California coast will be featured as PlumpJack explores varietals of Burgundy.
It's like the saying goes: the couple who plays together, stays together. Make your date night one for the record books at Cutthroat's Saloon, where you'll find rare craft beers, liquors of any persuasion, and decor inspired by the wildness and romance of the wild, wild west. For a live music and casino-type experience, check out The Crystal Bay Club's entertainment calendar, which ranges from local bands, comedians, and internationally recognized musicians.
Fine Dining, for the Couple that Loves to Indulge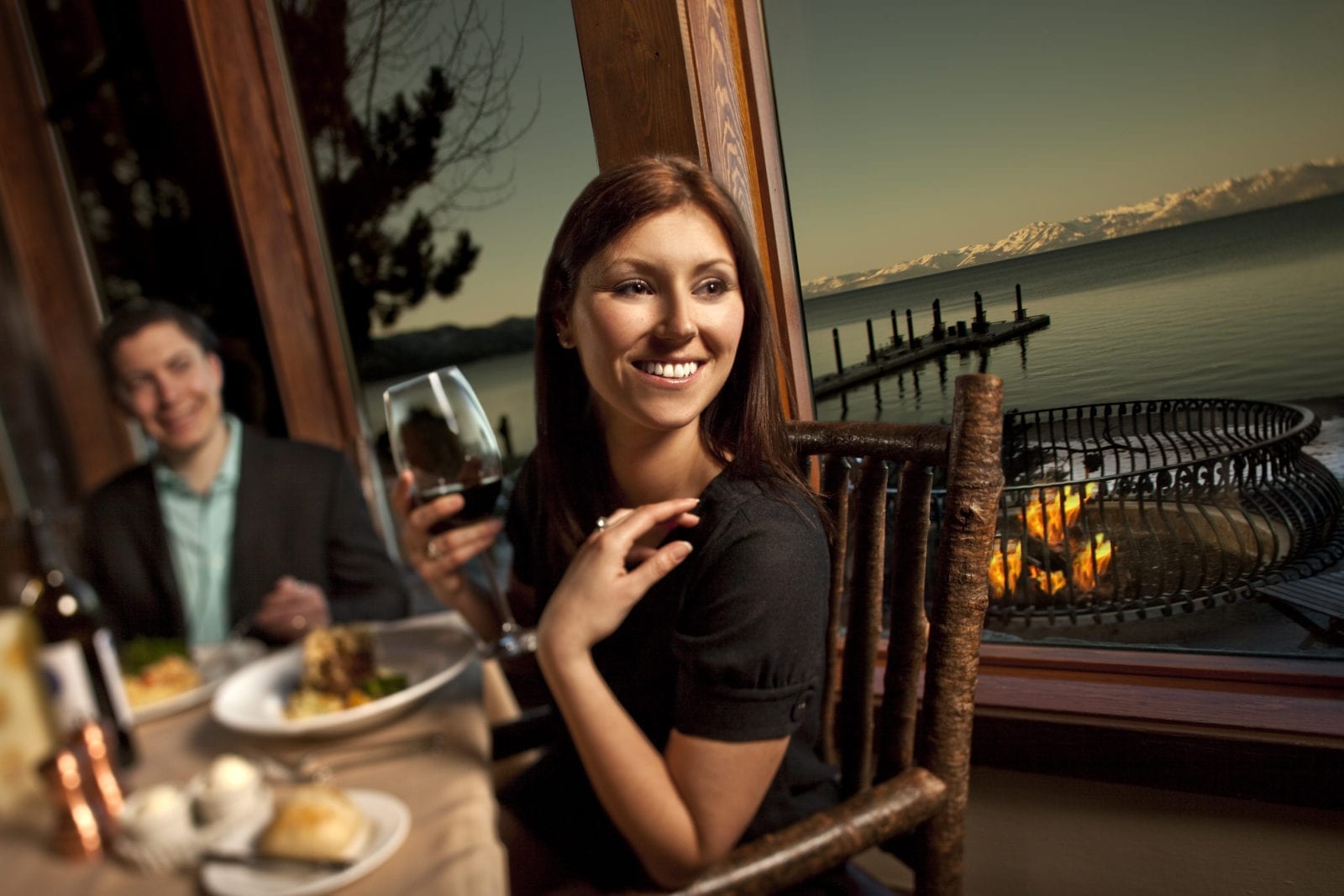 You can't beat the ambiance of North Lake Tahoe's lakeside dining experiences.
With multiple restaurants spanning the North Shore and a wide variety of cuisine offerings, you can pretty much have it all –– and by all, we mean exquisite food, stunning views, and an unparalleled romantic ambiance.
For a particularly unique experience, look no further than Northstar's Mountain Table Dinner on Friday, February 15th. Lovebirds can enjoy one-of-a-kind bites and sips—at an elevation of 7,910 feet—as prepared by Napa Valley vintners Paul Mondavi and Charles Krug.
Overlook the vast and beautiful views of Lake Tahoe in all its splendor as you enjoy fresh, modern American cuisine at Christy Hill Lakeside Bistro. With small plates, luxurious main courses and indulgent desserts, this adored local establishment is the perfect interlude for a date night to remember. Our advice: take advantage of Christy Hill's vista-point location, situated just 100 feet away from Lake Tahoe's shoreline, by visiting near sunset. The splendid alpenglow skies are absolutely breathtaking.
Wolfdale's Cuisine Unique combines fresh and local tastes with Asian and European inspiration, all in a historic building that was originally floated across Lake Tahoe from South Shore! Wolfdale's will be setting the mood with a special menu, including premium cuts of meat, like Durham Ranch Wagyu.
Other favorites: Soule Domain, Lone Eagle Grille, Crystal Bay Casino Steakhouse
For more dining inspiration, check out our dining page here.
Snowshoeing, for the Nature-Loving Couple
View the stunning purples, pinks and blues of the Sierra sunset while snowshoeing. With so many options for guides and rentals across North Lake Tahoe, venturing into the snowy woods is as easy as go!
Tahoe Adventure Company kicks off the weekend every Friday with sunset snowshoeing tours. Included in this adventure experience are permits, snacks, warm drinks and snowshoe rentals, giving you and your beloved all of the adventure with none of the hassle. Spend the day at Tahoe City Winter Sports Park and enjoy ice skating and sledding. After working up an appetite, head to Cafe Zenon for an artful variety of homemade goodness. Serving breakfast, lunch and dinner, this new North Shore hot spot will please any palate. They even serve Pho!
Local Classes, For the Couple that Learns Together
Memories are wonderful, and wine is fine, but both can be that much better when you've got a keepsake to remind you of a wonderful time. At Painted Vine, couples can sip on crisp whites and sublime reds while painting!
Or, you can both stay warm while learning about yoga, aerial silks, or aerial hooping when you take a class at Tahoe Flow Arts Studio.
The Gift of Tahoe, for the Couple Planning a Big Adventure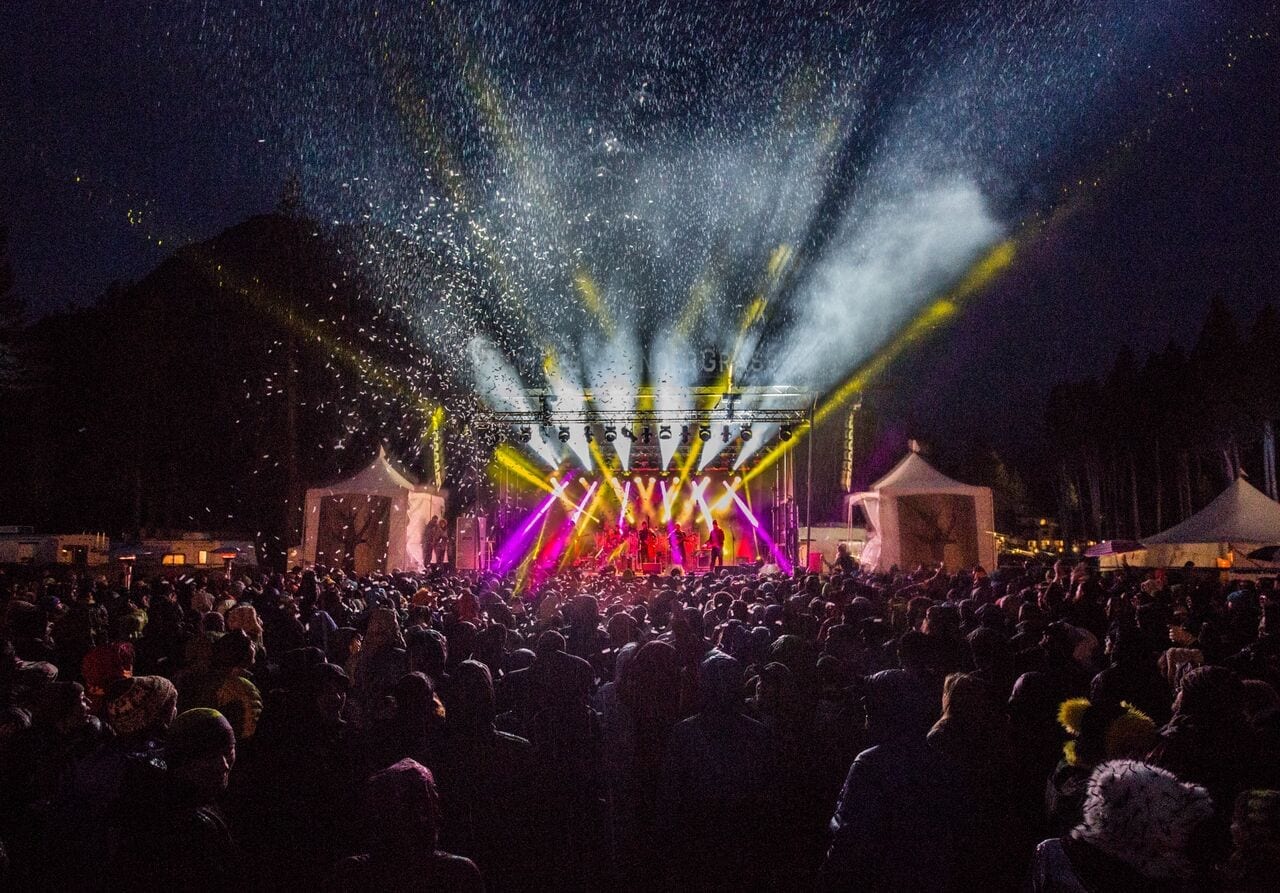 Your sweetheart will thank you for sharing the gift of a forthcoming memory, like one of North Lake Tahoe's marquee festivals. Photo courtesy of WinterWonderGrass.
Just because you can't make it up to North Lake Tahoe for Valentine's Day doesn't mean it can't be included in your night of romantic gestures. Give your partner the gift of an exciting trip by booking a room at one of Tahoe's many lodging properties.
WinterWonderGrass festival and Wanderlust Yoga Festival are right around the corner. Whether your partner is a music lover or yoga fanatic, the gift of festival tickets in North Lake Tahoe is sure to WOW your partner.
To say the least, there is no shortage of romantic activities to be had in the Sierra. Whether you're looking for love to get you through the winter weeks, or keeping things warm and cozy with an old flame, there's a good reason to choose North Lake Tahoe.